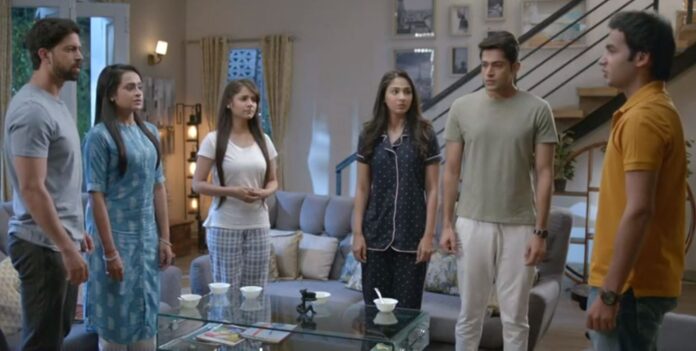 Ek Duje Ke Vaaste 2 Spoilers, Upcoming Story, Latest Gossip , Future Story, Latest News and Upcoming Twist on justshowbiz.net
Currently, Ek Duje Ke Vaaste 2 is showing the cute and romantic moments and not only between Suman and Shravan but also Kanchan and Bunty. In addition to Suman and Shravan another couple has also been seen romancing and spending qualitative time. Viewers are liking the cute chemistry between Kanchan and Bunty and the way their love story is being framed. The new love story has also started in between Avni and Ayaan. Though they are work partners too. They share lot of cute moments, the main question will still remain if the family and especially Shravan will accept Ayaan.
In the current track, Suman will make Avni understand how Shravan did things as he cares for Avni. She also ensures Avni that everything will get sorted. Later, Shravan will apologize to Suman. Shravan will go to talk to Avni but it will be of no use. Suman will meet Ayaan and tell him how he needs to prove that he is responsible. Later, Ayaan comes to Malhotras and tells everyone including Avni's parents that he is not Shravan's friend but he is Avni's friend and infact he wants to marry her. Everyone will get shocked.
In the upcoming episodes, chacha chachi will ask Ayaan that why is he confessing now. Ayaan says I wanted to achieve something and then confess. Chachi will say do your parents know? Or you are saying just here? This will shock Ayaan. Everyone will ask Suman and Shravan why did they hide this from family.
What will Avni do now? Will Shravan accept Ayaan? Will Suman be able to fix it? Is this the sign of another major twist? How will Suman react to this surprise? What is in store for the couple? What will be Kanchan's reaction to Bunty's changed reaction? Will Bunty and Kanchan be a couple? What will happen next? Will Suman consider Shravan's request? Is a big drift coming up for the couple? With this career related professional conflict between this beautiful couple, what is in store for them? What is in store for Bunty and Kanchan? Will Tiwaris accept Bunty?
Keep following this space for more interesting twists and turns of your favourite show.