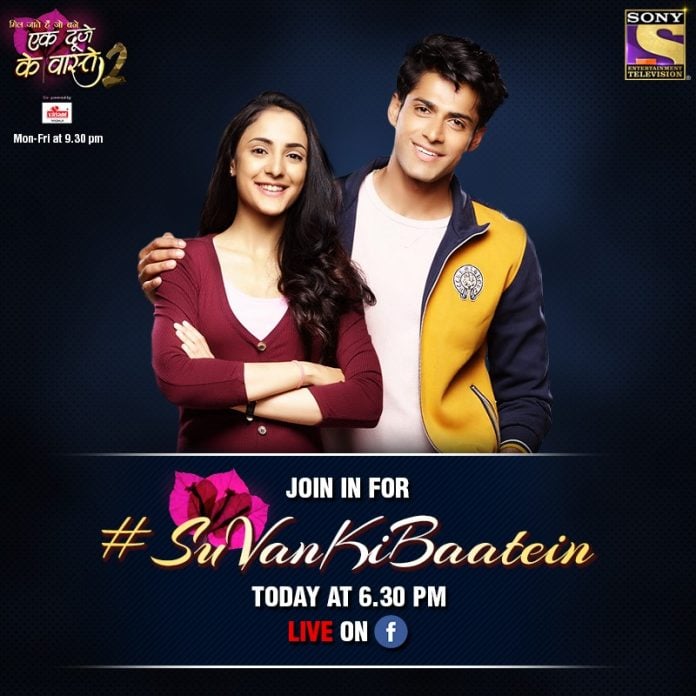 Ek Duje Ke Vaste Upcoming Story, Spoilers, Latest Gossip, Future Story, Latest News and Upcoming Twist, on Justhowbiz.net
The episode starts with Kanchan teasing Suman and asking her what was going between them. Suman tells her that they solved problems between Devraj and Vijay. Kanchan says that she didn't even take Shravan's name so how she understood that she was talking about him. Suman says that she knows her well and she also saw her looking at them in a weird way. She says that she should have noticed Devraj and Vijay's happiness. Suman tells Kanchan that Shravan was very happy after their patch up and they even decided to become best friends forever like their fathers as she told him how touched she was seeing his love for his mother. Hearing that they are just friends, Kanchan becomes upset. Suman notices that and says that he is friend but she is her best sister. Kanchan tells her that she feels that Shravan likes her more than friend.
On the other hand, Bunty teases Shravan for being content with Suman's friendship only. Shravan says that they have become friends who will share every happiness and pain with each other. He is very happy and thinks how lovely Suman looks while smiling.
Suman laughs at Kanchan and, noticing the book she was reading, she asks her not to think such things after reading such cheesy novels. She teases Kanchan for the way Bunty was staring at her. Kanchan says that there is nothing between them. Suman says that there is nothing between her and Shravan too as nothing is like it looks. Kanchan says that maybe she overthought.
Meanwhile, Dadu notices that Vijay is sitting silently and asks him what happened. Vijay shares with him that he is upset with Devraj's behaviour as he left without saying anything even though Dadu invited him and his family on his special day, therefore it's like an insult. Dadu asks him to forget all this. Vijay says that he knows he doesn't like that family yet invited them for his happiness and adds that he is thinking that he is right about them too. Dadu says that it's good that he has realized it and asks him to cheer up. He leaves. Anjali comes and Vijay praises Dadu for even sending food to Devraj after whatever happened. Vijay says that he wants to be like Dadu and then leaves. Beena comes and tells Anjali that she needs to talk to her.
At Malhotras Mansion, Jhumri and Kavita are surprised to see all the mess in the kitchen. Just then, a drunk Devraj comes. Kavita says that she will cook for him and give food but Jhumri says that it isn't needed as Dadu gave food for him. Devraj throws the box with the food that Dadu sent in dustbin and wanrs Jhumri and Kavita not to talk about this again ever in the house.
At the same time, Anjali is shocked to know from Beena what happened between Dadu and Shravan. She says that Vijay will be so hurt when he will come to know about what Dadu, whom he is so proud of, did this. Beena says that it's better to stay silent over this matter. Anjali agrees and says that she can't let her family break for Vijay and Devraj's friendship.
The next morning, Devraj sits at dining table for breakfast and apologizes to Kavita for last night's behaviour as he was just tensed for his work. Kavita says that he should stay happy. Shravan, Bunty and Avni come there laughing and Kavita gets happy seeing her son so cheerful. Avni says that he must have liked last day's party a lot. Bunty says that they would never miss such a great party. Shravan says that Dadu was the nicest. Kavita agrees that she was wrong about Tiwaris who are actually nice and behaved so kindly with them. Ragini and Rajinder decide to talk with Devraj about how Dadu talked with them but Rajinder stops seeing the family so happy.
In the garden of Tiwaris house, Suman and Kanchan play with paper boats on puddles. Damru comes and they ask him to be careful at puddles. Kanchan and Suman remember how they used to make puddles intentionally so that their neighbour Golu would fall in them. Kanchan suggests to do it again with Shravan but she is afraid about his reaction since he always comes all dressed up nicely so he might take it to heart. Suman says that nothing like that will happen as Shravan is a friend.
Just then, Shravan comes and waves at them. Shravan walks into the garden and, before Kanchan and Suman could warn him for the puddles, he slips and falls into one. When Suman shouted him to stop, it was already too late as he got all dirty. He gets up. Beena and Damru comes. Both of them and also Suman and Kanchan start laughing. Vijay and Devraj come on their respective balconies and smile seeing them
Suman starts wetting Shravan with water pipe of garden in order to clean him. Shravan says that he will do it at home but Suman says that she can't let him go back like this. She laughs a lot and Shravan stares at her. Suman asks sorry for not stopping him on time. Shravan says that it is ok and if he hadn't fallen then he would have not been able to see such a smile on his friend's face. He asks if she is enjoying. Suman laughs while pouring water on Shravan's face and saying that he has still some dirt left there. Beena asks her to stop otherwise Kavita's son will get ill. She leaves followed by Damru who says that he got saved. Devraj and Vijay see each other and walk away.
Shravan complains because his hair got ruined and he had set them applying gel before coming. Suman comes closer to him and washes his hair with the water pipe. Shravan stares at him. "Ik mulaqaat" plays. Kanchan looks at them and thinks that for Shravan this is more than friendship. She asks the two to stop. Suman says that class is about to start and asks Shravan to go to change. Shravan says that he doesn't want to be late so he isn't going back. He says that Bunty will bring clothes and he will change there. He goes in the house without listening to Suman.
Episode ends
Precap: Suman scolds Shravan for messing up her whole room. Shravan is just in the vest and talks with Suman from washroom saying that Bunty had to give him clothes through window with a rope. Suman scolds him and then decides to teach him a lesson hiding his clothes. She says that now he shall show how he gets out of this mess. Shravan is alone in Suman's room and is walking here and there tensed wearing just the vest when Dadu comes.