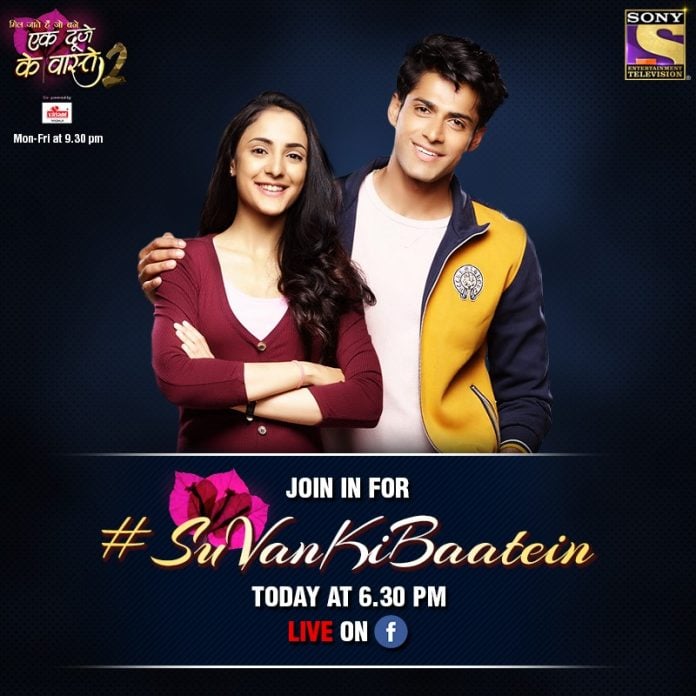 Ek Duje Ke Vaste Upcoming Story, Spoilers, Latest Gossip, Future Story, Latest News and Upcoming Twist, on Justhowbiz.net
The episode starts with Kanchan suggesting Suman to give her towel to Shravan who used it instead of throwing it. Suman agrees and calls Shravan asking him to come on terrace. Shravan asks her not to thank but Suman throws towel on Shravan's face asking her to keep it since he used it. Shravan happily keeps it. Suman leaves. Shravan is very happy receiving the first gift from Suman. Bunty warns him that he might get heartbreak. Kanchan notices Shravan's cheerfulness and is now sure that Shravan is in love with Suman.
Kanchan tells Suman that she doesn't want to keep Shravan's used towel but he doesn't have any problem. Suman says that Shravan is like this and adds that his friendship may teach her how to cool down. She leaves. Kanchan says that it's friendship for her only but not for Shravan.
On the other hand, Vijay calls Devraj. Kavita picks up the call. Vijay tells her that he got to know that he needs to sign some papers for the deal and asks her to give his message to Devraj so that he can come and get papers signed. Kavita is left confused thinking that Devraj didn't get them signed when he went to their house.
Later, Anjali comes in kitchen and sees Vijay making chai. She praises the smell. Vijay tells her that he called Devraj and Kavita picked up the call but he asked her to pass his message. He thinks Devraj is ashamed for leaving the lunch that day but he is also sure that he will come now that he called him and will even apologize to Dadu.
Meanwhile, Shravan dances holding Suman's towel. He is very happy and recalls his moments with Suman, "Shayad" plays. He tells Bunty that he will keep the towel with him forever since it's the first gift by his love. Bunty says that Kavita will tear it and give it to Jhumri to clean floor. Shravan says that he won't let her do that as he will keep it with his trophies. Bunty reminds him that he had promised himself to conquer Suman's heart before the one month of group studies end. Shravan is sure that he will do it and asks Bunty not to get him into a trouble.
In her room, Suman complains about her new towel. Kanchan says that she could have washed her towel and kept it instead of giving it to Shravan but Suman is against the idea of using an used towel. Kanchan asks her if she has noticed any change in Shravan's behaviour. Suman replies that he has just become naughtier. Kanchan tries to make her understand that Shravan likes her more than a friend does but Suman isn't ready to believe her and says that she knows him better since he is her classmate, buddy and best friend too now. Kanchan asks her to make a bet and Suman accepts. Kanchan says that she will prove her that Shravan loves her but tomorrow.
On the other hand, Shravan and Bunty are enjoying tea at a stall and reading jokes and forwarding them when Shravan gets call from Suman. He picks it up happily but then gets worried. He gets up. Bunty asks what happened. Shravan says that she is calling him on terrace, and it looks like it is a serious matter. Just then, Suman comes there. Shravan rushes to her with Bunty. Suman scolds him for the joke she received. Shravan says that it is just a joke and he forwarded it to his contacts, including her. Suman scolds him. Shravan blames Bunty for everything. Bunty disappears. Suman keeps scolding Shravan for the joke and says that she will break her friendship with him. Shravan gets scared and says that she doesn't want to lose her. Suman laughs at his face and reveals she was just pretending to be angry and actually laughs at such jokes too. She clicks his picture and laughs saying that she will keep his stupid photo too now with his stylish ones. Shravan stares at her laughing face with a smile. "Tera hoke rahoon" plays. Suman says that she just wanted to know where he spends his time with his friends and asks her to get her a chai too. Shravan asks the stall man to make chai just like Suman wants. Suman is surprised to know that Shravan remembers how she likes her chai after she told him once only. Shravan reminds her that she was the one who said that friends know all about each other and remember every little thing. They have chai together and enjoy.
At the same time, Devraj is on call and is told that he needs to get papers signed by colonel Vijay or pay 50lakhs but hurry up. Rajinder comes and asks if he was talking with colonel Khan and thinks there is no problem now that he got Vijay's sign. Kavita comes and reveals that he didn't get sign yet. Rajinder is confused because Devraj was supposed to get sign that day they went at Tiwaris house for lunch only. Devraj talks to him and Kavita rudely and walks away. Kavita and Rajinder understand that there is something bothering him that he is hiding otherwise he would not pay lakhs extra just to avoid getting a signature. Kavita says that it must be something big for sure.
The next morning, Shravan searches for his towel but Bunty has it. Bunty suggests him to use Suman's towel but Shravan asks him to think that it isn't a towel. He takes back his towel and goes to the washroom.
Kanchan calls Bunty who gets excited receiving her call. Kanchan talks sweetly with him and, after making sure that none is around him, he asks Bunty what food Shravan likes and dislikes. Bunty tells her. Kanchan asks him to keep all this a secret because there is a surprise so everything should stay between them only.
Episode ends
Precap: Dadu snatches Shravan's phone after it rings during lesson and says that he will get it the next day. Later, Kanchan teases Suman because she received gift from Shravan despite there is no special occasion and says that such a gesture is done by someone who loves a person. Suman thinks to check Shravan's phone to find out if there is any truth in what Kanchan is saying. She comes to know that Kanchan is right. She calls Shravan and asks him to meet her the next morning. Shravan happily accepts. The next morning, Shravan and Suman meet. Suman holds his hand.