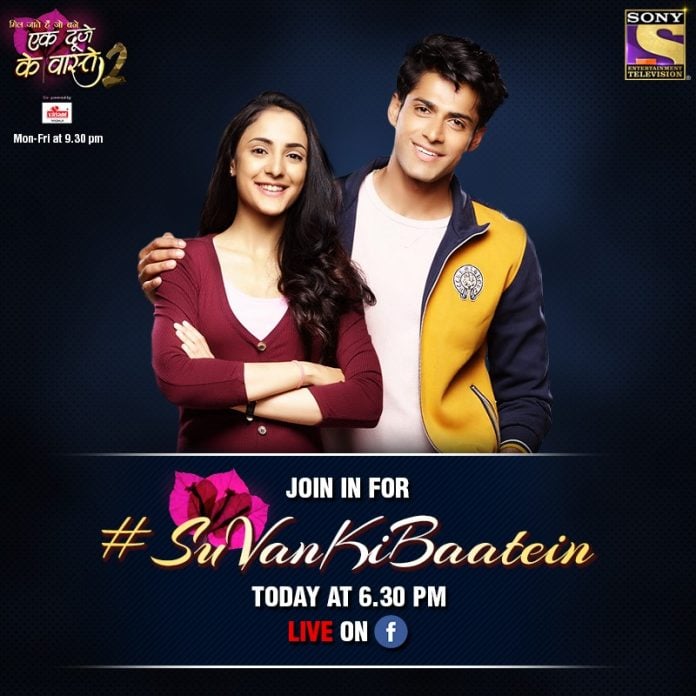 Ek Duje Ke Vaste Upcoming Story, Spoilers, Latest Gossip, Future Story, Latest News and Upcoming Twist, on Justhowbiz.net
The episode starts with Shravan complaining with Bunty about Kanchan and bashes Bunty for telling her about his allergy. Bunty says that they should go to have tea on stall.
At the same time, Kanchan drags Suman to see if Shravan is going to a date. They see Shravan sitting on scooty with Bunty. Shravan says that he will drop Bunty at bookshop and then leave saying that he is going to a date. Suman leaves after scolding Kanchan. The latter is keen on bringing up the truth.
On the other hand, Rajinder gives paan to Chacha ji and asks him how everything is going. Chacha Ji talks happily about his business and asks them how they are doing. Rajinder complains about neighbours who keep bothering them and this makes Ragini tensed. He asks Chacha Ji to do something so they get rid of them. Chacha Ji asks their name and address and agrees to do something.
At night, Ramesh tells his family that they have to shift to Indore in a week. Beena is happy and says that she will start packing all the stuff but Ramesh stops her saying that he will shift to Indore alone while Beena and Kanchan will stay here. Dadu asks Beena to let him go and settle down first. Beena says that she should have the right to take decision whether she wants to struggle with her husband or stay here in pain. Ramesh yells at Beena for talking like this to Dadu. She wants to go with Ramesh. Kanchan leaves saying that she won't go anywhere. Vijay scolds Ramesh and Beena for yelling like their neighbours. He asks them not to make him more worried since he is already tensed with Devraj's matter.
Suman tries to cheer Kanchan up but in vain. Suman wonders how to bring a smile on her cousin's face and stop her.
The next morning, group studies are going on. Devika notices mobile in Shravan's pocket and gestures to Aneesh. They think to teach him a lesson. Shravan notices that Suman is upset and asks her to share her problems with him. Suman tells him that Kanchan's mood is off so she is upset too. Shravan thinks Kanchan is upset after he failed her plan. Suman asks him about her date. He replies that the girl wasn't his type. Suman asks him what his type is. Shravan repeats the description that once Suman had given him and adds that his girl's will have a pretty smile. Suman smiles and asks him an idea to bring smile on Kanchan's face.
Aneesh comes and asks Suman notes. He also hiddenly gets Shravan's mobile from his pocket. After a while, he comes back and drops mobile on floor. He gives it back to Shravan saying that it had dropped. Shravan is irritated by him.
After a while, Dadu comes back and asks if revision is done. Suddenly a funny ringtone is heard. Everyone chuckles. Shravan realizes its his phone ringing. Dadu scolds him and doesn't even listen to Shravan when he defends himself saying that ringtone isn't his and he had put phone on silent. Dadu snatches his phone which Shravan will be getting tomorrow only and sends him out of class to revise. Aneesh taunts him gesturing. Suman understands that Aneesh did something but thinks that Dadu won't understand.
Shravan goes outside and complains about Aneesh. Just then, a delivery boy comes and delivers a parcel for Suman. Shravan gets it and realizes that it's the same dress he once had ordered online and Suman had misunderstood it to be for her. He thinks Kanchan is trying to trap him. He wants to hide parcel but Damru comes and sees the parcel and, when Suman comes on balcony asking who had ringed the bell, he tells her that delivery boy has given parcel for her from Shravan. The latter gets tensed and thinks to do something.
Kanchan teases Suman because Shravan gave her gift even though there is no special occasion and says that only who loves a person, gives gift like this. Just then Damru comes with another parcel. Kanchan thinks that Shravan wants to confess his feelings today so he is sending gifts but Damru tells her that it's for her and delivery boy had forgotten to give it. Suman gets happy and asks her what this means then, Shravan surely doesn't love them both. Kanchan is confused.
Shravan calls Kanchan and asks them to come on balcony and show how much they liked his gifts. He says that he sent parcels because last time they misunderstood gift to be for Suman. Kanchan says that the misunderstanding was for Suman so asks why he sent gift to her. Shravan replies that Suman is already his best friend so now he is trying to get her friendship. Kanchan smiles. Suman gets happy seeing her cheerful again and thank Shravan. The latter says that "best friend" and "thank you" don't stay in one sentence and asks them both to try the dresses and show him. Kanchan and Suman go back inside.
Bunty asks Shravan how he managed to get another dress. Avni comes in Shravan's room searching for her parcel. Bunty understands that Shravan got her dress and gifted it to Kanchan. Shravan says that he will get another dress for Avni but for now he made Suman happy making Kanchan happy as well.
On the other hand, Kanchan and Suman try the dresses they got and they like them a lot also because they perfectly fit. Kanchan thinks to send their picture to Shravan so he can give his opinion but then remembers that phone is at Tiwaris' house. Kanchan send picture to Bunty.
Shravan stares at the picture and praises Suman's beauty. Bunty says that also Kanchan is looking pretty. Shravan sends a message saying that Sumo is looking pretty. Kanchan teases Suman but just then they get another message in which Shravan is praising Kanchan as well. Suman asks Kanchan to come out from her cheesy novels.
Shravan thanks God because he got saved on time realizing his mistake and sending praise also for Kanchan. He says that Suman needs time so she shouldn't know about his feelings yet. He is sure that with Bunty's help and his own brain, he will conquer Suman.
At night, Suman gets woken up because of Shravan's mobile ringing. She goes to check it and sees that it's a reminder to drink water. She looks at phone and thinks to check it to get a hint to know if Kanchan is right about Shravan. She is hesitant but then checks it. She looks at pictures and smiles. Suddenly she starts finding many pictures of her. She wonder if Kanchan was right.
Episode ends
Precap: Suman tells Kanchan that she might be right about Shravan.