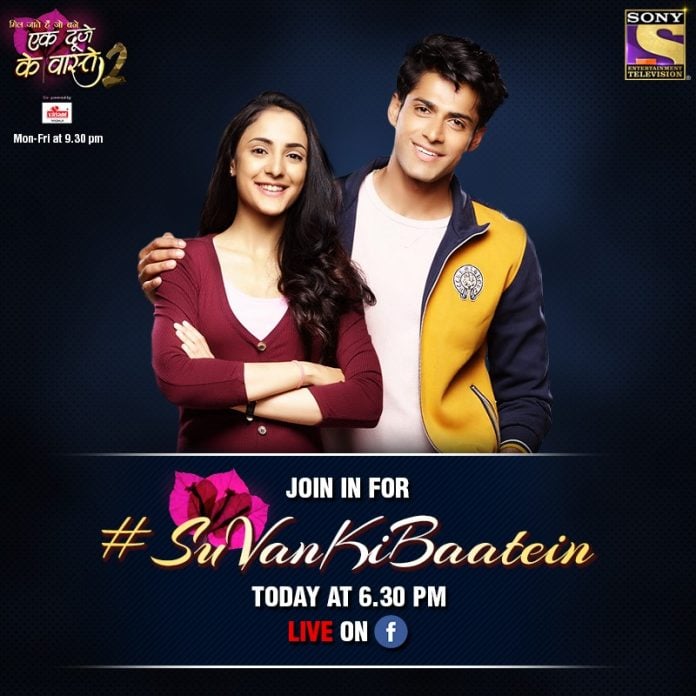 Ek Duje Ke Vaste Upcoming Story, Spoilers, Latest Gossip, Future Story, Latest News and Upcoming Twist, on Justhowbiz.net
The Episode starts with Devraj talking to Shravan about Kavita finding an alliance for him. Shravan checks his phone. Devraj asks him to pay attention to his words. Shravan thinks does dad know about Suman and me. Devraj says get some time for dad also. Shravan says sure. Kavita asks Ragini not to hurry. Ragini says it was not easy for me. Rajender says if you find right, then mail me the tickets. Ragini says I have sent it. He says I got it, I will process. He goes. Kavita says Rajender changed, he deserves a second chance. Ragini says it wasn't just one mistake. Kavita asks don't you love Rajender now. He comes back and asks Ragini did you check your tickets. She says no, why.
Shravan reaches the airport. Devraj asks him to hurry. Bunty comes and says when I knew that uncle is coming here for you, I also came here. He makes Shravan wear a garland. He says I will drop you to departure gate. Shravan asks Devraj to go home and drop Ragini to the airport, he will go with Bunty.
Devraj says fine, take care, call me some times. He leaves. Bunty asks Shravan to come with him. Shravan sees Suman. Do dilon ki….plays….They hug. She says if I couldn't say bye to you… He says I would have missed the flight, I would have not gone without meeting you, my heart would be here. She asks when did we become like this. He says maybe we were such since ever. He gets Ragini's call. She asks about ticket. He says I booked today's ticket. She says its after one month. He says maybe I made a mistake, now you will get ticket after a week. She says I had imp work. He asks what shall I say now. She says don't worry now. He ends call.
Suman laughs and says I told you that she won't go. Devraj comes home and asks Ragini is she ready. Kavita says Ragini can't go today, Shravan booked ticket for wrong date. Devraj says its fine, spend time with us, there is no problem. Suman says it will be good if the time passes soon. Shravan says I will meet you at registrar office. Kanchan comes and says we will also meet you there. Bunty asks him to board the flight. Shravan leaves. Ek duje….plays….
Beena asks Veer to have breakfast. Ramesh comes and says Veer is playing. She says why do you all make me cook food early when no one wants to eat, Suman and Kanchan also left. Ramesh smiles. He says you never changed. Gujral comes. Ramesh asks him to sit. Gujral says I had made breakfast, but Beena cooks well, so I will taste the food, sorry to come without informing. Beena greets him and asks him to have food.
Gujral says I couldn't meet you all since a long time, where is Suman, I got a good news for her. Ramesh says she isn't home. Gujral says Suman can become a major from captain, she may get a promotion. They smile. Gujral asks where did she go. Beena says she went to Kent for the medical camp. He says no, she is on leave. Ramesh says children are in hurry, maybe she went to her friend's house. Gujral gets a call. He says sorry, I have to leave. He leaves.
Suman and Kanchan come home. Beena gets angry. Ramesh says there would be misunderstanding, why would Suman lie to us. Beena says I will find out the drama. Rajender comes to Ragini. He says don't worry, I will book your ticket, you can also do this, but I have some friends in travel agency. Goyal comes and greets them. He asks for Devraj. She says he went out. Goyal says I have some news. Rajender says you can tell us also. Jhumri goes to get tea. Goyal asks Ragini to stay, she is Rajender's wife. He says you know Shravan bought Tiwari house for Suman's sake, he named the house to her. Rajender asks how would he get money. Goyal says he would have taken money from friends, its confirmed news. He goes.
Suman keeps her uniform. Kanchan calls her disciplined. Beena comes and asks where did you go. Suman says I told you in the morning. Beena says Gujral told us the truth, since when did you start lying, where did you go, Kanchan you are also with her, didn't you lie. Beena says you lied to me easily. Suman says I went to airport to drop Shravan, this is the truth. Beena asks what. Suman says you wanted to hear the truth.

Precap:
Beena goes to Devraj and scolds him. He says keep Shravan away from Suman. She asks why is Shravan eloping with Suman to marry. He gets shocked.