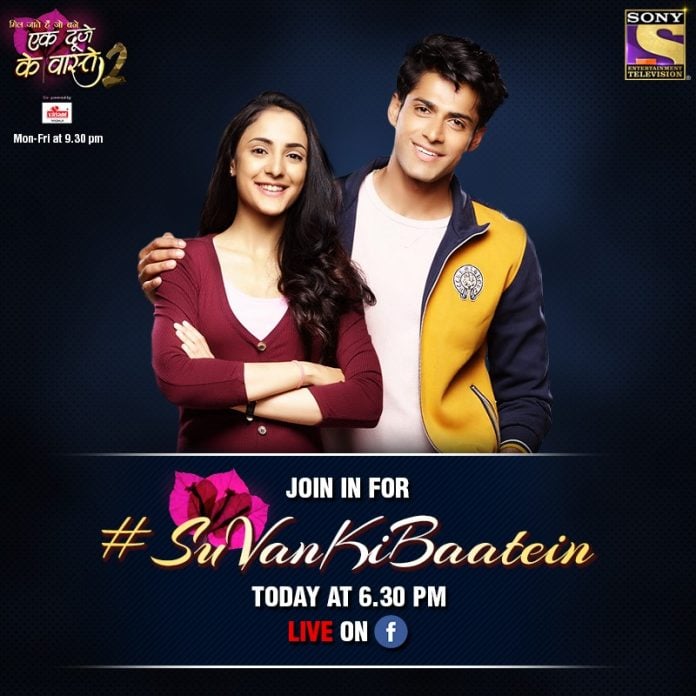 Ek Duje Ke Vaste Upcoming Story, Spoilers, Latest Gossip, Future Story, Latest News and Upcoming Twist, on Justhowbiz.net

The Episode starts with Beena saying I just called Veer's friends, everything got fine between both the families, come, lets cut the cake. Vikram says I m happy to see Shravan. Vikram and Veer cut the birthday cakes. Suman sees Shravan. She feels uneasy. Ramesh hugs Suman and Kanchan. He says we forgot to celebrate happiness. He says Veer, we used to have a lots of celebrations here. Bunty sees Suman and says cake got cut, we should leave now. Shravan says we will stay for some time, I will clear Suman's misunderstanding. Bunty asks why do you want to tell her.
Veer asks Shravan for the gift. Shravan says we will do one thing, I will make your wish come true, make a wish. Veer says you never fulfill your promise. Shravan says I had some work, I promise I will fulfill one of your wish. Veer says promise. Shravan says promise. Vikram also cuts the cake. He feeds the cake to Suman first. Suman sees Shravan. Vikram feeds cake to everyone. Vikram asks Suman for dance. She says sorry. He says just like friends, we will dance, I want to spend the special moment with special friend. She says no please.
Kanchan says Suman, dance, we will join you, I will play music. Vikram dances with Suman. Shravan dances with Beena. Song plays and Suman recalls dancing with Shravan. Shravan goes away. Suman sees him going. Shravan sees her dad's pic and recalls his words. He says I just wanted to apologize. Suman comes to taunt him. She says I had believed your sad performance, but I saw you celebrating at home, I saw you dancing.
He says my neighbors don't stay here, a girl stays here who doesn't understand, I had to tell you something, I don't think its needed. She asks him to say it, what drama is it, what lie will he say. He says let it be, your happiness will get less, enjoy.
Ramesh talks to Shravan's friends. He takes Vikram with him. Beena asks Vikram to have food. Vikram says I will come in some time. Ramesh says I got the invoice, we will pay the money. Vikram says sorry, my office staff had sent it. Ramesh says but we have to pay. Beena says he regards us family, he can talk to Suman. Vikram says I want Suman to take time to get ready, I can wait.
Bassi and Saurabh thank Beena and Vikram. Shravan says I will also go now, its late. Vikram asks Shravan and Bunty to stay back. Shravan sees Suman. Vikram hugs Shravan. Suman says you guys carry on, I will go. Vikram says stay back, we will sit and have a talk our heart out sitting near the bonfire. Kanchan asks Suman not to run away like this, Vikram will be hurt.
She says you said you don't care about Shravan, don't run away, don't spoil things between you and Vikram. Suman goes to Vikram. Vikram and everyone get talking. Vikram thanks Suman. Beena says I liked it that you have come, you should remove bitterness from heart. Shravan says please, I don't have to look back now. Beena goes. Vikram drinks. He says I m glad seeing you move on. He asks Shravan to have a drink. Shravan says I don't want to drink. Vikram says strange, fine, I won't force you, Bunty you don't refuse. Bunty drinks.
Vikram praises Suman. Suman recalls Shravan. Vikram holds Shravan's arm. Shravan gets hurt. He says I got hurt while saving a boy, that's Veer. Vikram says Suman will cure your wound, she is the best doctor, she never lost, she tells me everything. He asks Suman to cure Shravan's wound. Bunty says Suman is treating his arm, she is Shravan's doctor. Vikram sees Suman. Suman worries.
Episode ends.
Precap – Suman says you didn't think of the situation, I was special for you, I called you many times, you never replied to my messages, you are behaving like nothing happened. She cries.