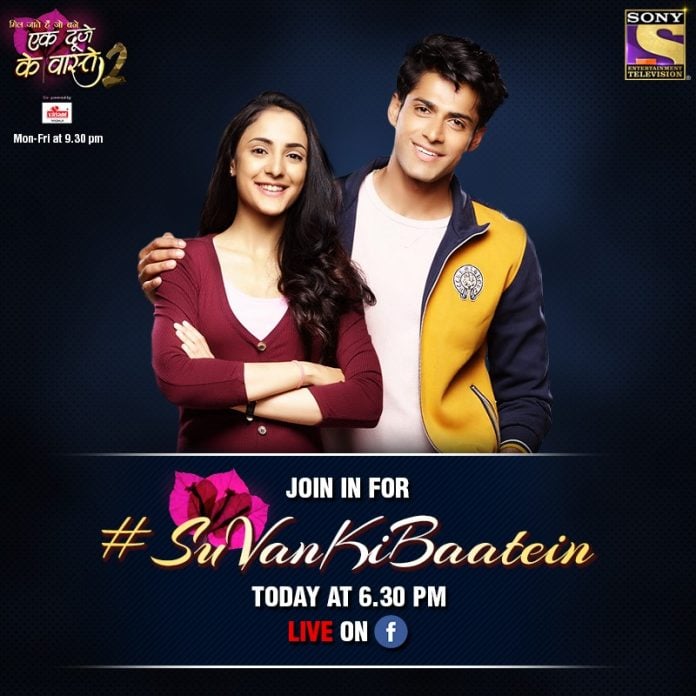 Ek Duje Ke Vaste Upcoming Story, Spoilers, Latest Gossip, Future Story, Latest News and Upcoming Twist, on Justhowbiz.net
The episode starts with Shravan talking emotionally with Bunty after his heartbreak. Bunty asks him to tell his feelings to Suman at least once, before taking any decision, no matter if she rejects or not. Shravan says that she has already rejected without him telling anything and he doesn't want to lose that friendship by revealing anything. Bunty asks him if he is willing to keep suffering without saying anything. Shravan says that he is willing to become the best friend Suman wants, in that limit she wishes for. Bunty tries making him understands that by staying with her, it won't be hidden for long that he loves her. Shravan replies that he is with him though.
Bunty is frustrated and wants to tell everything to Suman, but Shravan asks him to promise that he won't. He says that he knows that friendship shall be in love, but it isn't said that love has to be there in friendship. They hug crying.
On the other hand, Anjali tries talking to Dadu about Vijay and Devraj's issue but Dadu is still angry on Rajinder insulting Vijay. Anjali says that they have taught to Suman and Kanchan that they must care about relationships and wonders how he can't understand that being a brigadier.
Dadu says that she can tell everything to Vijay if she wants as he is not scared of anything. Anjali says that he should be scared of Vijay's reaction after he comes to know what he did to him. She doesn't want to break his heart, so she decides to stay silent.
Shravan comes to the lesson. Kanchan greets him. Shravan says that he is Suman's best friend so now onwards the seat next to Suman is booked for him.
Kanchan chuckles and lets him sit near Suman. The latter shows him a drawing of a boy and a girl, two friends. Shravan appreciates it and says that she shouldn't let this talent fade after she joins the army. Suman says that he isn't so handsome in real life like she drew him. They laugh together.
Devika and Aneesh look at them and discuss about how Suman changed after meeting Shravan. They decide to pull her leg too and go to sit near them. Aneesh asks Suman if she has seen the post of that guy whom she used to spend so much time with and had a crush on him. Suman asks if he is talking about Aditya, with whom she is not in touch anymore, and denies having a crush on him.
Devika and Aneesh mock her but Shravan defends Suman saying that she is a confident girl and if she had any crush on Aditya, she would have admitted even in front of such losers like them. Suman smiles at him.
Lesson starts so everyone takes their seat. Suman assures Shravan that Aditya was just her best friend and thanks him for defending her. Shravan asks her whether she was not told how to speak as she can't thank a best friend. Suman holds his hand. Shravan stares at her. "Jitni dafaa" plays. He takes his hand back. Bunty looks at them through gate and feels bad for Shravan, knowing about the pain he is going though.

On the other hand, Kavita and Beena are buying vegetables. Kavita asks her why she isn't looking happy as usual. Beena complains with her about how Dadu took decision of sending Ramesh to Indore while she and Kanchan will stay there. Kavita asks her what Ramesh's reaction about it was. Beena says that he didn't object. Kavita suggests her to take stand and Beena agrees.

At night, Suman pranks Kanchan scaring her by shouting when Kanchan enters in the room. They laugh. Kanchan asks her if she didn't find Shravan's behaviour strange since he took Aneesh's fun seriously and defended her so much.
Suman says that he proved that he is a true friend. She tells Kanchan that it's rare to find someone who always takes stand for them, supports them without judging. Kanchan makes Suman understand that all this happens in love also and she is still sure that there is something in Shravan's heart which is more than friendship. Suman is sure that Shravan is just her bff though.
Suman changes topic and asks Kanchan if she doesn't feel like Beena's mood is worse today. Kanchan says that it is only for Indore thing as she argued with Ramesh after dinner.
Meanwhile, Malhotras are having dinner. Kavita asks Bunty about Shravan who hasn't come. Bunty replies that Shravan isn't feeling hungry. Kavita doesn't want Shravan to sleep without eating.
Shravan is in his room. He tries reading some books in vain. He sees Suman's towel and remembers Suman throwing it to him. He recalls their moments together. Title track plays. He also recalls Suman telling that she sees her lifelong best friend in him.
He cries saying that he didn't know he was so special to her and when she told him, she also added a limit he shouldn't cross. Kavita comes and says that he has crossed the limit. Shravan looks at her.
Episode ends
Precap: Kavita stops Suman and tells her that she needs to talk with her urgently. Suman sits near her. Kavita says that she is Shravan's buddy, they study together and also spend time together outside the class. She reveals that Shravan is in love. Suman and Shravan dance in Shravan's room. Shravan pulls her closer. They share an eye-lock.