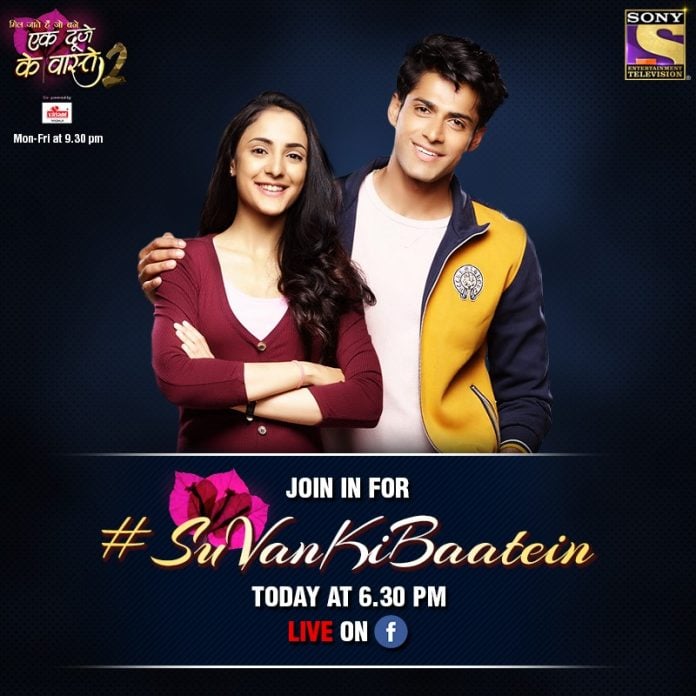 Ek Duje Ke Vaste Upcoming Story, Spoilers, Latest Gossip, Future Story, Latest News and Upcoming Twist, on Justhowbiz.net

It's night and Shravan stands on terrace sadly after having a little talk with Kavita. Suman comes on terrace too and sees him. She calls him and asks what he is doing outside at this time. Shravan makes an excuse.
Suman tells him that he knows that she wants to join army and bring ahead the legacy of her family so she doesn't want anything in her life that could distract her. Shravan says that he understands her goals better than how much he understands her. He thinks that he isn't able to consider her just a friend and is sorry for that but he is forced by his heart. A thunderstorm is heard.
Suman says that she needs to get clothes and leave. She is sure that Shravan will get a good sleep tonight. Shravan stares at Suman while she takes off clothes from balcony. "Jaan ban gaye" plays.
The next morning, Ramesh is frustrated since he isn't able to find Beena anywhere. He shares that with Anjali.
Kanchan and Suman come. Ramesh gets a message in which Beena is telling him that she is going to her mother's house. Ramesh gets angry because Beena is making a drama out of the Indore issue.
Anjali calms him down. Kanchan scolds Ramesh for not talking properly with Beena knowing that she is upset. She leaves, followed by Suman. Damru comes asking about a dish. Anjali says that Beena used to make it best and wonders who will make now.

On the other hand, Kavita comes to Shravan's room with breakfast for him but sees only Bunty there. Bunty tells him that Shravan has gone to class. Kavita is concerned because Shravan didn't eat last night too. She sees both Bunty and Shravan's plates there and asks Bunty to confess the truth.
Bunty reveals her that Shravan's mood is off and didn't feel hungry so he didn't eat too since his mood got off too. Kavita wonders what happened to Shravan.

Meanwhile, Devraj is on call for the business deal. He is frustrated because he hasn't got Vijay's signature yet. Kavita comes and asks why he didn't eat yet too. She complains about both father and son duo not eating and leaves irritated.
At Tiwaris' house, Aneesh is about to sit near Suman but she asks him to sit on his usual seat since this one is reserved for Shravan.
Aneesh says that if he wants the seat then he should have come earlier. Suman stands up and says that she came first and reserved this seat for her best friend. Aneesh says that they are going fast and maybe there is something more than only friendship between them. Shravan comes and bashes Aneesh asking him to keep his cheap thinking for himself.
Aneesh goes to sit next to Devika after glaring at Shravan. He tells Devika that they will get separated as quickly as they became best friends. Suman asks Shravan to ignore Devika and Shravan who are just show-off.
Vijay comes to take class but Ramesh comes and says that he has brought hot "mangode" for the students.
Kanchan comments that there is no need of so much effort now that Beena isn't there. Suman tries to calm her anger down. Shravan asks what happened. Suman says that she will tell him after class.
Damru comes with "mangode" and Suman takes one but Shravan refuses saying that he isn't hungry and his stomach isn't well. Suman says that it's her favourite food and gives her mangoda back to Damru saying that this is her first sacrifice for her best friend. Shravan takes one bowl for Suman and one for himself saying that he will have it. Suman smiles.
Vijay starts the class and asks what is more important for an army man.
Shravan replies that, after their country, it must be their companions who stand with them in a battle.
Vijay and Suman are very impressed by the answer. Vijay compliments him for learning such a big thing in such a small age. Kanchan tells Suman that a best friend must be like this. Suman says proudly that he learnt from her.

Vijay says that a military officer can sacrifice anything for a country as well as for a friend so they will practice this in the class: they will have to sacrifice the thing which is dearest to them for their friend. Vijay asks Suman what she likes the most. Shravan replies for Suman saying that she loves putting her emotions on snatching.
Vijay says that he knows his best friend well. Suman agrees not to sketch until Shravan wants. Vijay praises her for sacrificing without a second thought and asks Shravan what is dearest to him. Aneesh replies that he loves his bike and keeps showing off with it.
Suman says that it's a first necessity so he can't ask to sacrifice it. Vijay agrees with her and asks Shravan to think about something else but Shravan says that Aneesh is right and bike is dearest to him and a sacrifice for the second favourite thing would not make sense.
Vijay is impressed and says that he is proud of him. Bunty looks at all this from gate and is shocked to see how easily Shravan ditched his bike. Suman tells Shravan that he doesn't need to do this but Shravan says that this is nothing and he can do anything for friendship. He thinks that he sacrificed love for friendship so this is nothing.
Episode ends

Precap: Kavita stops Suman and tells her that she needs to talk with her urgently. Suman sits near her. Kavita says that she is Shravan's buddy, they study together and also spend time together outside the class. She reveals that Shravan is in love. Suman and Shravan dance in Shravan's room. Shravan pulls her closer. They share an eye-lock.