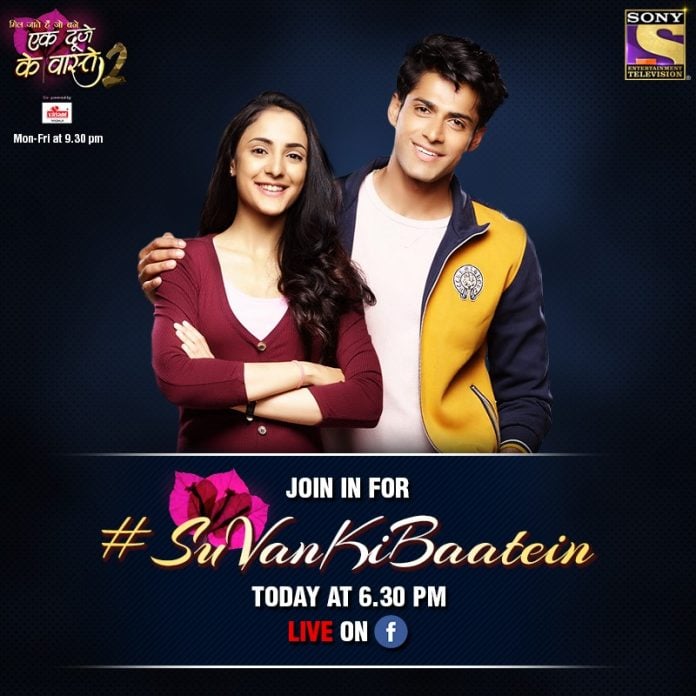 Ek Duje Ke Vaste Upcoming Story, Spoilers, Latest Gossip, Future Story, Latest News and Upcoming Twist, on Justhowbiz.net
The episode starts with Shravan being relieved and talking with Kavita happily. She brings his favourite milkshake for him. Shravan takes it. Kavita asks what he talked with Devraj when they went to roam together.
 Shravan tells her that they roamed around whole Bhopal and Devraj turned a cool papa from rude papa. Kavita directly asks her if he has a girlfriend. Shravan splits the milkshake. Kavita asks why he is reacting like this. She tells Shravan that she is a cool mother too and gives him an hi-five. She asks him to tell her quickly if he has a girlfriend. Shravan says that the girl he will like has to be disciplined, hardworking and respectful. Kavita asks if he is talking about an army girl.
Shravan says that there is surely something in army people. Kavita walks away with the excuse that she remembered a work. Shravan wonders what happened to his parents nowadays since they are behaving weirdly.
The next morning, Suman is sitting in garden for class. She sees Kanchan coming and asks her to sit next to her. Kanchan refuses to sit on her best friend's seat. Shravan comes and Kanchan praises him for the change he had brought in Suman.
Shravan sits next to Suman who feels awkward and looks away. Shravan looks at her and tries talking with her. Suman asks whether he is feeling awkward. Shravan says that this word isn't meant for him. Suman smiles.
On the other hand, Kavita thinks that Suman felt awkward when she talked with her. She wonders if the girl Shravan was talking about is Suman only. Kavita asks Avni how Suman and Kanchan are. Avni replies that Suman is very good in studies and focused but talks in good way with Shravan only because Devraj and Vijay are friends and because they are classmates. Kavita thinks that Shravan cannot like such a girl so he must have fallen for another army girl who lives in their colony.
Meanwhile, Suman watches the dance video and looks at Shravan who is sitting at table with her. Vijay comes and asks students to clear all doubts they have before leaving. He leaves. Shravan asks Suman what she is watching. Suman says that she received a message. Shravan starts reading his book but sees Suman throwing glances at him.
Later, Suman leaves without even greeting anyone. Shravan understands that she is feeling awkward otherwise she always says bye to everyone. Aneesh stops Suman and asks why she is in rush. Suman makes excuse that she remembered an important work.
Aneesh shows message from dance teacher who thanks all the students for their dance videos and says that she enjoyed all their performance and song selection was great. Suman and Shravan make excuse and leave to respective houses.
At Malhotras mansion, Kavita orders Bunty to sit down and questions him about the girl Shravan likes. Bunty tries to convince her that she is misunderstanding because Shravan is innocent. Kavita asks if love happens to not so innocent people. She asks him to give a direct answer.
Bunty asks her to let him make one. He corrects himself saying that he will tell her everything. He tries convincing Kavita that Shravan is busy studying but Kavita doesn't believe him. Bunty ends up telling that it's an army girl. Kavita asks him not to tell anything to Shravan. Bunty rushes upstairs.
Bunty finds the notebook on which Shravan wrote his feelings for Suman and reads it getting shocked. Shravan comes and lies on bed saying that it's the first time he felt uncomfortable in front of Suman. Bunty shows what he has written and asks what he did. Shravan says that he felt relieved putting his feelings on paper. Bunty tries to make him understand that he has to come back on track. Shravan goes on terrace.
On the other hand, Suman, who is on terrace, wonders if the army girl Shravan is in love with is she only. She wonders what's the reason behind the promise of being her best friend then. She understands her mistake of just talking about what she wants and never asked him. She says that she called him best friend and she proved to be one. She doesn't feel right and wonders what to do.
Shravan sees Suman and smiles. Bunty comes and he is burning the papers on which Shravan wrote his feelings. Shravan tries to stop him but Bunty doesn't stop because he wants his friend to be free again. Suman wonders what these two are doing. Bunty throws the papers down from terrace and asks Shravan how he is feeling now. Shravan has teary eyes. Bunty says that he did this for him only.
Suman grabs a piece of paper from those which Bunty burnt and reads "I love you" written on it. She decides to confront Shravan.
Episode ends
Precap: Shravan tells Suman that she is very special to him and today he will confess the biggest truth of his life to her.