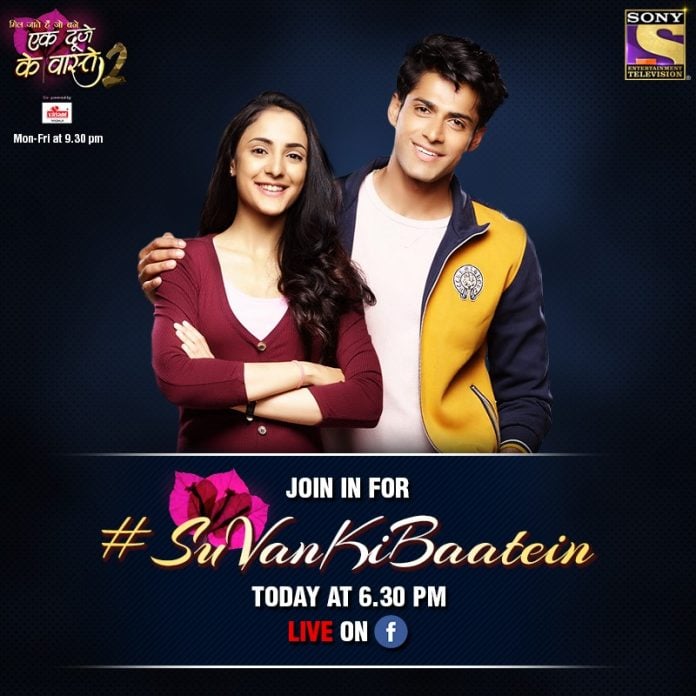 Ek Duje Ke Vaste Upcoming Story, Spoilers, Latest Gossip, Future Story, Latest News and Upcoming Twist, on Justhowbiz.net
Episode begins with Suman entering the Malhotras. Kavita does aarti. Suman then walks through alta. Then the newly wedded couple sit for the post wedding games. Suman and Shravan both try to find the ring the milk bowl. Bunty says I can bet Shravan will win. Avni says Suman bhabhi will. Suman wins and Avni says see I told you. Kavita says don't tease my son. Then Kavita sends Suman and Shravan to their room.
Suman changes and comes from washroom. Shravan thinks Suman will say something romantic but instead Suman asks him to keep the washroom more tidy. Shravan smiles and agrees. Suman asks him to change. Shravan changes and comes. They look out of the window and realise how they are on the same side of the house now. They smile. Suman blushes and says we have stayed awake whole night so they should sleep. They agree and go to bed. They are trying to adjust how tk sleep. First they sleep by turning their backs onto each other then they turn towards and hold each others hand and pledge to start this new journey together.
Suman and Shravan are lying there peacefully. Shravan teases Suman saying we have always talked about future and are ambitious so now aftee marriage kids? Suman shys and says it will take time. They both laugh and sleep. Here, Ramesh says where is Suman and then realises that Suman is married. Veer says I have eaten food, now I am going. Beena asks him to do his homework before leaving. Beena says everyone says it's heavenly to do kanyadaan but the bidaai of a girl is so heartbreaking. Later she asks Kanchan why was Kavita talking about her marriage. Beena asks Kanchan not to hide anything. Kanchan tells Beena about the prank they played and that's why Kavita teasing her. Beena taunts Kanchan saying now neighbours are more dear to you. Kanchan asks you don't like Kavita. Beena says what is there to like or not like, I just want my daughter to stay happy there. Kanchan says she will be happy there.
Avni, knocks the door but Suman ans Shravan are sleeping in deep sleep. Shravan wakes up and wakes Suman. Shravan opens the door to find Avni who comes to give some snacks and asks them to get ready for evening as they must be tired from all the rituals and also teases them. Shravan shys and sends her. Suman and Shravan feed each other. Shravan gets a call from his friend who didn't attend his marriage.
Shravan says I forgive you as I am in good mood but you tell me why are you sad, as I remember you also got married few months back. Shravan's friend says we both are army people we knew that we will have postings but when it happened it's really sad and irritating. He cuts the call. Suman and Shravan worry about their future. Shravan says how for Suman army is first love and for Shravan Suman is first love so they will balance. Shravan says let's spend every second as memorable so that when we are far off then we can remember those memories.
In the evening, everyone is greeted by Suman and Shravan. Bassi and Bunty tease Shravan. Everyone is happy. Shravan gets a call and shares the news with everyone that his senior called him for promotion and says he needs to go to a place first and then his posting will be decided. Devraj and Kavita become excited. Suman is happy too but Suman and Shravan look at each other sadly thinking they might separate by distance due to posting.
Precap: Shravan is leaving, Suman is upset that Shravan is already leaving and Shravan doesn't tell Suman while going. Both are hurt.