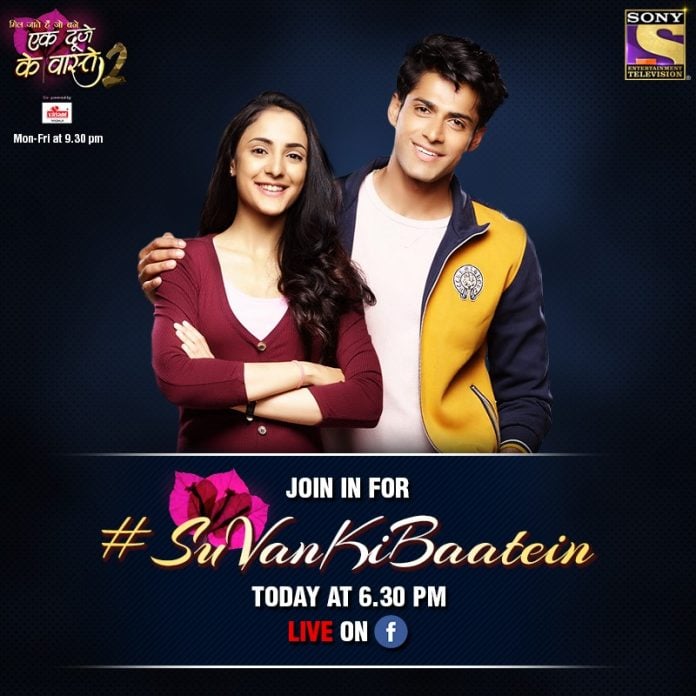 Ek Duje Ke Vaste Upcoming Story, Spoilers, Latest Gossip, Future Story, Latest News and Upcoming Twist, on Justhowbiz.net
The episode begins with Suman and her senior talking about her not feeling well. Suman says I will come in the evening. She is about to leave but Bassi points and tells Suman she will have to stay. Suman turns and sees Shravan coming on a ferry boat. Suman is surprised and happy. She sees Shravan coming towards her with a bouquet of flowers and Bunty also coming. They look at each other. An army officer comes and congratulates Shravan for marriage and promotion both. Bunty asks Bassi to show him the place and they leave the couple alone.
Shravan says I am sorry Suman, I was bit in off mood. Suman says I know but you not telling me the reason or information about your transfer was wrong. Shravan says I am sorry, thank god my wife is smart. Suman says yes I am. Shravan says sorry, please forgive me. Suman says now will you give your smart wife that boquet? Shravan says yes a bouquet from a forgetting husband to smart wife. They laugh. Shravan asks Suman to call him by his whole name. Suman thinks and says yes Major Shravan Malhotra. They both smile.
Someone calls Suman so she goes. Shravan sees a boat has flipped and there are few people in water helpless. Shravan rushes and jumps into the water. He swims. Everyone is informed and they look on worried. Shravan goes and saves and calls Basai for more boats. The ferries are bought and all the victims are carried to shore. One child has got hurt and Suman comes with the medical kit. She checks him up and says it's very danger phase and they need to go to hospital or else organ can fail and there is no time to wait for ambulance. They leave and Bassi arrange emergency ward.
The operation is complete and it's shown that the child was grandson of an senior retired army officer. He is pleased to hear that his grandson is fine and thanks the doctor. The doctor says it's all because of Major Suman's quick and correct decision taking capabilities.
Retired senior goes to Suman and Shravan and thanks them and congratulates them for their promotion. Suman and Shravan hugs each other and are about to leave but Suman notices Shravan has injury on his leg so she asks him to sit. A junior officer comes and helps with putting bandages on the wounds of Shravan. Then Shravan and Suman leave for home.
At home, Kavita is happy and all of them praise Suman and Shravan as soon as they arrive. Devraj says honestly today they looked like real army officers. Rajender also praises them very much. Avni here tells them that what about her then? Rajender says you? Avni says yes I have been praising them both from so long so I should get praises too now. They all laugh. Shravan says do something then. They all laugh.
Avni comes to Shravan and Suman and says how they are perfect couple, saving the nation, seems like you are ek duje ke vaaste. Suman says you say such simple things by exagurating that it seems so filmy. Avni says you make these big filmy things so practical. They all smile and bless Shravan and Suman. Kavita says you both have been very tired so let me make hot cup of tea for you both and till that time you both go and freshen up. They say yes.
Precap: In the evening party everyone is congratulating the couple for their promotion. Their senior raise a toast in name of Suman for taking such amazing spontaneous decision. Everyone comes together to praise her. Shravan feels left out. The senior announce that from now on Suman will be his assistant and leading the team. Shravan is sad and goes away for a drink.