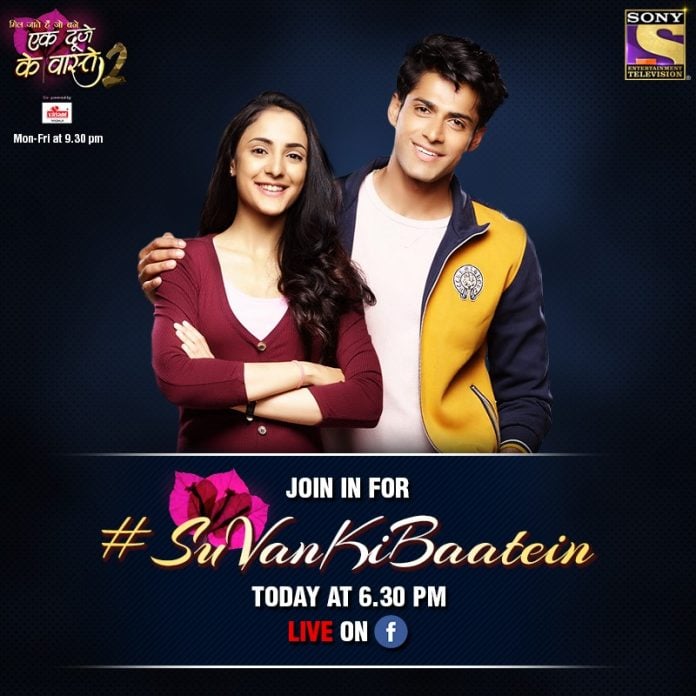 Ek Duje Ke Vaste Upcoming Story, Spoilers, Latest Gossip, Future Story, Latest News and Upcoming Twist, on Justhowbiz.net
The episode starts with Shravan asking Suman to never say that his love is not true and she can even read it in his eyes. He says that he loves her. Suman removes his hands from her shoulders. Shravan says that the "I love you" written on paper was for her and fate made it reach to her. Suman says that she understands everything that he said but she is sorry because she doesn't love him and unknowingly keep hurting him every day.
She says that she thought he handled their friendship with maturity but now she cannot forget everything so it is better if they stop meeting because his feelings will only grow up and she can't hurt him more. Shravan says that she has the right to be upset with him but not leave him. She says that she will keep remembering that the friendship between them which was so special to her is no more. She says that they will spend the ten days of group study left and then they will not be in contact. Shravan sheds a tear.

Suman is about to leave when she stops and asks Shravan to leave her dress. Shravan recalls Suman asking him to leave her dress and him refusing but when she turned around the corner of the dress was stuck with the swing and both of them laughed. Suman turns around saying that it is no time to joke but sees that the dress is stuck with a nail. She pulls her dress and falls down. She shows a hand refusing help from Shravan. She walks away.

Later, Suman has told everything to Kanchan who asks her if she is sure that she won't get hurt by staying away from Shravan. Suman cries and says that if she keeps meeting him, she will keep getting hurt because she will remember that the special bond between them won't be there anymore. Kanchan asks Suman if she is sure that there is nothing more than friendship in her heart for Shravan. Suman denies that and says that she has goals: she wants to join army and make her father proud, so she has no time for all this. Kanchan asks her to calm down and stop crying then come downstairs for dinner.

On the other hand, Bunty tries to convince Shravan to leave group study but Shravan says that he will go to see Suman and her smile for the last ten days and, if after these Suman's decision to stay away from him will be the same, then he will leave also the school; he will make sure Suman won't see his face. He says that the next ten days are going to be his and he will stay with his head up. He walks away.

Shravan circles the date of today and says that tomorrow is going to be the first day of the deadline and, if it was in his hands, he would not let it ever hand. Suman circles the date on the calendar too and says that the next ten days are going to be difficult for them both. Shravan goes on balcony and looks at Suman's room. Suman looks at the drawing of a cartoon of girl and boy she had made and cries. "Ek duje ke vaaste" plays.

The next morning, Shravan comes in Tiwaris' house for the class. Kanchan looks at him. Shravan sits near her. Suman isn't there. Aneesh says that the Suman who used to come before time, is late, because she got with wrong company, mocking Shravan. The latter asks Kanchan about Suman. Kanchan says that she is still sleeping. She goes to check.

Aneesh mocks Shravan who asks him not to trigger him since he is already mad today. Aneesh says that they shall think about some other nickname for him then apart "loser". Shravan says that today he wants to get beaten. Aneesh asks him to try touching him if he can. They stand up and face each other angrily.

Before they can do anything, Beena comes and stops them. Beena asks if there is no class today. Aneesh says that Suman is late. Beena wonders if she is unwell.

Kanchan asks Suman to take holiday if she isn't feeling well but she refuses. Beena comes in the room and both Kanchan and Suman greet her. Beena immediately notices that Suman is not well and asks Kanchan to bring medicines. Kanchan says that medicines aren't there, so she asked Ramesh to bring ayurvedic medicine for Suman.
Beena says that he will take time, so she asks Kanchan to call Damru. However, Damru doesn't pick up calls. Beena says that she will ask Shravan to bring medicine, but Suman stops her saying that she will be fine and Shravan has class. Shravan overhears everything. Beena goes to make soup for Suman after hugging Kanchan who says that she missed her.

Kanchan is about to say something to Suman, but she warns her not to say anything to Shravan. Kanchan agrees not to send her ex-friend to get medicines for her.
Shravan is about to get on his bike to go to get medicine but stops after recalling his promise to sacrifice his bike. He gets off and decides to go walking.

Kanchan is trying to call her father but in vain. Aneesh notices that she is tensed and asks what happened as she had gone to call Suman. Kanchan says that Suman is having weakness maybe because of the season. Aneesh asks if she got medicine. Kanchan tells him what happened. Aneesh wants to go to bring medicine but Kanchan stops him saying that Ramesh will bring as she left him a message.
Shravan is walking on the road.
Suman is so weak that she stumbles. Kanchan holds her. Suman assures her that she is fine and asks her not to talk about her health downstairs. Kanchan says that she won't tell anything to Shravan. The latter starts running but he slips and falls getting hurt. His arm starts bleeding.
Episode ends
Precap: Suman confronts Dadu since Ramesh said that he didn't send any medicine through him and asks her from where the medicine came then. Damru confesses that Shravan brought it. Shravan walks in pain on his terrace as he got hurt. Suman sees that and get teary eyed. She forwards a hand ahead when he is about to fall and he notices that. The next morning, Vijay scolds Shravan saying that he won't get forgiveness in this class but only punishment and asks him to do hundred push-ups. Suman says that if the team is getting punished for Shravan's mistake, she should face the punishment too since she is part of that team as well.