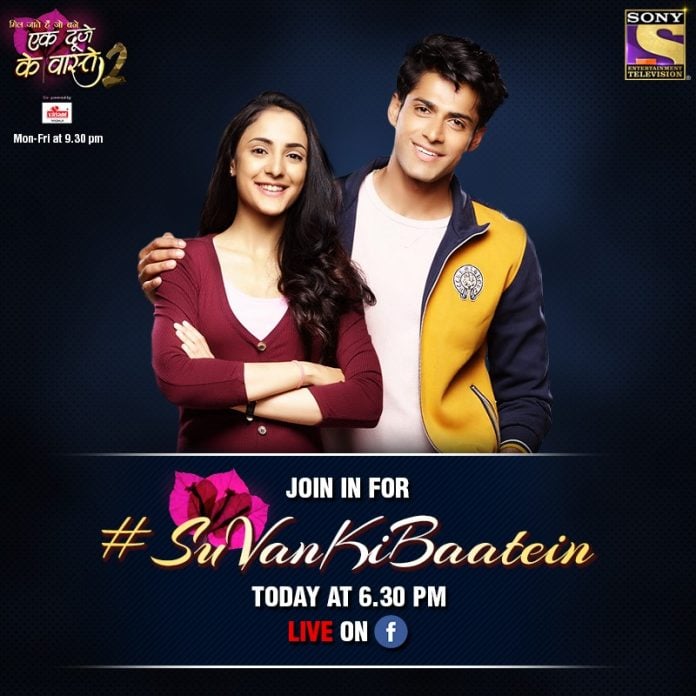 Ek Duje Ke Vaste Upcoming Story, Spoilers, Latest Gossip, Future Story, Latest News and Upcoming Twist, on Justhowbiz.net
The Episode starts with Shravan asking Kavita to disturb him if she wants, if the food gets spoiled, then they have to eat it. Rajender says we should better leave. Shravan smells the food. He clicks the pic and sends to Suman. She chats with him. She writes I wish I could taste it. He writes, its a bit tough. Devraj calls him. Shravan goes.
Devraj asks Shravan what's his surprise, for which they are ready. Shravan says I can't reveal the surprise. Rajender asks him to give hints. He says fine. They get a cake delivered. Rajender says its not my birthday. Shravan asks him to keep some patience. He asks Jhumri to help him. He says if anyone knows this, it will be a problem. She calls Dumroo. Dumroo says you got brave and called me at this time.
Jhumri asks him to listen. He goes to meet him. She gives the tiffin for Suman. He says your work will be done, don't worry. He goes with the tiffin. Ramesh comes to Beena. She asks do you want tea. He says no. He thinks don't know how is her mood, shall I talk about Suman or not. He says I want to talk about Suman. She ignores the talk and goes.
She asks Dumroo where did he go. Dumroo says I got food for Suman, its special. He signs Suman. Beena says its fine, why are you hiding it. Dumroo asks Suman is she understanding the surprise. Beena says give the tiffin to me, I will serve it to Suman. Ramesh asks Dumroo to make tea. Suman asks did Shravan sent it. He says yes. Kanchan says Shravan wants to show his bravery always. Beena asks did you make this at home.
Dumroo says yes. Beena asks from where did you learn this recipe, from where did this tiffin come, tell Ramesh. He says you know we will not tolerate lies. Dumroo says it came from Malhotra house. Beena says I saw the palak paneer preparation and understood who had sent it. She goes and dumps the dish. She scolds Dumroo. She says I have dumped the food, Suman you did everything what you like, but anything related to Malhotra house will not be allowed here, else I will leave this house. Suman worries. Ramesh thinks thank God, I didn't talk to Beena about it.
Shravan asks everyone to wait for some time. Shravan gets a call. Rajender says I will get a heart attack in your suspense. Shravan asks how did you like it. Suman says you failed even Beena in cooking. He asks really. She says yes, Kanchan wants to take recipe from you, you would be tired right, our life started now. Shravan says yes, I m nervous, don't know aunt will come or not. She says she will come, remember she will spend time with uncle and all their awkwardness will end. He says bell rang, maybe aunt has come.
Shravan gets Ragini Chachi home as a surprise. Kavita hugs her. Shravan thanks her for coming. Ragini asks Shravan not to act grown up. Shravan says I have a good news to give, my family is together, I will tell it to you all. Ragini says thanks for regarding me family. Devraj and Kavita say you will always be family. Devraj asks Shravan what is it. Shravan says maybe I get a promotion after going back, major from captain. Rajender and Ragini say we are proud of you Shravan. Kavita says I wish this news is true, you do duty well and come back to us. Shravan says we will cut the cake first. They have the cake.
Suman does her work. She finishes the work call. Dumroo comes and gets tea for her. Suman thanks him. He says I know everything in advance, don't tell Shravan about Beena. He worries. She says you didn't tell Shravan right. Shravan tries to bring Ragini and Rajender together. He says its not imp that love isn't there if its not shown, its always in heart. Kavita says you are talking big thing.
Devraj says I feel like entire life has changed, thanks Shravan, we are together today. Kavita says just Avni is missing. Shravan asks them to have food and say how is it. Jhumri says you had sent the food, Beena had thrown it, Suman couldn't even taste it, Dumroo told me, he was also angry. Shravan thinks why did Suman lie to me, when we decided no more lies….
Precap:
Suman asks Shravan to come out of the house. He asks where are you. She says you know which way to lead now. Suman says sorry I lied to you. Shravan also apologizes. Ragini comes there near the car and calls out Shravan.