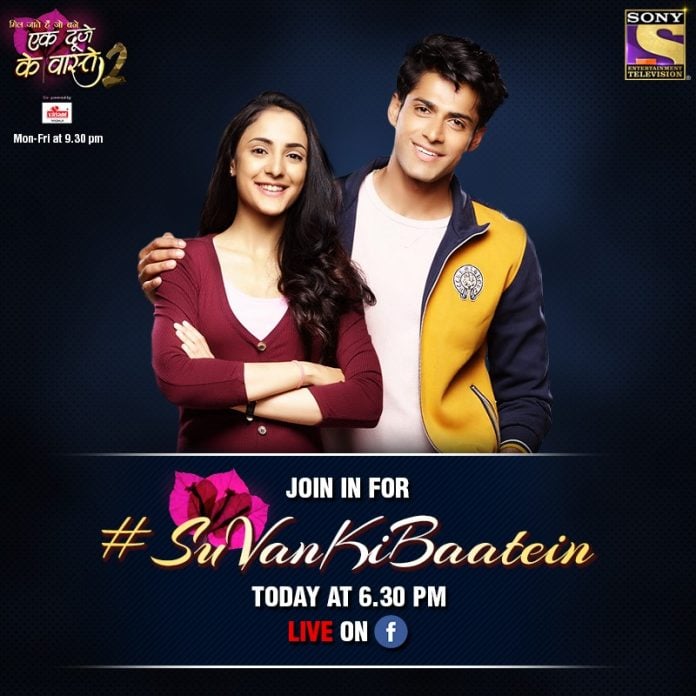 Ek Duje Ke Vaste 8th September 2020 Written Update on TellyExpress.com
The episode starts with Shravan coming back home and Kavita noticing that he is sad but he refuses to tell her anything. He is about to go upstairs but she asks him not to hide anything from her thinking that she might get hurt as her heart will break if anything happens to him.
Shravan runs towards Kavita and hugs her crying.
She cries too and sits on sofa while Shravan cries with his face in her lap. Kavita asks what happened to him since he wasn't like this. He whines that he doesn't feel right there and he wants to go somewhere far. Kavita says that she will talk to his father and organize a long trip somewhere far but Shravan says that he doesn't want to go to just a trip. Kavita calms him down and says that he can go to his Mama who lives in Indore. Shravan goes upstairs.

Meanwhile, Suman lies on her bed recalling Shravan's words. Kanchan asks her what happened but Suman doesn't tell her anything and sends her to sleep. Kanchan goes to sleep switching lights. Suman remembers Shravan asking her why she cares and saved his life. She looks at the picture she found in his wallet and recalls the moment when they clicked it.

Flashback starts. Suman pouts and says that he likes that pose a lot. Shravan clicks their selfie while Suman is pouting and calls her a monkey. Flashback ends. Suman cries recalling Shravan saying that he would not show his face ever again.

Suman goes to the terrace and sees Shravan on his balcony gesturing her to wipe her tears and smile. But it's all Suman's imagination. Suman cries and says that why would Shravan come to wipe her tears and make her laugh again. She goes to her bed again and shuts her eyes crying over the fact that she cannot understand why she is feeling so bad after Shravan said that she won't show his face as that is what she wanted.

The next morning, Kanchan wakes Suman up as it's already 10am. She asks her if she is fine and slept well and then asks her to get ready as her parents have a surprise.

When the two go downstairs, Ramesh and Beena share the news with family that Kanchan is going to be elder sister soon. Everyone, especially Kanchan, gets happy. Kanchan wants a little sister. The students come for group study. Devika apologizes as they didn't know that their personal matter was going on. Beena says that happiness increase by sharing it.
Damru says that everyone is here but not Shravan.
Suman feels very bad and leaves with the excuse of going to change. She cries sitting on bed. Suman imagines herself questioning why she is crying leaving the whole family celebrating happiness. Her alter ego asks if someone became dearer than her family and herself. Suman shakes her head denying that anyone can be above family.
The other Suman says that she has also saved Shravan's life because she loves him. Suman realizes her feelings. Kanchan comes and asks her where she is lost since yesterday. Suman says that she has to answer him as she got the reply. She asks herself how she couldn't understand such a big thing and walks away. Kanchan is confused.

On the other hand, Shravan is packing her stuff. Bunty hugs Shravan because he is leaving and he will miss him a lot. Shravan says that he is going only for few days.

Kanchan sees Suman leaving and asks her where she is going. Suman looks on.

Meanwhile, Shravan asks Bunty to go to get his trimmer. Bunty leaves. Shravan finds Suman's towel and recalls Suman throwing it to her. He cries and says that she can stop him from seeing her but cannot snatch her memories away. He hugs her towel and cries.
Bunty goes downstairs and is surprised to see Suman. He rushes to tell it to Shravan but he asks him to tell Suman that he has left for Indore. Bunty leaves. Shravan cries his heart out hugging the towel.

Bunty goes downstairs again and Suman asks him about Shravan. Bunty tells her that he has left today for Indore. She asks when he will come back. Bunty replies that he might never return. Suman is stunned and falls on the sofa clutching on it. Bunty asks Suman if she had anything important to say to Shravan. Suman asks if she can use the washroom. Bunty indicates it.

Suman rushes to the washroom and cries merging her back to the wall. She wipes her tears and then washes her face but she cannot control her cry. She bursts out saying that she told Shravan not to love her but he didn't stop then why he listened to her and left. Shravan comes downstairs and complains because Bunty didn't come to give trimmer nor he told him what Suman wanted.
He is about to enter in the washroom and overhears Suman saying that she said everything in anger yesterday and he didn't let her tell him that she got used to the importance he used to give her like he depended on her tears and happiness. She says that "Sumo" is not just a nickname he gave her but his feelings and she wishes she could have told him that she feels the same, that she feels bad when he is away because she is his Sumo and he is her Shravan. She wishes she could confess him too. Shravan repeats her last words. Suman hears that and goes out.

Shravan asks Suman not to stay quiet today. Suman confesses that she loves him too. Shravan looks at her stunned. Suman says that she just wanted a true friendship from him but nothing is deeper and truer than his friendship. She says she cannot live without him and says that she loves him.
Episode ends

Precap: Shravan and Suman are very happy and go out smiling to each other. "Mere liye tum kaafi ho" plays. Their smiles disappear when they see Devraj and Kavita standing in front of them.