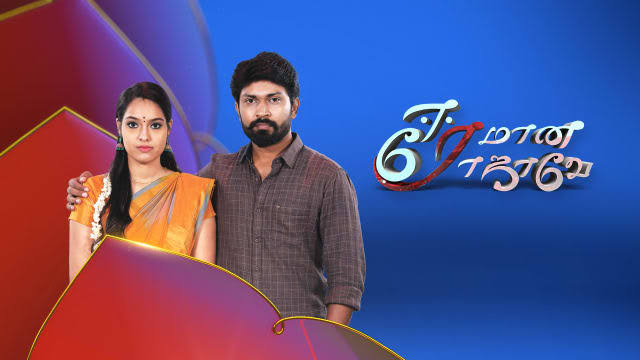 Eramana Rojave Upcoming Story, Spoilers, Latest Gossip, Future Story, Latest News and Upcoming Twist, on Justhowbiz.net
The episode starts with Pugazh asking Akhila to sign the divorce papers before tomorrow's 10 AM. He wishes her happy life. Akhila holds his shirt and questions him. He tries to remove her hand but both fall on the bed and get lost in each other's eyes. They realise their position and recompose themselves. Pugazh asks to sign the tomorrow and goes from there.
Maragadam and Pownu meet Anjali. Maragadam says Vettri deceived her. She says why he would have suddenly accepted her 3 years love. She questions if they crossed any limits in the name of love. Anjali says Vettri isn't that type of person.
Maragadam asks if she thinks Vettri is a good person. Anjali replies if he was a good person he would have explained his situation to her and apologized to her before marrying Malar, but he didn't even consider her as a person and married Malar. Maragadam questions why she didn't try to separate Vettri and Malar.
Pownu says Anjali along with her and Eshwari tried a lot but they couldn't separate them. Maragadam says they shouldn't easily give up, they should keep on trying till they succeed in their mission. She further says she is with them now and they together will do something big. Anjali nods her head yes with a smile.
Vettri and Malar tries to reunite Pugazh and Akhila. Vettri tries to talk sense into Pugazh. Vettri says he already overcame many hard situations but he is talking about divorce for a small fight. Pugazh says he lost his patience and couldn't live with Akhila anymore.
He adds that he told everything to Akhila and she has to decide. Malar questions Akhila what Pugazh had told her. Akhila says he gave the divorce papers and asked to sign it, but she didn't yet sign since she also thinks their tiff could be sorted out by talking.
Pugazh says he brought the divorce paper as she wanted it. Malar says Akhila would have said it in a fit of anger. Pugazh apologizes to Malar and says Akhila should have thought about it before talking about divorce and there is no use of regretting it now. He says if Akhila accepts her defeat and apologize to him, he will forget their fight, if not he asks her to sign the divorce paper.
Akhila says she will sign the divorce paper as she can't accept her defeat against Pugazh. Vettri and Malar tries to stop her. Akhila apologizes to them and signs the paper and give it to Pugazh. The latter congratulates Akhila that she won by signing the paper first and he also signs it.
.
Akhila looks on teary eyes. Pugazh shows the divorce paper to Akhila and says it will decide their future and goes from there. Akhila apologizes to Vettri and Malar and goes from there.
Malar suggests to talk to elders regarding Pugazh and Akhila but Vettri refuses saying he doesn't want to turn the fight between two persons into a fight between two families.
Later Malar finds Akhila crying and questions her. The latter admits she loves Pugazh and says she is Pugazh's child love Puppy. Pugazh remembers every small things that happened between them in their childhood. He doesn't know she is his Puppy as he doesn't remember Puppy's real name. She waited for him to complete his love story to reveal the truth about Puppy, but they fought before that.
Malar suggests to tell Pugazh everything,
but Akhila refuses saying Pugazh doesn't want her in his life so she won't plead him to give her life. If their love is true, that will unite them. She makes Malar promise that she won't talk about it to anyone.
Azhagar happily says to his friend that Thenu loves him. His friends says Thenu didn't admit it. Azhagar says she loves him so she slit her hand. Meanwhile Thenu also remembers Azhagar and his love confession. She wonders why she slit her hand for Azhagar.
The episode ends.