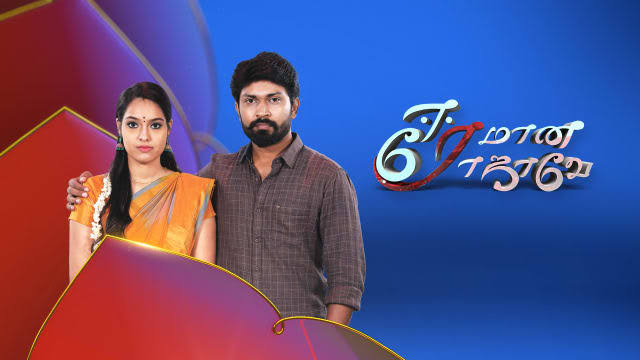 Eramana Rojave Upcoming Story, Spoilers, Latest Gossip, Future Story, Latest News and Upcoming Twist, on Justhowbiz.net
The episode starts with Pugazh drinking alcohol listening to the music. Akhika comes there and turns off the music. She reprimands him for drinking alcohol in the room. Pugazh questions her why she entered into his room without knocking. Akhika looks at him confused. He says as she signed in the divorce papers, she has no relation with him and so with his room.
He filed the divorce notice in the court so he is drinking to celebrate it. Akhika looks on teary eyes. He advises her to start packing her things so she doesn't forget anything here and has to come back to this house to take it back. Akhika asks to not test her patience. Pugazh says he will keep torturing her so that she would leave the house before the divorce.
Rajadurai meets Ambalavaan. He says he sold his native house to a person. He wanted to get that house back and contacted that person. The latter informed him he had sold that house to Ambalavaan. He requests him to resell his native house to him. Ambalavaan says he wanted to defeat him and he got this opportunity now. He further says he will not sell the house. He will let him know when he will demolish it.
Pusari informs Vettri that Rajadurai has a disease. Vettri looks on shocked. Pusari tells Rajadurai went to see the doctor and since that day he is sad. Vettri suggests to talk to Rajadurai.
Vettri and Pusari comes to Rajadurai. The latter congratulates Vettri for being awarded as the best youth icon of maduari. Rajadurai coughs. Vettri questions him why he went to see the doctor and what the latter told. Vettri insists Rajadurai to tell him the truth. Rajadurai tells Vettri about his growing blood cancer.
Vettri and Pusari are shocked. Rajadurai requests Vettri to not tell about his illness to anyone and asks him to promise. Vettri assures that nothing will happen to him. He will help him to get the necessary treatments for his illness. Rajadurai thanks him crying and hugs him.
Azhagar and his friend are waiting for Thenu. His friend advises him to not have high hopes as Thenu didn't admit her feelings for him. Azhagar is sure that Thenu loves him so she split her hand for him.
Thenu takes Azhagar to a corner to talk. Azhagar gives her a chocolate. Thenu refuses to take it. She says to Azhagar that she doesn't love him. Azhagar says she is angry with him. He assures her that he changed and won't do anything she doesn't like. Thenu says she trusted him, but he broke her trust. It's hard for her to trust him once again. She asks him to not follow her.
Malar is ironing Vettri's clothes. The latter comes to his room lost in his thoughts. Malar questions why he's late. Vettri doesn't respond. Malar wonders what happened to him.
The episode ends.