Aditi Sharma debut from hit show of Zee TV Kaleerein after doing a couple of successful modelling assignment. Presently she is seen as Roshni in Gul Khan's new show Yehh Jadu Hai Jinn Ka opposite Vikram Singh Chauhan on Star Plus. Aditi in a brief tete-a-tete with Just SowBiz share the experience of working in the show and with her co-actor Vikram. 
Excerpts:
What do u like about Roshni?
I love Roshni because she is so outspoken. She speaks so much and so cutely and she has innocence too. I think she is super fun. I like her comic sense in small things. She is a brave heart and loves to help people without thinking twice. I am in love with my character.
This is first time you are working in a fantasy show. Have you taken cues from Cinderella, Beauty and the Beast etc?
Yes, this is the first time I am working in a fantasy show. I think everyone watches princess, fairy tales and fantasies right from their childhood. Even I have seen it. I have every movie on a fairy tale and also barbie. So, I had a clue about how this will turn out to be and how it is done. Creating a real life version of such stories is very beautiful and I am enjoying that part.
How is working with your costar Vikram Singh Chauhan? What do you like in him?
Vikram is an amazing human being and I like everything about him. He is a very nice human. It's nice working with him and we are doing great. We have bonded really well after working from 3-4 months. I think the best part about him is that he is very positive, humble, and a genuine dude and as a person he is lovable. He is amazing co-actor, very supportive, very patient, very motivating and good to everybody. That's the best attribute of him. He is very respectful even to the spot dada and every one else on sets. He has lot of gratitude in him and very kind.
Have you ever felt that such shows will grab limited audience and may struggle in TRP race?
I think every show has its own audience and we actually all kinds of audience. This show doesn't belong to a particular culture, its about everyone and everything. That's why we kept common names like Roshni and Aman. Our TRP charts are doing great as of now and we are hoping for the best. This is a star plus show and story is amazing, content is interesting. I hope the audience keep glued to their screens watching our show and remain interested in our content. The audience till now is very supportive and we are blessed.
Do people compare you with your character in your last show?
Yes, people do compare Roshni with Meera. Meera was very intelligent character and everybody loved her. Similarly, Roshni is getting lot of attention and love in just three weeks and I am hoping she will get more. Meera was crazier, Roshni is next level crazy. She blabbers anything and garrulous. Meera used to fight but Roshni have different set of skills. Both the characters are different and not be really compared yet.
Were you aware of the jinny words which are used during the show – like Aayana, Tabizi etc?
Honestly, not at all. I used to think Jinn character will be like you ask for 3 wishes and he will simply grant those wishes. But, this show is different. You come across new words and concepts. We are also making public aware of new things which is all fantasy and imagination. (laughs) But now we are discovering new words like kee-amifa instead of Abra-ka-dabra or Khul Ja Sim Sim. Actually these words doesn't really work but we all know, so we are just setting a new trend of new words and new set of imagination.
Any funny moment which you can recall happened during shoot of YJHJK.
Lot of fun moments happen on sets. Sometimes I fell, sometimes we make fun of each other, sometimes something funny comes up in serious scenes, so there is lot of them. Recent one is that everyone said I have to hung upside down and I got scared. I didn't had anything whole day. Later, I discovered everyone was just making fun of me. I was really scared of doing that stunt and I was sick that day. I was prepared but panicking and then discovered that I don't have to do. That was really funny.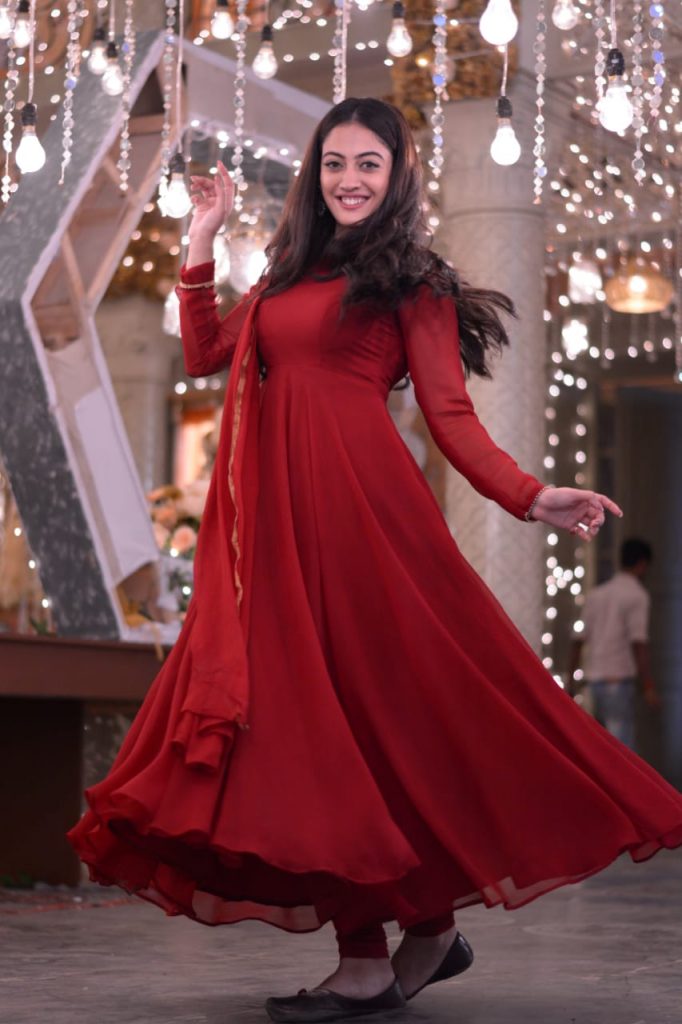 Fans are loving this new jodi and given them name RoshAn. What would you like to say about it?
. It might be confused with Hrithik Roshan as well. I hope RoshAn family will grow so big that we don't have to worry about Hrithik Roshan. Its a beautiful name given by fans.
Webseries are getting popular with every passing day. Which one you are watching right now and which one you wish that you would have been acted?
Web series are really doing great nowadays. I would have loved to work in Criminal Justice, Delhi Crime or Mirzapur may be. In foreign series I love Lucifer. If I get a chance to work in such series then definitely I will.
What would you like to say to your fans?
Lots of love and blessings for fans. Thank you so much for giving us so much love and support. Keep watching the show and shower your love. Please, keep your nearby places clean and be healthy and happy. Spread happiness to all your close and dear ones. Thank You and Love You All.