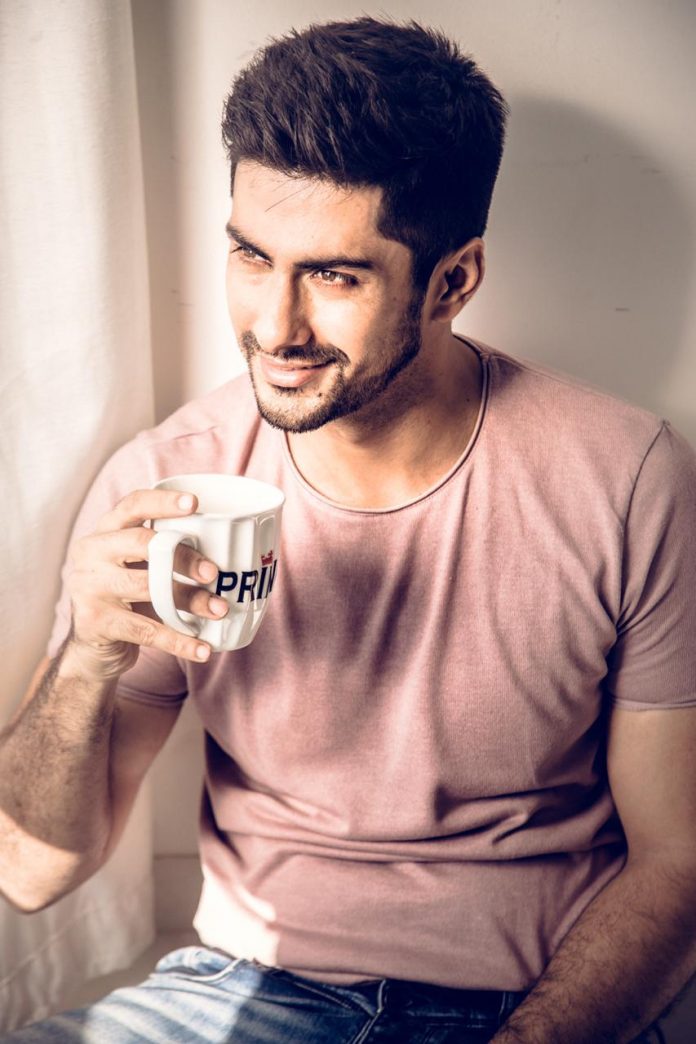 Namit Khanna is currently doing Sanjivani as male lead. Just ShowBiz recently did a #FanChatSession with him under #JSChatWithNamit wherein we collected questions from his fans and selected best 21. We asked Namit to reply those questions. We also included a heart warming message to convey to him. Check out whether your question has been selected or not. 
Excerpts:
I have lot of destinations I can go to (laughs) but I am planning a trip to South America. My backpack is ready.  Regarding celebrity, I think instead I would like to go with my family or anyone with whom I am romantically involved. I want to go with someone with whom I am having a connection. With celebrity, we will be two strangers going for a vacation. 
Two well known facts are one that I am extremely enthusiastic and passionate about photography. Second would be that I am a dog lover. I have a thing about dogs and I can't wait to have one in Mumbai. 
Piece of advice that is stayed with me that keep changing. The only constant thing is change. I have always remember since a very long time and its important to remember that it's important to change. Everytime when we face certain change, we resist but we should accept it and keep changing for good. 
I am in no position to tell you on that front, it's the decision of the makers. They are coming up with another season of Ek Duje Ke Vaaste, so you never know. May be in future they might come up with another season of Ye Pyar Nahi Toh Kya Hai. There are on different channel, different production and different writers from my current one but I would be happy to do it if they offer me. 
My parents always advice me to believe in myself and never get affected with rejections and disappointments. Next is I am constantly reminded that I need to work hard. 
When  you come to Mumbai for this industry, first thing you have to face is that there is constant rejection. You can't let that rejection affect your self-belief. You should have continuously have faith in yourself and keep on doing hard-work in a smart way. 
Deleting a sad day would also result in learnings from that day. But if I have to really answer for this question then I would say I want to delete a day when my dog died and the emotion which I went through in that day. But then, I realize how life is. Everyone is born and die at some point of time and it makes you stronger.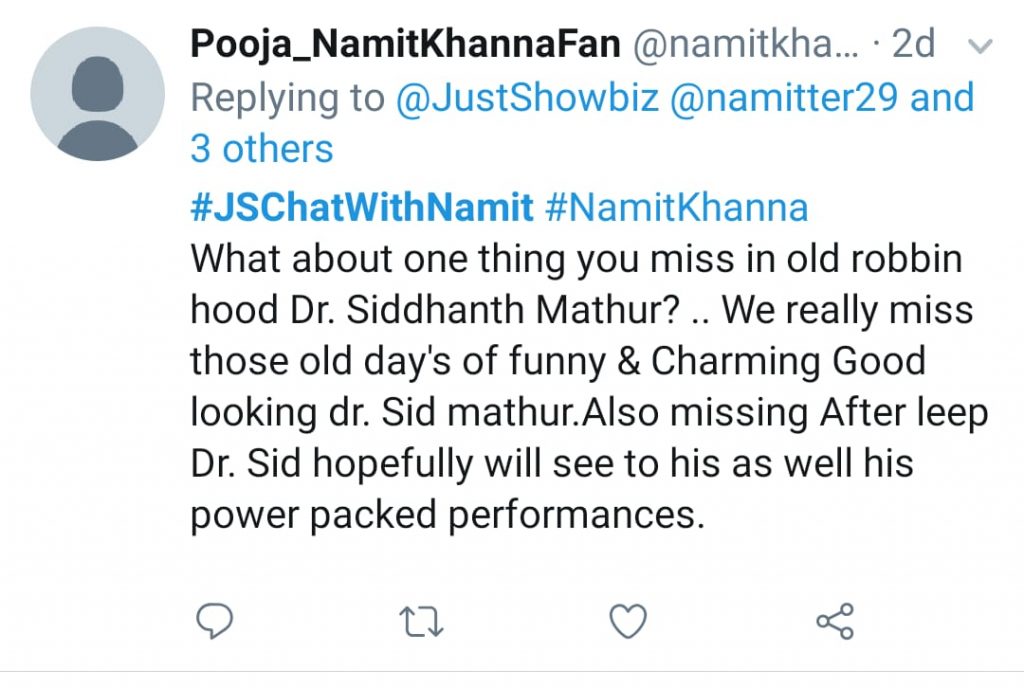 I miss good dialogues and well written scenes that we shot in first 10 episodes. They were exciting and the time when we were shooting. Because at the end of the day an actor is not beyond script. So, whoever I am, credit goes to writers. I cannot do anything which is not there in script.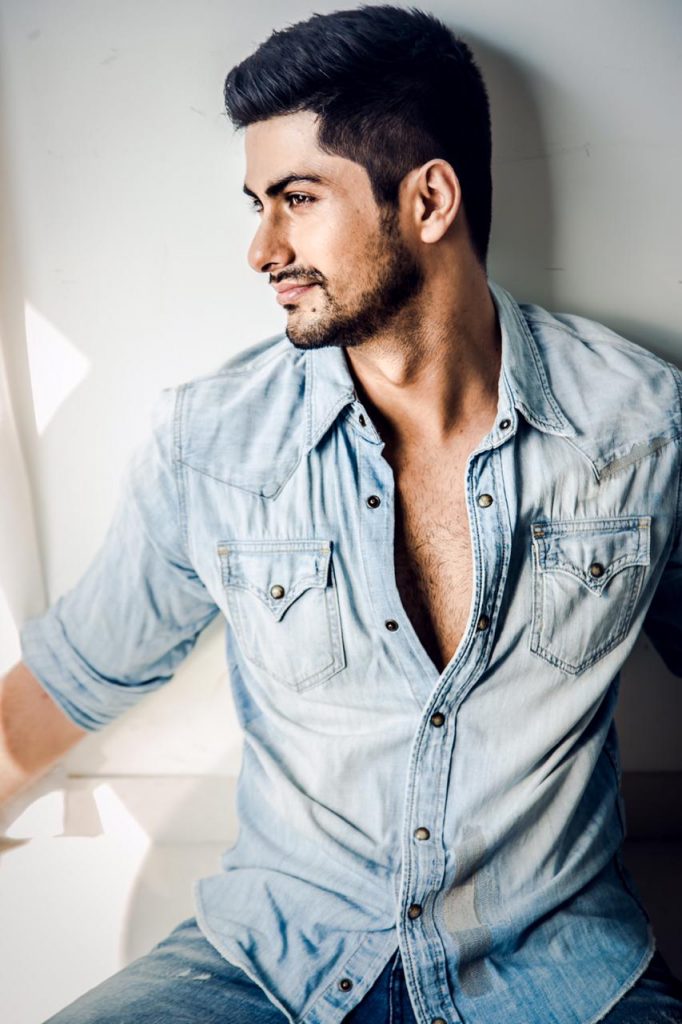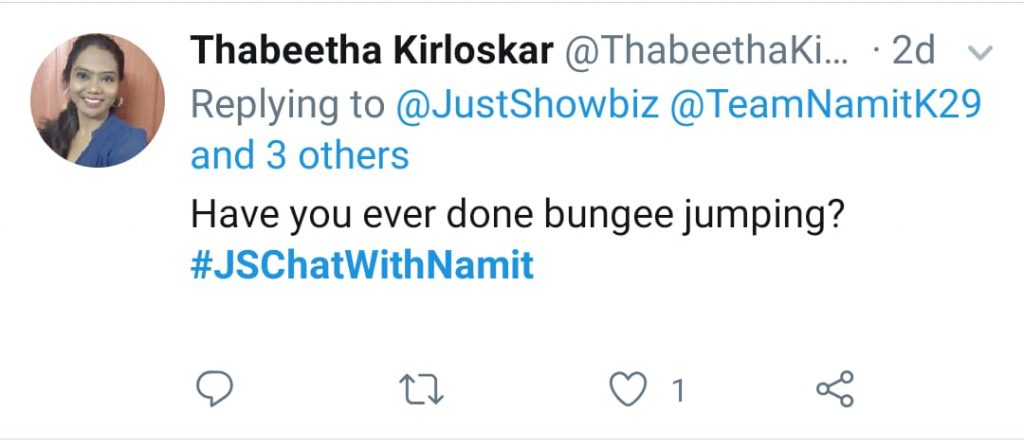 Yes, I have in Phuket in Thailand. I jumped into a river with bungee cord, you go into the water and then you pulled back up. It was scary and thrilling at the same time.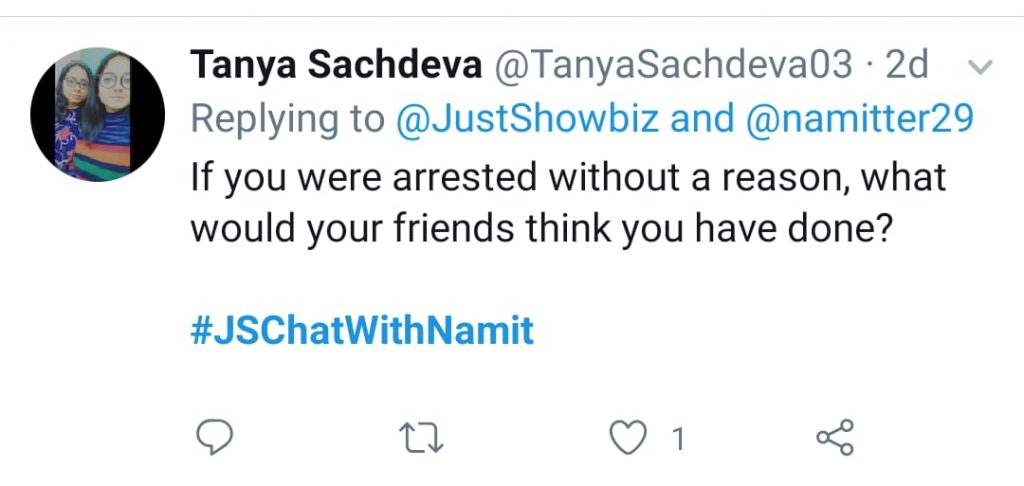 (smiles) They would surely think that I must have trespassed certain restricted areas in order to take some pictures.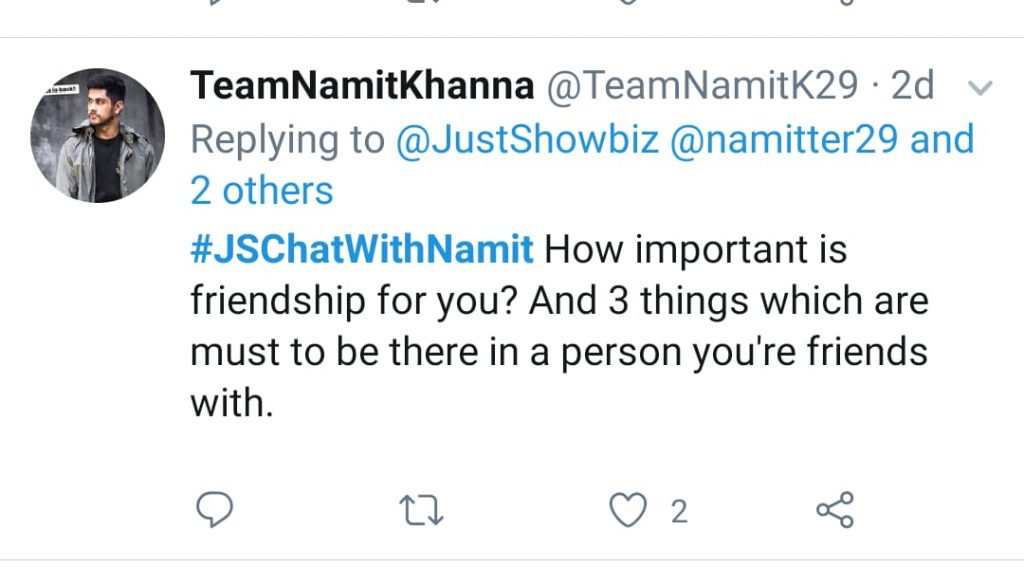 We all need friends and they are important part of you life. True friends who are completely honest with you and who are mirrors in your life.  They should point out your flaws. So, first thing is complete and utter honesty. Second, I would say is that they should share your fun and adventurous nature. Third will be that they are ready to give you, understand you, your space and be there in times of need.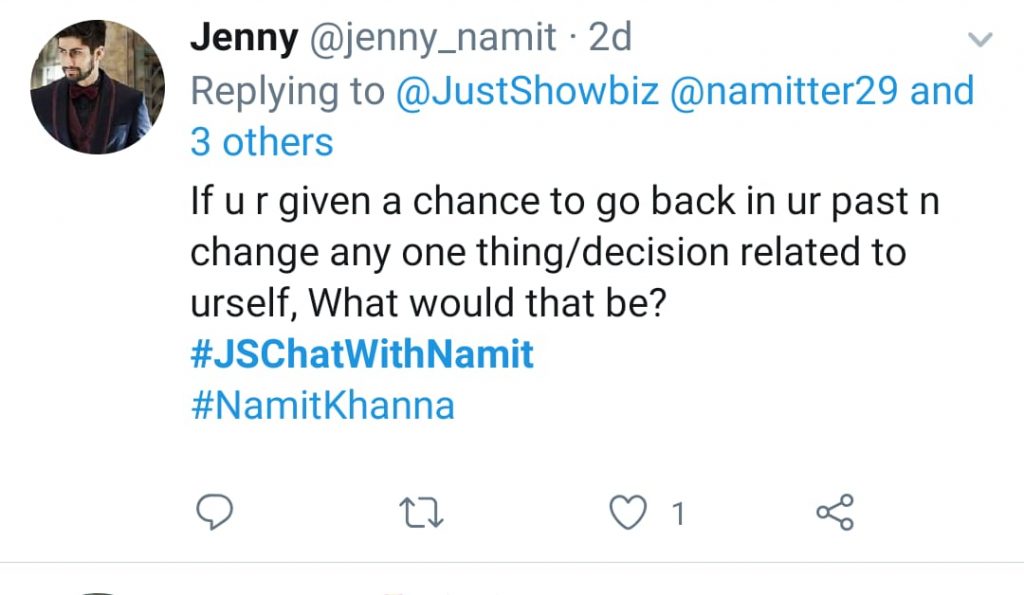 Firstly, I want to say changing a thing might have cascading effect which might be better because sometimes we feel the decision is not right but it have long lasting effects which is not scene when deciding for something. However, if I have to answer this question, I would (long pause) like to focus my career in acting bit early than it started. So, instead of just focussing on modeling and photography, I would have focus little earlier in my acting too. But again, it's not a regret, it's just to answer the question. 
What people call multiple talent, it's more of my recreational activities. Like, recently I made a sketch with charcoal. I have lot of water colors and crayons and all types of things to draw and make. Then, I play guitar just to keep my mind away. I go to beach though its crowded. But I like to watch sunset. If I get few days then I will surely make a trip out of Mumbai. Sometimes when I want to waste my time and do nothing. I play XBox and video games. I watch netflix, amazon videos etc. 
Yeah, in my Buddhism days, one of guide who constantly supported me. He guided me and nurtured me. He listened to my thoughts. It was an unconditional bond. There was no ulterior motive behind this. That kind of concern and care from a complete stranger who is now a friend is something I cherish. It quite rare and extremely precious to have a support system whenever you need them from a complete stranger. He is a psychologist and designer before and has his own journey. He is in Mumbai but I met him through Buddhism.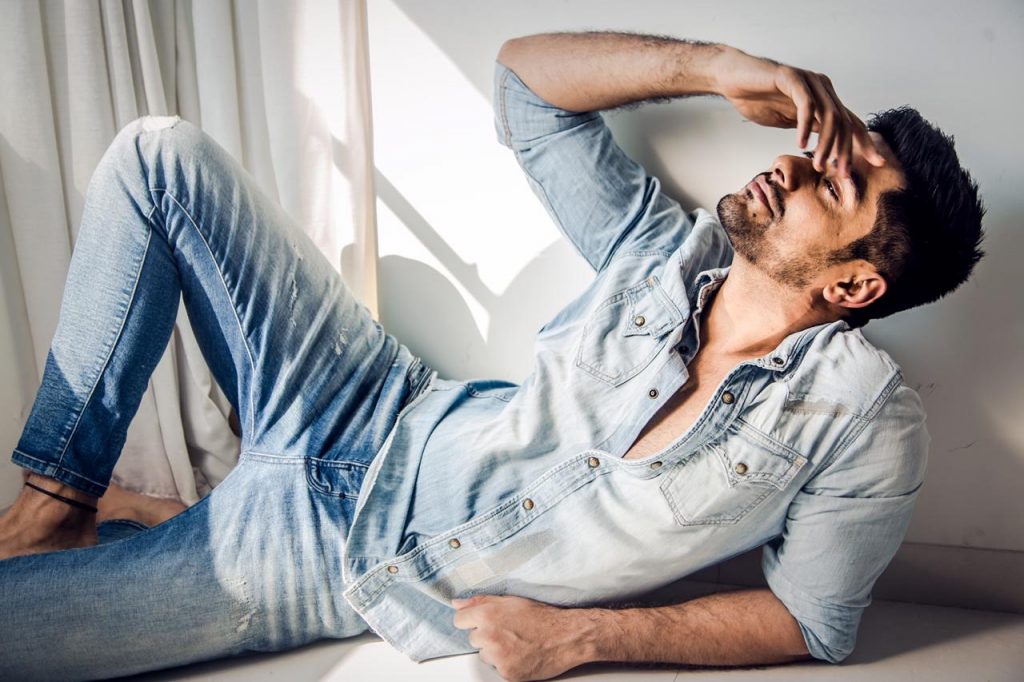 (Laughs). You obviously want to be with someone whom you love but then partner is also a family. Then I might be with my dog. (Laughs). In people, I would be with friends who likes fun and adventure. Having them on island make my time more fun. 
Well, there are few photographers to inspired me to be a photographer. Travelling I get it from my parents because they love to travel especially my dad. Travelling with them when I was younger and later in modelling days I travel to different places makes me inclined towards photography. Bharat Sikka inspired me alot. He was there in my initial modelling days. He is one of the biggest photographer in world. His single print sells in like thousands of Euros back then. Every picture of him has a beautiful story and a specific signature style of shooting. I saw that how he come up with something instantly and actual product looks amazing. Sometimes he takes just 5 minutes to get the shot done and he knew it. Watching him inspired me. I picked up my camera and one of his assistants helped me. Then in modelling career I have met best fashion photographers in the country, worked with them and learnt from them. It was a blessing for me to be around such ace photographers and have an interaction. 
Oh!! That's the name. I thought it's the message. I enjoy being an actor. I have so much on the ramp that it's become a part of me. If any interesting project will come, I'll surely do that. But, working as an actor on any medium is good. 
Look inside and just believe. Just be happy in whatever you are doing. Rest will be taken care of. The things will happen as they are supposed to be eventually. Everything has a time, so you needn't worry or do something irrational. 
I love the EXES. I am obsessed and will like anything similar to them. I listen than. There is one hugely popular and amazing app called Radio Paradise. I am not in collaboration with them but I want to recommend everybody to download this free app. It's made by Australian couple and today is the best app to listen to music from all around the world. Rare ones and the popular ones, all are there. There is a continuous playlist of rock and melo rock and everything else. 
In my initial days when I moved to Mumbai, I met Dr. Daisaku Ikeda through Buddhist practice. It's integral part of my life. He is current and third president of Soka Gakkai. His life and his teachings is inspired from original teaching of Buddha himself. He has been a constant inspiration for me through his books, his writings and his teachings. His has multiple degrees and PHds and is well known for his contribution towards peace. But, as we speak I really find inspiration in simplest of things. You don't to rely on external sources for inspiration. And my mum and dad. 
Kya boloon mein!! I would be happy to do a meet and greet session with fans sometime after the shoot where I can meet them. Date might not be the best idea as other fans will be annoyed. I would love to do meet and greet together where we can share and exchange some thoughts. 
There is definitely a possibility and it is something I am working towards because I already have a lot of data and footage from my trips.  The ideas are all in my head. It's few things I need to sort out. One can hope to have my Youtube channel which will be my Vlog. It will be full amalgamation of how to take good pictures, the place, my experiences in front of camera and behind it. It would be an experience instead of just sharing my pictures. The whole process of getting a perfect picture will be shot. Also, what inspires me to visit that place. I would love to do some collaboration regarding this. 
I started from scratch like everybody else. I started with my phone Sony Ericsson 3.2 megapixels. It was best camera at that point. Then I moved to basic camera. Gradually, when you start doing this, you take lot of pictures. Then you see that not all of them are working. There is some problem with focus and exposure. These things you learn through hit and trial methods. Online tutorials help. It's a journey, you keep doing. The more you do it, more you will master it. In my trips I always take camera. Sometimes you take pictures which you realize later that it's been not upto mark. Time and energy get wasted. Then you wait for proper time and light and click it. Then editing too you have to keep working on. Editing has to be in a way that you saw it because at the end of the day, it's an art. There are trips when I return with 6000-9000 images. Whole selection process according to data is a tough job. 
JS: This message we find very genuine so we want to convey to you. 
Namit: Yeah! it's very heart warming. I thank her for this.
---
Read: #Exclusive Namit Khanna: Eventually SidIsha will come close.
---
Also Read: #Exclusive Namit Khanna: Sanjivani's story line has changed so more characters are bound to come.
---
Hit comment section to let us know your feedback. Until next, Let's Get Buzzing!!