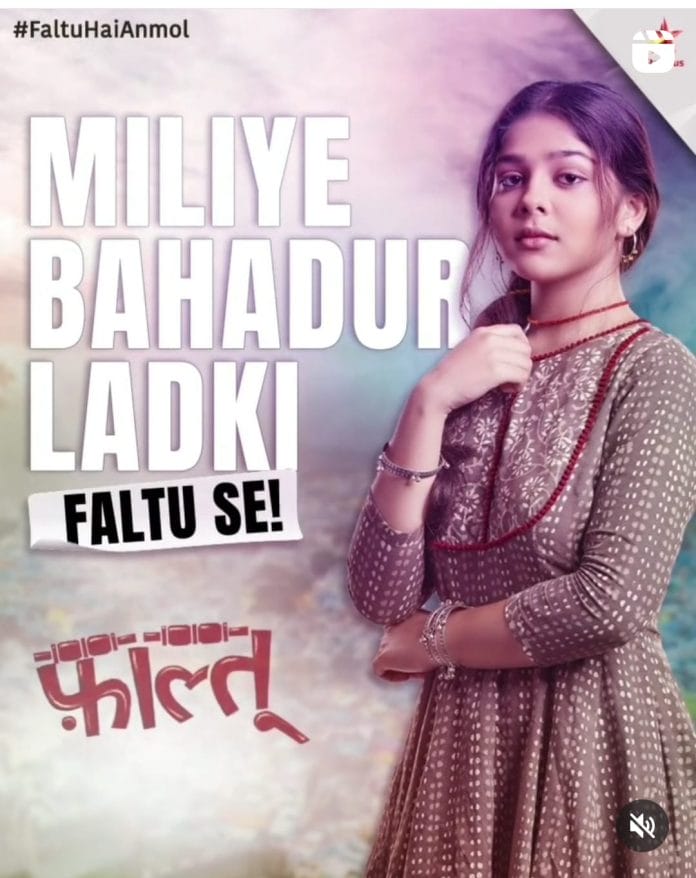 Faltu Upcoming Story, Spoilers, Latest Gossip, Future Story, Latest News and Upcoming Twist, on Justhowbiz.net

Episode begins with friends' calling Faltu to meet someone. Ayaan comes in disguise and introduces himself as a the person who made the reprts, Yogi. Yogi asks Faltu if she got hurt. Faltu says I am okay, but you were amazing you helped me during the game and I played the same shot. Sid is listening to everything behind a tree nearby. Faltu thanks Yogi. Yogi asks for help. Faltu says I am already playing with Rajan ji so I can't help play in your team. Yogi says it's not about that. Yogi shows Faltu a video of the page that shares about Faltu's cricket. Yogi says I have made this page of yours sharing your game videos and articles to prove your innocence. Yogi says I need your exclusive interview so that I can make this page more authentic. Faltu thinks for sometime and then says yes sure. Yogi says perfect, this will really go great for you, you will see. Yogi greets them and leaves. Faltu and her friends think Yogi is really a nice guy and will help us. Faltu says let's go, I am getting late. They leave while Sid follows them.
Sid is following Faltu's auto. Ayaan sits in the car and then gets a video call from Tanisha. Ayaan removes his fake moustache and picks up the call. Tanisha says it's so late, where are you? Ayaan says I am coming back on my way and when you called I had to put car on the side to pick your call up. Ayaan says did you call me to spy on me? Tanisha says no no you come back soon. Call ends. Kanika comes to Tanisha and informs her that Sid called and Ayaan didn't come for the match. Tanisha and Kanika become happy and decide to have coffee. Tanisha calls out for Rocky but Kumkum says he is out. Tanisha says okay I will make coffee. Kumkum says why will you make it? I will make for you both, you guys go and sit. They go.
Sid is following Faltu and sees that she goes inside a female washroom and her friends leave. Sid waits for Faltu to come out. Then, Sid sees Rocky come out carrying the same cricket bag as Faltu. Sid thinks what is Rocky doing in a female washroom. Then Sid correlates it and gets to know Faltu is Rocky only and Ayaan must be knowing about it that is why he is chill and not searching for Faltu. Sid's mind is blown and he thinks how Faltu and Ayaan played it really smart and outsmarted him in his own game. Sid says Tanisha will get to know about Faltu and Ayaan romancing in the house hiding from her then it will be a blast. From so long, I wanted to bring Faltu and Ayaan close so that Tanisha can come to me. Sid thinks poor Tanisha, she thinks counselling is helping Ayaan. Sid smirks. At night, Tanisha and Kanika come to Sumitra asking about Sid. Sumitra says he went to sleep as he was not feeling well. Tanisha says he said he will talk to us when he returns. Sumitra says I don't know, he has not told me anything but then he is asleep now. Tanisha and Kanika are disappointed and go from there. Tanisha worries thinking what might Sid know while Kanika calms her.
Sid tells Sumitra about the plan and how he has planned a drama that they both will initiate to bring out the truth. Sumitra gets excited and says I love drama. Sid explains the plan how they will gather proves to showcase the truth and how Faltu and Ayaan are having an affair. The plan is shown muted. Sumitra is happy with the plan. Sid goes near Rocky's room at night. Ayaan comes to Rocky's room and asks about the yellow thread. Ayaan asks Rocky in a strict tone about if he knows Faltu and this thread is of Faltu which he got from his room. Rocky says I don't know her, I have heard about her from you guys and news. Ayaan says then let me call her. Rocky worries as he has the phone. Rocky takes Ayaan's phone and says call anyone you want in your room and let me sleep as I need to wake up early. Ayaan says you are crossing limits, give me the phone. Rocky drops it and says sorry I got scared from your anger. Ayaan takes the phone and leaves. Rocky says good night. Sid records this and wonders Faltu meets Ayaan as Rocky only? Strange but doesn't matter to me, I have my proof. Next day, Rocky gives tea to everyone when Sumitra comes and Tanisha asks her about Sid. Sumitra says Sid is upset and is unable to look into anyone's eyes. Everyone worries. Sumitra says someone in this house has been cheating us.
Episode ends.
Precap – Faltu questions Ayaan and shows him the proofs. Ayaan says I will prove myself right and then you will understand but next time only my proof will see you not me. Ayaan says a relationship where trust is not there that is not worth continuing. They both feel emotional.
Click to read
Faltu 22nd March 2023 Written Update: Sid keeps a close eye on Ayaan's activities!