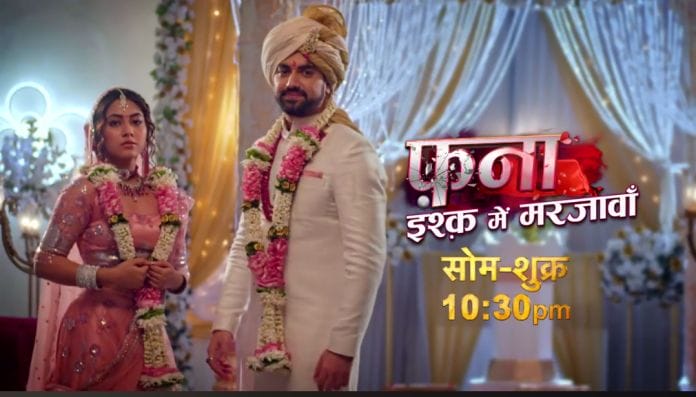 Fanaa Ishq Mein Marjawan Upcoming Story, Spoilers, Latest Gossip, Future Story, Latest News and Upcoming Twist, on Justhowbiz.net
The episode starts with Agastya trying to break the door. Ishan goes in front of Agastya and calls him out. Agastya asks Ishan where Pakhi is. Ishan asks why he didn't confess his crimes. He told to confess his crimes to save Pakhi. Agastya says that he warned to not harm Pakhi. He asks how he dared to do it. Agastya and Ishan get into a fight. Agastya overpowers Ishan and pushes him asking how he dared to separate Pakhi from him. Virat attacks Agastya from behind. Agastya takes out his gun and points it at Virat and Ishan.
Other hand Sameer says that Pakhi can be in danger only because of Agastya. He says to Dadi that she knows everything and she could have stopped Agastya instead, but she didn't. Sameer says that if Dadi can't tell Agastya truth, he will tell to the press. Dadi requests Sameer to stop and assures him that Agastya must have gone to find Pakhi. She requests Sameer to forgive Agastya. Sameer asks if she can forgive him if she was in his place. He says that he will Agastya if anything happens to Pakhi. Mohit says that he knows where Pakhi is.
Agastya threatens Ishan and Virat to kill if they don't say where Pakhi is. Ishan says to Agastya to shoot them as he already spoiled their life. He says that he won't get Pakhi and she will die getting suffocated. He says Agastya to confess his crimes. Agastya refuses. Ishan asks Agastya to shoot. He says that he can't as he knows he won't get Pakhi if he kills them. He asks Agastya again to confess. Agastya says that he is asking for last time where Pakhi is. Agastya hears Pakhi screaming and sees her through the window. Virat lights few matchsticks and throws it inside Pakhi's room. Agastya gets scared n seeing the fire. He asks Ishan to save Pakhi. Ishan refuses and asks Agastya to confess his crimes. Agastya agrees to confess and requests Ishan to save Pakhi. Agastya starts confessing everything. He says that he loves Pakhi very much and has been stalking her by placing cameras. He says that he saved Pakhi from all the trouble being her universe. He says that the day he wanted to propose Pakhi, she told that she loves Ishan. He says that he tried to kill Ishan and sent Pakhi to jail to make her realize her mistake. He says that he framed Ishan, kept sameer captive as he got to know the truth and wouldn't have let him marry Pakhi. He also confesses that he framed Virat. He says that he did everything for Pakhi.
Agastya pleads with Agastya to save Pakhi now. Pakhi comes out and shouts Agastya. The latter goes to Pakhi and says that he's happy that she's fine. He hugs her. Virat points gun at Agastya. Agastya snatches it and points it at Virat and Ishan. He laughs and says that they won't leave this place alive. Pakhi throws the gun away. Agastya asks Pakhi what she did. Pakhi says that she is aware of his truth and she planned to expose him with Ishan and Virat's help. She says that she hates Agastya and slaps him. Pakhi asks Agastya why he deceived her and cries. She says that she considered him as his best friend, but what he did was betrayal and not love. She asks what he caught by stalking her. She says that he ruined many people's life in the name of love. Agastya says that he always loves her and requests him to not misunderstand him. Pakhi says that this isn't love and it's his obsession. Agastya says that he only loved her in the whole world and he will die without her. He did all this only to get her and didn't have any other reason.
The episode ends.
Click to read:
Fanaa Ishq Mein Marjawan 12th April 2022 Written Update: