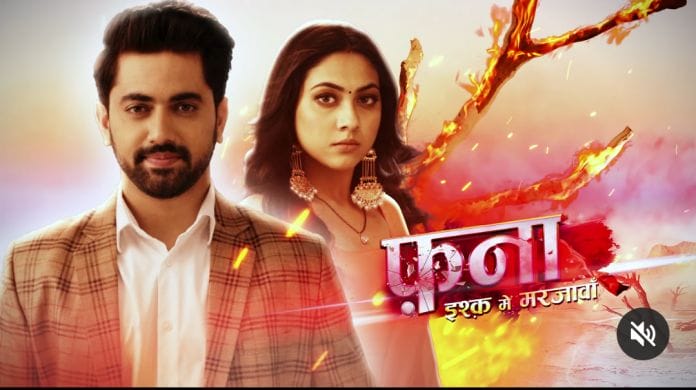 Fanaa Ishq Mein Marjawan Upcoming Story, Spoilers, Latest Gossip, Future Story, Latest News and Upcoming Twist, on Justhowbiz.net
The episode starts with Pakhi asking Agastya what he is doing here. Agastya clarifies that he wasn't following her. He came here as he got an unknown message to come here. Agastya is stunned on not finding the message on his phone. He says that someone sent a flash message to create misunderstanding between them.
Pakhi says that she trusts him. She asks if he he doubts her on seeing her with Ishan. Agastya says no. Pakhi says that they both should trust each other and should spend our energy to spend the person who is doing all this. They both promise to each other to not let break their relation break.
Pakhi receives an unknown parcel. She opens it and finds a camera detector. She wonders who can send her this. She finds a letter. It's written that Agastya is still spying her and asked Pakhi to check by herself if she doesn't believe it. Pakhi checks in her room using the camera detector. She gets stunned when she finds a hidden camera.
Someone is watching this through on the TV. Pakhi says that she trusts Agastya and no one can create any misunderstanding between them. Pakhi disconnects the camera. Ishan breaks the TV. Ishan says that Pakhi can't stop him from casting evil on eye on her and Agastya relation. He says that he is responsible for all the incidents happened with them. He recalls everything. Ishan says that he lost everything because of Agastya and Pakhi betrayed him by easily forgiving Agastya who ruined his life. He vows to snatch Pakhi from Agastya. He punches Agastya's photo. His knuckles bleed.
Pakhi thinks of telling Agastya about the hidden camera. Just then Agastya comes and says that he tracked the number from which the message was sent. He vows to kill the person who is responsible for that. Pakhi gers scared and decides to not tell Agastya about the hidden camera. Agastya says that he doesn't want to lose Pakhi again.
Pakhi calms him down. She says that no one can come between them. Agastya says that he is tired off all the problems and wants to live a normal life. Pakhi assures him that everything will be fine soon. She puts him to sleep. She gets confirmation that someone is making Raghav do all this.
Ishan is in call with Raghav. He agrees to give Raghav the money he wants. He says him to keep his phone switched off to avoid get tracked and use the phone he gave to make emergency call. Ishan then phones someone. He says that Raghav won't open his mouth so needn't to worry and adds that Pakhi will come to meet the next day. Pakhi has come to the hospital to check the CCTV footage to get clue about Raghav. She is in call with Mohit. She says that there's no any other any camera in the house except her room. Pakhi disconnects the call when Ishan comes.
Pakhi clarifies to Ishan that Agastya didn't reach the café following her, he has changed. She says that someone is trying to create misunderstanding between them and she wants to find that person. She asks for the same Ishan to help her for Raghav. Ishan asks to show the CCTV footage of the day before yesterday to the person who handles the CCTV footages. That person says that previous day Agastya asked to change all the CCTV cameras, so all the previous data got deleted.
Pakhi wonders why Agastya did this. Ishan smirks thinking that he is always one step ahead of Agastya. Ishan says that he changed due to some technical issues, he knows better about it. Pakhi thanks Ishan for not doubting Agastya. Pakhi receives call from Shanaya and leaves. Ishan gets furious that Pakhi still trusts Agastya. He gets determined to break Pakhi's trust on Agastya.
Agastya is in call with the detective. The latter says that he couldn't get any clue about Raghav's whereabouts. Agastya says that he must have a girl friend and instructs him to find her to track Raghav. Other side Sameer gives a chocolate to Pakhi and propses a project offer on his friend's company. He further says that Pakhi should leave Agastya for this offer shocking Pakhi and Prema.
The episode ends.
Click to read
Fanaa Ishq Mein Marjawan 16th June 2022 Written Update: Agastya gets determined to find the truth