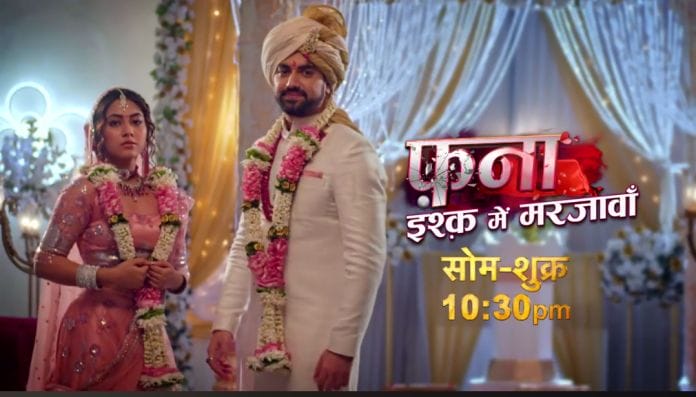 Fanaa Ishq Mein Marjawan Upcoming Story, Spoilers, Latest Gossip, Future Story, Latest News and Upcoming Twist, on Justhowbiz.net

The episode starts with the nurse injecting sedatif to Agastya and he is fainting. Meera and Yug discuss about Agastya. They are worried that Agastya getting back his memories. Meera decides to call lawyer immediately to make the property papers ready. Pakhi comes to them and says to Meera to do her work fast as she doesn't have time.
Bulbul demands to give her three crores as they're making her do many works which shocks Yug. Meera says to Bulbul to accept the money she is giving as she wouldn't have seen such a huge amount in her life. Bulbul threatens to call police and tell that she asked her to pose as Pakhi for the property if she doesn't agree to her words. She says that she's from village, but not fool. She asks them to think and decide soon as she's an actor and doesn't have much free time. She leaves. Yug says that he won't spare Bulbul.
Sameer says to Dadi that he got convinced that Agastya didn't kill Pakhi, Meera killed her. He apologizes to Dadi for hating Agastya for the crime he didn't do. Dadi says that Agastya loved Pakhi very much and he couldn't think of harming her even in his dream. Dadi further says that she couldn't gather any proof against Meera to get her punished. Meer can get punished only if Agastya gets well and prays for the same.
The lawyer sees Bulbul. He says to Meera that her face is similar to Pakhi, but not her behavior. He adds that the court will not agree just because she looks like Pakhi, they will send someone to confirm. Meera says to the lawyer to file the petition that Pakhi is alive. The lawyer says her to rethink because if they file the petition that day, people from the court will come for inspection the next day. He adds that the next court hearing date is after six months. Yug says that they have only one day to make Bulbul as Pakhi and wonders how they will do it.
Bulbul asks Meera why she didn't call doctor after knowing Agastya isn't well. Bulbul comes to Agastya and checks his temperature and says 102. She says to call the doctor immediately and gets water and cloth.
Naveli requests Meera to call the doctor. Meera refuses. Agastya wants to play catch catch with Bulbul. The latter says him to rest as he isn't well. Agastya says that he isn't feeling sleepy and requests her to play. Bulbul agrees and says that they will play sitting on the bec. Bulbul agrees. They play. Bulbul says to Meera to call doctor in ten minutes else she won't do her work.
Agastya says to Bulbul that tik tok sound is coming from the ball. Meera says that the ball contains a bomb shocking Bulbul and Dadi. Dadi says to Meera that she knows that Agastya is scared of fire and requests her to spare Agastya. Naveli requests Bulbul to do Meera's work and don't let Agastya punished for their problem.
Meera threatens to harm Agastya and says to Dadi to tell Bulbul to become completely Pakhi by the next day and do her work. Agastya says that the sound isn't coming. Bulbul feels relieved. Meera says to Bulbul that nothing can change even Bulbul throws the ball as she fixed many more bombs around him. She says her to become Pakhi and shows her acting skills. She leaves. Dadi requests Bulbul to do what Meera wants as she doesn't want to lose Agastya. Naveli also requests Bulbul.
Meera is giving training to Bulbul to adapt Pakhi's look and behavior. Meera says that look is fine and says to Bulbul to speak like Pakhi. Bulbul tries, but fails. Meera says that she needs to do more practice. Shanaya and Naveli discuss about Bulbul getting training to become Pakhi. They think that Bulbul can't act like Pakhi. Naveli leaves as Mona calls her. Yug comes to Shanaya and talks nicely with her. He says that he's not a bad guy and feels bad to see her state.
Shanaya says that Yug doesn't have his own identity and he is getting used by Meera. She says that her life is better than him and leaves. Bulbul gets tired of practice and says that she can't do anymore. Yug thows the remote control of bomb and firecracker and threatens Bulbul. The latter thinks that Meera will harm Agastya if she makes any mistake and prays to God to help her to pass the test.
The episode ends.
Click to read
Fanaa Ishq Mein Marjawan 17th May 2022 Written Update: Meera gets suspicious of Bulbul