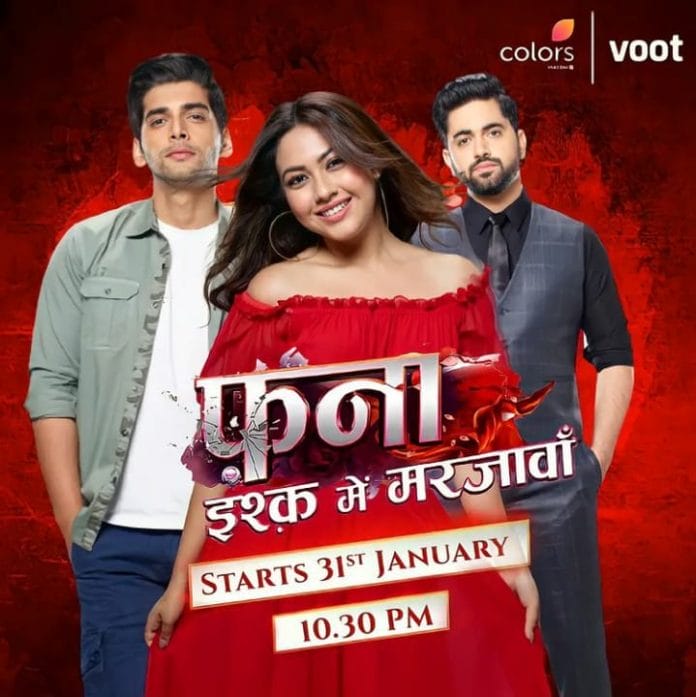 Fanaa Ishq Mein Marjawan Upcoming Story, Spoilers, Latest Gossip, Future Story, Latest News and Upcoming Twist, on Justhowbiz.net
The episode starts with the nurse telling Agastya that Ishan moved his finger and he can come out of his coma anytime. Agastya says that he can't come out of the coma until this injection is given to Ishan. It will paralyze Ishan's body. He gives the injection to the nurse. Agastya expresses his hatred for Ishan and says that he will decide Ishan's fate.
Sami reads the newspaper titles which portrays Pakhi as Ishan's murder and gets angry. Pakhi's mother comes to Sami. She says that Pakhi is very strong. She asks Sami to stay strong too. She says that no one can care Pakhi as Agastya cares her. Sami says that he also noticed Agastya's care and love for Pakhi, but he never confessed his feelings. Pakhi's mother suggests talking to Agastya's dadi about Agastya and Pakhi's alliance. Sami says that he will talk to Agastya first to confirm if they are right about Agastya's feelings for Pakhi. But he worries what if Agastya agrees and Pakhi refuses since she considers him her best friend. Pakhi's mother assures to convince Pakhi. Sami gets ready to leave to meet Agastya. Pakhi stops him. She assures Sami that she will be strong and requests Sami and her mom to smile for her sake. Sami says Pakhi to not hold her tears as it will make her heart light. Pakhi asks why her universe stopped caring her. Sami says that her universe is testing her, but she will pass it easily. He tells an anecdote about his college days to cheer Pakhi up. He takes her leave.
Virat enquires Aisha about Agastya. He asks what Agastya told her. Aisha says that Agastya said that he was also not well when he was kid and was hospitalized. Virat asks his constable if he found anything about Agastya sickness. He denies. Virat says that Agastya has some weakness he doesn't share with anyone. He decides to find it out.
Agastya finds that the door is locked. He remembers a childhood incident in which he was locked up and shout for help on seeing fire. Agastya panicks and shouts for help. A waiter opens the door. Dadi argues with Naveli's mother, who accuses Pakhi of murder. Dadi defends Pakhi and says that Agastya is doing right.
Sami comes to meet Agastya. Yug says to Agastya the person who helped them to frame Ishan sent a voice note blackmailing them. Agastya plays the voice note in which the person threatens to reveal that Agastya framed Ishan if he doesn't give him money. Sami gets shocked overhearing this. Agastya notices Sami. Sami pretends that he doesn't hear anything and gives some excuses to leave. However Agastya forces Sami to come with him.
Agastya and Sami are traveling in the car. Agastya confesses that he attacked Ishan for Pakhi. He prevents Sami from calling anyone. Sami says that he won't tell this to anyone and pleads to not kill him. But Agastya says that Sami won't get Pakhi married to him after knowing the truth. Pakhi's dad says that he came to talk about Pakhi and Agastya's alliance. Agastya asks if Pakhi wanted to marry him to which Sami says that no, Pakhi only loves Ishan and he is right for her. Agastya gets angry and throws Sami out of the car. He says that no one can love Pakhi like him.
Pakhi and her mother are worried that Sami hasn't returned home yet. Pakhi receives a call and gets shocked. Later Pakhi goes to the mortuary with her mother and family. Police officer says that the person came under the truck, so his face is unidentifiable. He asks to see the watch and the wallet. Pakhi breaks down identifying it belongs to her dad. Agastya hugs Pakhi and says in mind that he is sorry.
After four days Pakhi's family mourning Sami's death. Dadi consoles Pakhi's mother and says that they all are with them. Pakhi cries remembering Sami. She promises to take care of her mom and sister. Agastya says that he did all this for Pakhi and promises to keep her happy.
The episode ends.
Precap: Dadi unites Pakhi and Agastya's hand and says that she wants to take Pakhi her home as her daughter in law. Pakhi looks on.
Click to read
Fanaa Ishq Mein Marjawan 28th February 2022 Written Update: