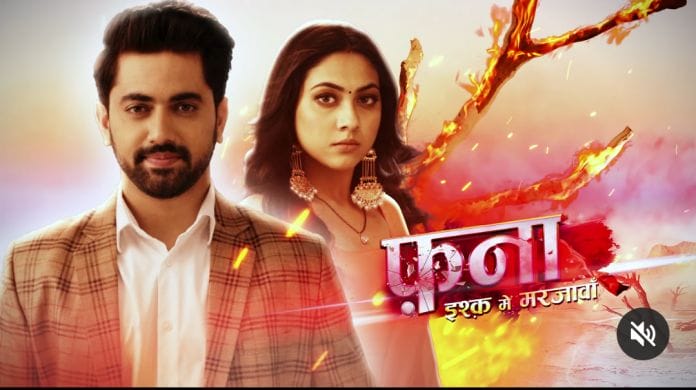 Fanaa Ishq Mein Marjawan Upcoming Story, Spoilers, Latest Gossip, Future Story, Latest News and Upcoming Twist, on Justhowbiz.net

The episode starts with Ishan calling Pakhi and asking if Agastya told her about opening a new ward for the kids in the hospital and providing them artificial legs. Pakhi is surprised that Agastya voluntarily wanted to work with Ishan. The latter says that there will be a press conference for the same the next day and he is thankful to Agastya. Ishan says that Agastya was disturbed when he met him and asks if everything was fine.
Pakhi says that Agastya must have disturbed due to his work. Ishan says to let meet in the press conference. She says that she will try to come and disconnects the call. Pakhi is confused that one side Agastya is stalking Ishan other side he helps him to become independent. Agastya comes to his room and looks for his charger. Pakhi gives it to him. Agastya thanks her. Agastya walks taking the water jar. He trips and is about to fall over Pakhi. She holds him.
The water pours on Pakhi and Agastya. Agastya looks for the towel to wipe off the water. Pakhi comes to Agastya and cleans the water using her saree pallu. She walks away. Other side Ishan cuts Agastya's photo separately and tears it up. He says that he waits for the next day.
The morning Agastya and Dadi welcome Ishan. The latter asks for Pakhi. They say that she must be on the way. Just then Pakhi arrives. Ishan thanks her for coming. Ishan says to let start the conference. Agastya agrees. Just then some officers come with an arrest warrant for Ishan. The latter acts and asks what he did.
The officer says that he did fraudulent in the construction of the new ward in his hospital. Ishan denies the allegation. Pakhi asks if they have any proof. The officer says to Agastya that he wants to talk alone and requests to come apart. Agastya obliges. The officer thanks Agastya for sending a mail and giving tip about Ishan. He assures to not reveal his name as he mentioned in the mail.
Agastya notices that Pakhi overheard this. He clarifies to Pakhi he didn't do it. Pakhi refuses to listen to his any justification. The officer arrests Ishan. Ishan thinks that he is going to this hardship to separate Agastya from Pakhi, but Agastya has to go many more such hardships. He leaves with the officers.
Pakhi tries to explain the officer that Ishan is innocent. Agastya comes there and asks what proof they have that he sent the mail. The officer shows Agastya's mail that was sent from his mail ID with its digital sign. Agastya shows his hospital accounts file and says that he didn't do any fraudulent. He says to Pakhi that he didn't send the mail, someone is trying to create misunderstanding between them.
Agastya says that they said that he complained against Ishan, he is taking his complaint back. The officer says to bring Ishan. Pakhi tries to talk to Ishan. Ishan leaves after glaring at Pakhi and Agastya. Pakhi goes after Ishan and tries to talk to him. Ishan lashes out at her. He says that Agastya can never change. He says that it would be better if Agastya killed him. He leaves. Agastya calls out Pakhi. He requested her to give him a chance to prove he didn't do it.
Pakhi shouts that she gave him many chance and trusted him ignoring all's warning. She says that he can never change. She says that she doesn't have anymore force to be with him. She begins to walk. Her saree gets stuck in Agastya's watch. Pakhi tries to remove it. Agastya holds Pakhi's hand. He begs her getting on his knee. Pakhi walks away. She feels dizzy and faints. Agastya shouts Pakhi and rushes to her.
Agastya brings Pakhi to her parents house. Sameer asks Agastya what he did with his daughter and argues with him. Agastya says that he didn't do anything, Pakhi fainted while walking. Doctor arrives and checks Pakhi.
Doctor says that she must have fainted due to stress. He took her blood samples, he will send her blood report soon. Agastya talks to an unconscious Pakhi and promises that he find soon the person who is trying to create misunderstanding between them. Pakhi gains her consciousness and gets scared on seeing Agastya.
The episode ends.
Click to read
Fanaa Ishq Mein Marjawan 22nd June 2022 Written Update: Pakhi refuses to believe Agastya