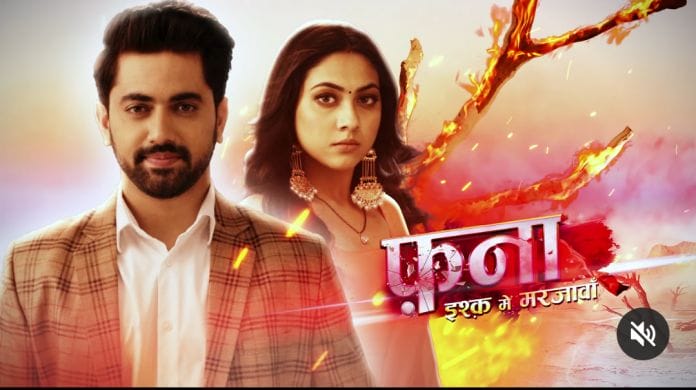 Fanaa Ishq Mein Marjawan Upcoming Story, Spoilers, Latest Gossip, Future Story, Latest News and Upcoming Twist, on Justhowbiz.net
The episode starts with Agastya asking Pakhi why she's scared of him, he is her Dodo. Sameer comes and says to Agastya to leave him and his family alone. Agastya asks if he's not his family. Sameer says to Pakhi that he just talked to Mohit over phone and got to know whatever happened in the press conference.
He asks Pakhi if she realized that she can't trust Agastya, he can ruin her life like he ruined Ishan's. Agastya asks if he can't see love in his eyes for Pakhi. Sameer says that he doesn't want to get fooled again. He says him to leave. Agastya refuses to leave without talking to Pakhi. Sameer says that Pakhi doesn't want to talk to him. Pakhi stops Sameer.
Agastya thanks Pakhi and says that he knows that their love is so deep that she gave him a chance. Pakhi hands over Agastya his car chain and requests him to leave her and family alone for a while shocking Agastya. Sameer drags Agastya out of the house. Agastya says him to give a chance to prove that he didn't register complain against Ishan. Sameer says that they don't want any proof. He asks Agastya to leave from Pakhi's life.
Agastya says that Pakhi and him should have decided about it and requests to let them talk peacefully. Sameer accuses Agastya of ruining peace of their life. He says that he won't do the mistake believing again. He pushes Agastya down and goes in by closing the door.
Shanaya says to Pakhi that Agastya loves her very and requests her to give him a chance. Prema agrees with Shanaya. She says that Agastya could be right about someone trying to create misunderstanding between them and requests her to talk to him once.
Pakhi asks who could create misunderstanding between them. Shanaya reminds her that Agastya told that he will find that person. Pakhi refuses to give Agastya another chance stating his past mistake. She cries. Prema consoles her. Other side Agastya breaks down in tears remembering Pakhi.
Ishan comes to the jail and meets Meera. Ishan says that he never thought that he would join hands with her. He says that he wouldn't be able to turn his pain that Agastya gave him into a weapon, if he didn't meet her. Meera provokes Ishan against Pakhi. She says that Pakhi forgave and loves Agastya who ruined his life. Ishan thanks Meera for making realizing that justification is need to be snatched. He vows to snatch Pakhi from Agastya and gets him punished for what he did with him.
Meera blames Agastya for her condition. She says that Agastya is ruling on the property which are supposed to be hers and Yugs. She vows to snatch the Raichand empire from Agastya. Ishan assures that he is with her. Meera says that the storm in Agastya and Pakhi's shouldn't stop until their life is ruined.
Pakhi comes out and finds Agastya. She says that a storm is coming, he may get unwell getting drenched in the rain. She asks him to go home as Dadi will be worried for him. Agastya asks if she's not worried for him. Pakhi avoids the question and insists him to leave. Agastya says that she's trying to hide her love for him. Pakhi closes the door and cries merging her back to the door.
The morning Prema wakes up Pakhi and says to go and see Agastya. Pakhi rushes out. Prema thinks that thankfully Sameer isn't at home. Pakhi gets shocked on finding a fully drenched Agastya shivering fever. Pakhi gets concerned and scolds him. Prema gets water and medicine for Agastya.
The latter says to Prema that being Pakhi's mother she should know Pakhi very well. He asks if she can't see in Pakhi's eyes love for him. He says that he knows that Pakhi cares for him in spite of her trying hard to hide it. Pakhi says him to stop talking nonsense and have the medicine. Agastya obliges. Pakhi says that he is acting insane. Agastya says that this is his love. Prema says to Agastya to come in and change his clothes. Pakhi says to Agastya to go home and leaves her alone for some time.
Agastya agrees. He says that even if Pakhi tries to go away from him, he won't go away from Pakhi's life till his last breath. He leaves. Shanaya comes and asks what happened. Prema says that Agastya was there the whole night, he got drenched. He agreed after lot of efforts and left now. She asks Shanaya where she is going. Shanaya says to college and leaves.
Ishan is watching Shanaya sitting in the car. Few goons block Shanaya's way. Ishan recalls his planning with Meera. In the FB Meera says that Agastya and Pakhi will get separated forever if he harms Shanaya. Shanya says to those goons to let her go and threatens to scream and call the crowd.
The men forcibly make Shanaya get into the car. Ishan says that he will save Shanaya becoming a hero and the goons will blame Agastya to the police. He says that it will be enough to break the strinng of Pakhi and Agastya's relation.
The goons bring Shanaya to a godown. Shanaya shouts for help. Agastya arrives there shocking Ishan. Agastya beats the goons and save Shanaya. A goon attacks Agastya. The latter gets injured. Agastya beats him. Ishan says that Agastya spoiled his plan and wonders why the goons started the fight. He wonders how he could save Shanaya now. A goon stabs Agastya shocking Shanaya and Ishan.
The episode ends.
Click to read
Fanaa Ishq Mein Marjawan 23rd June 2022 Written Update: Pakhi decides to leave Agastya