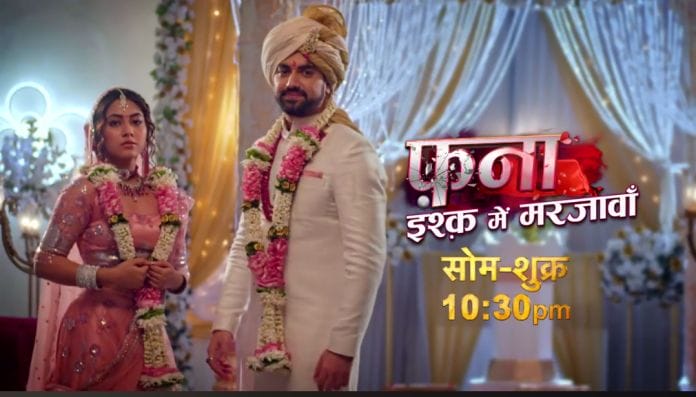 Fanaa Ishq Mein Marjawan Upcoming Story, Spoilers, Latest Gossip, Future Story, Latest News and Upcoming Twist, on Justhowbiz.net
The episode starts with Ishan threatening Pakhi to kill Tara. Pakhi agrees to do as Ishan says. Ishan says Pakhi to seat in the car. Pakhi obliges. Agastya urges the inspector to catch Meera soon as she's dangerous. Agastya doubts whether Meeea kidnapped Pakhi and Tara. Other hand Tara deliberately drops her asthma pump before Ishan drives off. Agastya notices the asthma pump and realizes that Pakhi and Tara were here and wonders where they have gone now.
Elswhere Ishan scolds Pakhi for going to the police. He leaves after locking Pakhi and Tara in a room. Pakhi recalls all the situation in which Ishan blamed Agastya and realizes that Ishan is wrong and he tried to provoke her against Agastya everytime to keep her and Tara the away from Agastya. Tara says that she told her Ishan is bad uncle. Pakhi apologizes to Tara and gets determined to find why Ishan is doing like this. Tara asks if Agastya will come to save her as she left a clue outside the police station.
Other hand Agastya asks the inspector to check the place from where he got the asthma pump in the CCTV footage. The inspector says that area isn't covered by the CCTV footage Agastya wonders why they have come to the police and why they didn't come in. He doubts that Ishan is behind all this and gets determined to find Pakhi and Tara. Here Ishan returns Pakhi her bag and says that she took her phone so that she doesn't try to call police. He claims that he abducted Pakhi and Tara to protect from Agastya as he can influence even the police. Pakhi says that Ishan can't protect them as he isn't crazy and determined like Agastya.
Ishan says to not consider him less than Agastya and says that he played lot of games with Agastya six years ago. Pakhi tells about Agastya's obsession for her. Ishan confesses that he is obsessed with her. Pakhi lashes out at Ishan for kidnapping her and Tara for his bad intention. She says that she understood it earlier, but told all this to make him confess it. Ishan aims a gun at Pakhi saying that she has become more smart. Tara hugs Pakhi getting scared. Ishan says that he became bad boy as she loves bad boys like Agastya. He says that he did lot to get her and gets determined to get her this time.
Elswhere a doctor shows few boys to Meera and asks to choose any one for her work to be done. Meera smirks. Other hand Naveli and Agastya discuss about Pakhi and Tara's kidnapping. Naveli tells that Meera escaped from jail and asks if she's not responsible for Pakhi and Tara's kidnapping. Agastya says that Ishan is behind their kidnapping since he is the one is trying to create misunderstanding between them by putting all blames on him. He says that he got police permission to check the CCTV footage of the police station's surroundings.
Naveli says that she will ask the staff to get the CCTV footages. Naveli says that Ishan, Pakhi and Tara's phones are switched off. Agastya says that if he gets any one of their IPN number then he can trace their phone with the technology that he found to trace even a switched off phone. Naveli says that they can't ignore Meera as she must have a plan to escape from jail. Agastya says that for now they have to find Pakhi and Tara.
Ishan confesses all his wrongdoings to separate Pakhi and Ishan. Pakhi cries realizing that she misunderstood Agastya ll these years. Ishan says that Tara is being an obstacle to get Pakhi and she reminds him Agastya whom he hates lot. He says that he will kill her. He shoots shocking Pakhi. Elswhere Meera gives a boy a pendrive and instructs to watch the videos of the pendrive carefully. She tells another man to take his measurements and asks to design the clothes following her instructions. She says that Agastya has no idea of her plan. She is returning to take her revenge.
Pakhi hugs a frightened Tara and scolds Ishan for scaring a kid. Ishan threatens to kill shot Tara if she tries to act smart. Pakhi thinks of contacting Agastya anyhow to get out of this trouble.
The episode ends.
Click to read
Fanaa Ishq Mein Marjawan 22nd July 2022 Written Update: Ishan kidnaps Pakhi and Tara