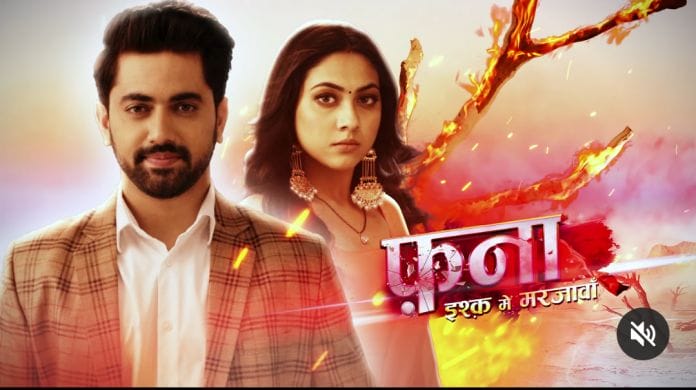 Fanaa Ishq Mein Marjawan Upcoming Story, Spoilers, Latest Gossip, Future Story, Latest News and Upcoming Twist, on Justhowbiz.net
The episode starts with Tara saying to Pakhi that she caught all except Agastya. Pakhi says that there's a secret place only Agastya knows, but she also knows that place. Pakhi brings Tara to the storeroom. Tara says that he must be hidden here, but he is caught now, so asks him to come out.
Pakhi finds Agastya's phone on the floor and wonders what it's doing here. Tara and Pakhi calls out Agastya. Just then Agastya comes out of his hiding and sacres them. Tara says that he is out as she found him. Agastya says that it's cheating as Pakhi knows his hiding. Tara says that they don't have any secret. Agastya lifts Tara. Pakhi looks on at Agastya. She returns Agastya his phone. He keeps it in his pocket. They leave.
Agastya wakes up in the midnight. He fixes a spy camera in the bedroom. He then moves to the hall and fixes spy cameras different places. Pakhi wakes up and finds that Agastya isn't in the room. She goes out to find Agastya.
The latter places a spy camera in the shelf. He says to someone over phone that he's coming out and walks towards the door. He opens it and asks someone what he is doing here. Pakhi sees Agastya and calls out his name. She comes to him. The constable says that he heard some noise so he came. Pakhi asks Agastya what he is doing here. Agastya says that he also heard some noise.
Pakhi thanks the constable and says to go and check the lawn. Pakhi asks Agastya why he has come here when he isn't well and Meera is behind him. Agastya assures that Meera can't do anything as they have police protection. Pakhi says to not underestimate Meera and asks him to be careful as she can't beat if Meera harms him. She asks him to promise to not go out. They go inside.
The priest asks Dadi if Agastya got recently attacked. Dadi says that he got shot recently so she called him to know if Agastya is out of danger now. The priest says that Agastya is still in danger and death is showing in his horoscope. Dadi gets shocked hearing this. Mona comes to them. The priest says that the next seven days are dangerous for Agastya and his life is threatened by some people. Dadi wonders if Meera isn't behind Agastya's life and asks the priest for some remedy. The priest says to pray to Goddess for Agastya.
Agastya keeps getting calls and message from some Sharma. Pakhi notifies the same to Agastya when he comes. Agastya gets nervous and snatches the phone from Agastya. Pakhi asks why he snatched the phone from her hand. Agastya says that he is in vacation so he doesn't want to attend any calls. Pakhi asks who Sharma is.
Agastya says some random names. Pakhi says that she doesn't these people. Agastya says that it's not important, they should spend time together. Pakhi wrams her arms around his neck and comes closer to him. Agastya gets nervous. Tara interrupts them. Later Agastya reads the message to meet in an half an hour. He calls someone. He scolds someone for messaging him and says that he will meet when he will opportunity.
Dadi stops Agastya and asks to sit in the puja organized for the peace. Agastya says that he has an urgent meeting to attend. Pakhi reminds him that he told that he took off for 4-5 days to spend with them. Agastya says that he remembered an important work, so he needs to go to the office. Pakhi refuses to listen to his excuses and insists him to sit in the puja. Just then Tara comes to Agastya and asks him to solve a puzzles.
Pakhi says that Tara is too smart for her age. Mona says that Tara is as smart as Agastya. The latter gives the excuse of the puja to solve the puzzle later. Pakhi asks Agastya to solve it as it's very easy for him. Agastya is unable to solve the puzzle. Pakhi and the family teases him. Agastya pretends to have pain in his wound to avoid solving the puzzle. Family gets worried.
Pakhi brings Agastya to the room and tries to see his wound. Agastya stops Pakhi holding her hand and shouts that he is fine shocking Pakhi. Agastya says that he doesn't have habit that she cares for him. He handle his wound himself in the last six years so he can take care of him by himself.
Naveli hears this. He leaves the room. Naveli comes to Pakhi. The latter cries that Agastya can't forgive her easily as it's wound is six years older. She says that she will wait for his forgiveness. Other hand Agastya looks on nervously.
Pakhi and Naveli come and sit in the puja. Tara asks if Agastya is fine. Pakhi says that hecis fine and will come in a while. Agastya sits in the puja. Tara sits on Agastya's lap. Agastya receives a message in which he gets a warning and asked to meet him soon. Agastya looks on nervous.
The episode ends.
The episode starts with Sameer apologizing to Agastya for misjudging him. Agastya says that Sameer isn't at fault and the real culprit got punished. He adds that he forgot the past and certain that the future will be beautiful. After two days, Dadi asks Mona to prepare the aarti plate to welcome Agastya and Pakhi. Just then Pakhi, Agastya and Tara arrive. Pakhi performs graha pravesh ritual. Agastya assures Dadi that he is completely fine. Mona is glad that finally their family is united and wishes that no one cast evil eye on their family. Pakhi says that they should protect the family from Meera's evil eye. She is sure that the other day Meera entered the hospital.
Naveli assures Pakhi that Meera won't disturb them again. Pakhi says that she can't be at peace till Meera get caught. Tara reminds Pakhi her promise to her to never be sad. In order to cheer up Pakhi Tara plays a song and dance with family members. Dadi stumbles and she pushes down the Agastya's photo frame mistakenly. The photo frame shatters. Dadi gets worried considering it a bad omen. Agastya asks if Dadi is fine. He doesn't believe on the bad omen. He says that he's hungry so let have food. They all leave. Pakhi stops feeling someone is observing them..
Pakhi tries to convince Tara to have drink. Agastya comes to the room. Pakhi complains to Agastya that Tara refuses to drink milk. Tara says to Agastya that she won't talk to him if he takes her side. Tara says that Pakhi herself doesn't like milk, but asks her to drink. Tara runs. Agastya catches Pakhi. Agastya agrees with Tara's point and asks Pakhi to drink milk first. Pakhi refuses. Agastya forces. The trio laugh and share a group hug. Later Agastya thanks Tara for drinking milk. Agastya and Pakhi tell a bed time story for Tara. The latter falls asleep.
Click to read
Fanaa Ishq Mein Marjawan 1st August 2022 Written Update: Meera's plan against Agastya and Pakhi