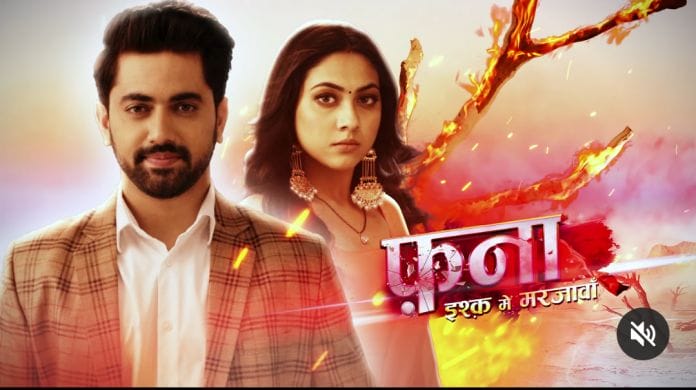 Fanaa Ishq Mein Marjawan Upcoming Story, Spoilers, Latest Gossip, Future Story, Latest News and Upcoming Twist, on Justhowbiz.net

The episode starts with Meera waking up from the sleep due to heavy wind. She sees the lights flickering and wonders what's happening. She sees Agastya standing at her room door step and gets scared. She closes the door. She calms down when the lights stops flickering. The lights starts again flickering. She sees Agastya in the room. She shouts and faints. Pakhi comes in and says to Agastya to leave immediately.
On hearing Yug Pakhi hides herself and Agastya. Yug gets shocked on seeing Meera unconscious and tries to wake her up. Pakhi pretends to have just come in and asks what happened. Other family members also arrive them. Yug sprinkle water on Meera's face and she gains consciousness. Meera says that the night light flickered and she saw Agastya. Yug says that she must had a nightmare, the light is fine. Pakhi smirks remembering fixing the night lamp.
Meera says to Yug that Agastya is alive, but he refuses to believe her. Mona says that she heard that the soul of the person who was wronged, returns to take revenge. Meera shouts stop it. Naveli says that she also heard it. Yug says her to be quiet. Meera says that Agastya is hiding somewhere and checks the cupboard. Pakhi laughs and says that she knows that Meera will pay off for wronginf Agastya. She says that Agastya's soul will punish her and he returned for that.
Yug warns her to not say anything further.
He takes Meera to his room. Mona wonders why Pakhi is laughing and asks if she is possessed by Agastya. Naveli scolds her and takes her from there. Pakhi escorts Agastya to the basement before anyone can see him. Pakhi says him to wait. Agastya says that he has to leave as Yug knows about this place. Pakhi says him to be quiet. Pakhi stumbles. Agastya holds her. They share an eyelock.
Pakhi gives Agastya packed food and says that she knows that he feels hungry when he is stressed, so she made it for him. Agastya asks if she remembers it. Pakhi says yes. She leaves. Agathets happily have the food made by Pakhi. He says that she made it the way he likes. He says that he can't expect anything from her. He doesn't deserve her after what he did with her.
The morning Pakhi says to Meera that last night it was Agastya's ghost and he won't leave her. Dadi says that Agastya must be angry with her that she couldn't do anything for him. Pakhi says that Agastya isn't angry with her, but with those, who don't value her. Yug says that she started her rubbish talk again.
Pakhi says that she's saying the truth, she felt someone's presence while passing Agastya's room, but when she entered the room… Yug says her to be quiet and says to Meera to leave for the office. Pakhi says that she's saying the truth that no one was in the room when she went inside. Meera and Yug leave. Pakhi smiles.
Meera recalls Pakhi's words and comes to Agastya's room. She says that Pakhi lied to her, doesn't get any weird feeling. Suddenly she hears a sound and gets scared. She hears Agastya saying that he will take her with him. She gets frightened on seeing Agastya's shoes moving towards her. Meera moves away. The door shuts by itself shocking Meera.
The latter shouts Yug, Agastya is here. She runs from there. Agastya watches this through CCTV footage. Pakhi says to Agastya over call that she will remove the remote car from the shoes first. She does the same. Naveli comes out of the cupboard and says that Meera got scared when she closed the door. They laughs.
Meera is coming with Yug and tells him what happened. Yug says that Meera is hallucinating. Meera says that he will believe her when he will see by himself. She brings him Agastya's room and is stunned to see the shoes back in its place.
Pakhi comes and says that she told them, but they didn't believe. Meera and Yug comes to the crematory to confirm if Agastya's body was burned. They check the CCTV footage and sees Agastya's body taken inside. Meanwhile Pakhi says to Agastya that she doesn't know where Meera is right now, but she was scared so their plan worked.
Agastya says to not take Yug lightly as he is smart. Here Meera asks if they have the CCTV footage where the body was burned. The person says that he doesn't have it. Meera says that it means in their house there's Agastya's ghost. Yug refuses to believe her. Meera says that he will believe her when Agastya will be behind him.
Yug and Meera return home. Meera asks Pakhi what Agastya's ghost wants from her. She says that she is asking her as she also felt him. Pakhi says that she wishes that Agastya could talk to her so that she can say him that she misses him. She says that only Meera can see Agastya and he talks only to her, it means Agastya returned only to take revenge from her. Meera looks on scared. Yug says that one of then doing this and takes Meera from there.
Agastya sees Dadi's video in phone and gets emotional. He thanks Pakhi for looking after Dadi. He says that he can't see Dadi in this condition. He gave only pain to Dadi who supported him all his life. He says that he doesn't know whether he deserves good people like Dadi and Pakhi in his life.
Agastya fixes a Bluetooth in Pakhi's hear and says to use it to make him call, it's safe as no one can trcak it. Pakhi says him to nkt worry. She assures him that their will be successful and leaves. Agastya wonders if Pakhi will want to be a part of his life plans after their plan will get successful.
The episode ends.
Click to read
Fanaa Ishq Mein Marjawan 1st June 2022 Written Update: