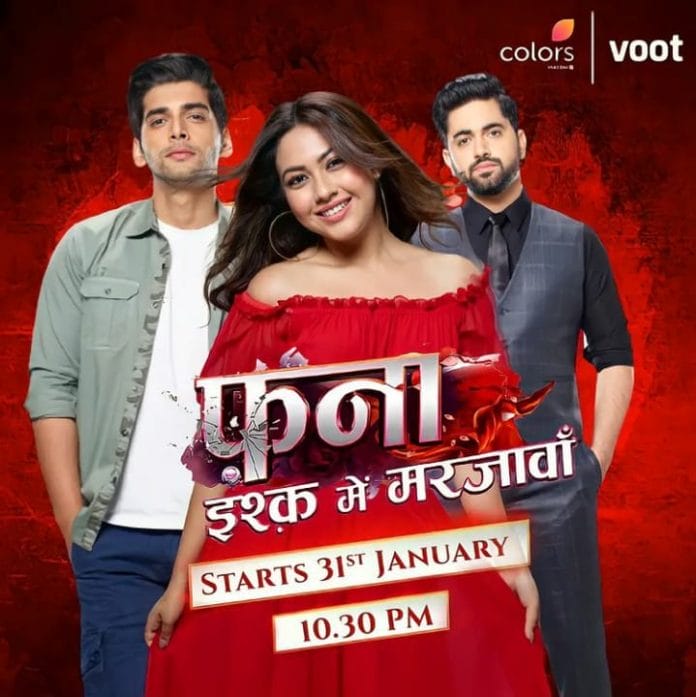 Fanaa Ishq Mein Marjawan Upcoming Story, Spoilers, Latest Gossip, Future Story, Latest News and Upcoming Twist, on Justhowbiz.net
The episode starts with Agastya saying to Pakhi that everything will be fine. Agastya's dadi, Neelima, says to Pakhi that she can understand it's a tough situation for her, but she's proud that she is strong enough to face it. Pakhi's uncle's gets a message that his order is cancelled. Pakhi's aunt, Lila, start to blame Pakhi for that. Agastya says her to mind her words. Lila asks who Agastya is to interfere in this. She lashes out at Pakhi. Pakhi says that she will get job or not, but her family won't be depended on her. Lila says that maybe Samir committed suicide feeling ashamed of Pakhi. Pakhi says that her dad can't commit suicide and cries.
Pakhi's mother, Prema, says to Neelima that Lila shouldn't have talked that way to Pakhi. Samir took care of all them till he is alive. They become a burden for Lila after Samir's death.Neelima pacifies Prema. Other side, Agastya is feeling sorry for killing Samir. A man's bike breaks down. The man says that his child is waiting for him at home. On knowing this, Agastya helps him to repair his bike. Virat comes to Pakhi's house. He says to Pakhi that she has to come to the police station every week until they catch the real culprit and he shouldn't go out of the city.
Virat investigates about Samir's death to Agastya. He says that Samir has come to meet Agastya before death. He says that Prema told him this. Hevasks why he has come to meet him. Agastya gets disturbed with the lighter Virat has and gets flashes of his past. He closes the lighter and says that he didn't meet Samir. He will find out where he was before his death using his source.
The house owner asks Pakhi's family to vacate his house. Pakhi asks what he is saying. They have been living here since long, they have made lot memories here. The house owner says that they're disturbed with police and media coming here. Prema defends Pakhi saying that she's not a murder and it's found that some gang is responsible for Ishan's attack. The house owner says that they heard Pakhi has connection with that gang. Neelama defends Pakhi. The house owner asks why she doesn't take Pakhi to her house. Neelima says that she will definitely take Pakhi home making her daughter in law. She asks Pakhi's hand for Agastya. Prema says that Samir would have been happy hearing this, if he was alive. She says that they discussed about the same the day Samir's accident happened and wanted to know Agastya's opinion on this. Dadi says to Agastya that only he can keep Pakhi happy. She unites Agastya and Pakhi's hand. She says that they can easily go through this tough phase if they are together. Neelima requests Pakhi to accept her wish. Prema says that this is Samir's last wish. Pakhi looks on.
Pakhi cries hugging Samir's shirt. Prema comes to Pakhi and says that Samir bought this shirt with his first salary. Pakhi says that Samir went to talk to Agastya about their alliance, but never returned. Pakhi blames herself for believing Ishan. Prema asks Pakhi to not commit another mistake by refusing Agastya. Pakhi says that she can't do wrong with her best friend. Prema says that she's not doing anything wrong. It's a yes from her side.
Naveli's and her mother aren't happy with Agastya and Pakhi's alliance proposal and express it to Neelima. They badmouth Pakhi. Naveli's mother says that she will never accept Pakhi if she becomes this house's daughter in law. Neelima defends Pakhi and scolds Naveli's mother. Naveli asks Neelima if she will scold her mother for that greedy Pakhi. Agastya shuts Naveli's mouth saying Dadi is right.
Pakhi faces difficulty to find any new wedding contract order. People refuses to work with Pakhi stating they don't want to work criminal. Later Lila pressurize Pakhi to marry Agastya so that her uncle can get works. Prema says Lila to not force Pakhi. She asks Pakhi what to answer Neelima. She even fixed a date, after seven days. Pakhi looks on. Agastya asks to Neelima if Pakhi will agree to marry her. Neelima says that she will, but she needs time to accept this alliance as she considers him her best friend. She asks him to not worry as his wedding is after seven days.
The episode ends.
Precap: Pakhi tells Agastya that she can't marry him which shocks Agastya.
Click to read
Fanaa Ishq Mein Marjawan 1st March 2022 Written Update: