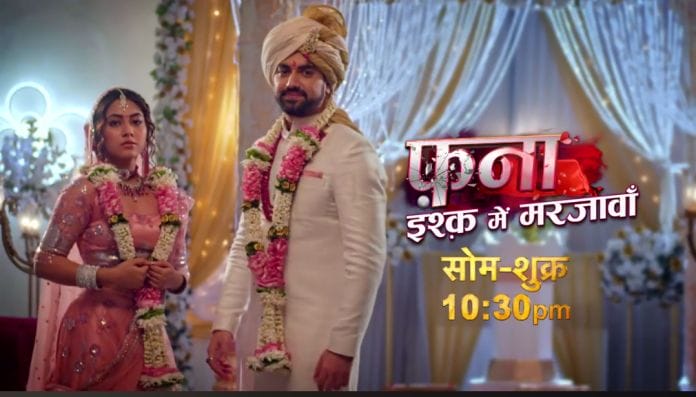 Fanaa Ishq Mein Marjawan Upcoming Story, Spoilers, Latest Gossip, Future Story, Latest News and Upcoming Twist, on Justhowbiz.net
The episode starts with Agastya waking up startled on hearing Pakhi's screaming. Agastya goes to Pakhi and asks her what happened. Pakhi shows the mirror. Agastya gets shocked on reading the message to confess the truth before it gets too late and a Pakhi's photo is sticked on the mirror. Pakhi remembers how she has done it while Agastya was sleeping. Agastya says that the handwriting is very familiar. He goes to get his phone to click a photo of it, but before that Pakhi wipes it off. She asks who has done this. Agastya says that his business rival must have done it. Dadi and Mona come there. Dadi asks why Pakhi was screaming. Agastya asks Dadi to take Pakhi. Dadi obliges. Agastya calls Yug.
Dadi says Pakhi to calm down and wonders who must have done it. Agastya comes. Mona asks him what he has done. Agastya says that someone has pranked and he will find soon that person. Mona mocks him saying that someone has done it by entering his room when he was sleeping. She demands to tell if he has done something. Dadi says to Mona it's not time to fight. Mona asks why someone would threaten us if Agastya hasn't done anything. Agastya walks away angrily. Pakhi looks on.
Pakhi comes to safety locker and she opens it using Agastya's eye photo. The secret room's door opens. Pakhi goes in and is shocked on seeing the TV screen and the CD. She realises that Agastya hasn't been only monitoring her, but he also keeps her recordings. She shouts that she hates Agastya. Pakhi controls herself and says that she has to hide her anger to get Agastya punished. Other hand Agastya is coming with Yug. Pakhi says that hereafter he won't able to control his own life, she will use all his tricks on him now. She hears Yug and Agastya talking. Yug says that no one seen anyone entering the house. Agastya warns Yug to kill him if he doesn't find that person. Agastya comes to the secret room followed by Yug. Pakhi comes out of her hiding and overhears Agastya ordering Yug to fix cameras in every corner of the house.
Sameer comes to meet Agastya in his office and apologizes to disturb him. He says that he has followed all his instructions to make visa. He requests Agastya to not harm his both daughters. He promises to not tell anyone the truth. Agastya sees a shadow outside the door and assures Sameer to protect his daughters. Agastya says to Pakhi to make Sameer understand that he will take care of her and Shanaya. Pakhi asks Sameer what he is doing here. Sameer says that he has come to meet them and takes leave. Agastya says to call him if there's any issue. Pakhi thinks how innocently Agastya acts to care of Sameer and wonders how Sameer tolerate all this. Agastya suggests Pakhi taking leave. Pakhi says that she's scared of the morning incident. Agastya says nothing can happen to her when he is with and promises to find that person. Pakhi says that she's worried for him and says to catch that person soon. She says that she brought juice for him since he didn't take breakfast. She pours the juice over his shirt intentionally and apologizes to him. Agastya goes to change his clothes.
Agastya is in a meeting. He asks his assistant to play the presentation. He gets shocked on seeing Pakhi's photos on the screen. Pakhi comes there and asks what all this is. At the end there's a message asking Agastya to tell the truth to the police before 70 hours. After that Agastya shouts at his assistant how his wife photos came in his presentation. Pakhi asks Agastya what is this, how that person got her photos when she was at home. She asks how he dared to stalk her. She says such cheap person should be behind the bars and asks Agastya to find him soon. Pakhi remembers how she changed the pendrive content when Agastya went to change his clothes.
Agastya comes to Sameer and accuses him of hacking his laptop to expose in front of his Pakhi and his business clients and of writing threatening message on his house's mirror. Sameer says that he hasn't done anything. Other Pakhi calls Ishan and says that till now Agastya didn't get any doubt. She asks if he has fixed tracker in Agastya's car and if he is tracking him. Ishan says that he is watching Agastya now and he is arguing with Sameer. He says that Sameer looks scared and he feels helpless that he can't help him. Pakhi wants to come there, but Ishan says her to not come as it can be risky, he will do something. But Pakhi hangs the call. Pakhi is on the way, but the car breaks down. Pakhi runs. Agastya says that he will end his chapter today and strangulates him. Ishan looks on shocked. Pakhi also reaches there and looks on astonished.
The episode ends.
Click to read
Fanaa Ishq Mein Marjawan 30th March 2022 Written Update: Pakhi is determined to get Agastya punished