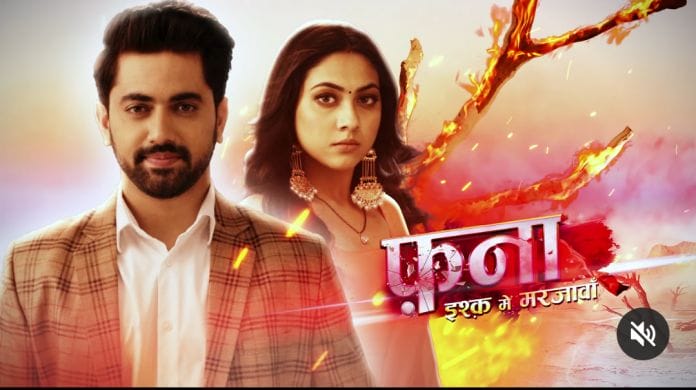 Fanaa Ishq Mein Marjawan Upcoming Story, Spoilers, Latest Gossip, Future Story, Latest News and Upcoming Twist, on Justhowbiz.net
The episode starts with the priest saying that the puja has ended. He gives them all the prasad. They all eat the prasad. Agastya thinks of doing something to meet Sharma. Suddenly he struggle to breathe and faints. Pakhi and all get worried. Doctor arrives and checks Agastya. He says that he got allergic. Pakhi says that he only had prasad from morning. Naveli gets the prasad. Doctor checks and says that he got allergic to badam. Dadi says that Agastya isn't allergic to badam. Doctor suggests doing his blood test to find out about his allergies.
Agastya reacts angrily and refuses to do the blood test which surprises family. Agastya says that he has to go for an important meeting. Doctor says that he should go out immediately. Agastya speaks harshly to the doctor and leaves taking his phone. Dadi wonders what happened to Agastya all of a sudden. Pakhi reassures her. She goes after Agastya. She calls out Agastya, but he drives off.
Dadi and Mona discuss about the priest's prediction. Dadi wants to tell this to Pakhi, but Mona prevents her stating it will worry Pakhi unnecessarily. She says that Meer can't do anything to Agastya. Pakhi reaches a godown following Agastya's car. Agastya meets Meera and asks why she called him. Meera scolds him for reminding again and again his work. Other hand Pakhi is looking for Agastya. Here Agastya says that he needs time. Meera threatens him. They get alert hearing phone ringing. Pakhi receives Tara's call. She assures her that she will return in a while. She says to give the phone to Naveli. She tells Naveli ro take care of Tara as she has to talk to Agastya. She goes inside a room and finds no one. Pakhi gets worried about Agastya.
The latter comes from behind and asks Pakhi what she is doing here. Pakhi says that she got worried for him so, she came after him. She demands him to tell what he is doing here and whom he came to meet here. Agastya drags Pakhi inside. He says that he brought this place. He is going to demolish it and build a house for her and Tara. He says that this was his surprise, but she urged to know it. He says that he bought her specially to this room as he is going to build a office for her here, so that she can work from home. Pakhi apologizes to Agastya for doubting him. Agastya apologizes to Pakhi for shouting at her. Pakhi says him to take as much time he wants to forgive her for hurting him in the past. She hugs him.
Pakhi and Agastya return home. They discuss about getting Tara's admission in the school. Pakhi says to hire a tuition teacher for Tara as sometimes she can't control her. Tara asks if the tuition teacher won't scold her. Pakhi says no as Tara is good girl. Elsewhere Meera gets shocked finding someone whom she captured missing. She scolds her man.
There Agastya receives a message that he ran away. He gets worried and gets ready to leave. Pakhi stops him and questions him. Agastya lies that he is going to meet broker. Pakhi let's him leave. Agastya catches someone and beats him. He brings him to Meera putting him in a sack. He tells Meera that he has a plan.
The episode ends.
Click to read
Fanaa Ishq Mein Marjawan 2nd August 2022 Written Update: