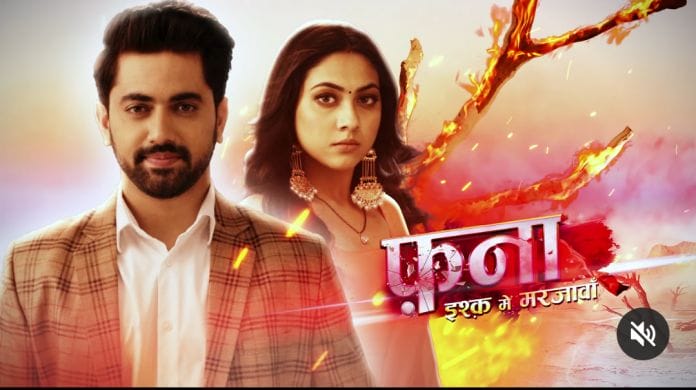 Fanaa Ishq Mein Marjawan Upcoming Story, Spoilers, Latest Gossip, Future Story, Latest News and Upcoming Twist, on Justhowbiz.net
The episode starts with Meera getting scared on seeing Agastya. The latter moves his hand. A duppata falls around Meera's neck and strangulate her. Pakhi is shown holding that duppata. Pakhi makes Meera fall and Pakhi and Agastya leave from there. Meera calls out Yug. The latter comes hearing Meera's shout. Meera says that Agastya tried to strangulate her with the duppata. Yug says that no is here. All come there. Meera says that Agastya wants to kill her, he is there. Dadi says that Meera is lying. Mona says that maybe Pakhi is right, Agastya returned for revenge. She says that they have to organize a puja for him. Yug says that they are talking rubbish.
The morning Yug comes to Meera and says that he has good news. He says that he talked to the lawyer and they will get the property by today. Meera gets glad and hugs Yug. She says that all her tension vanished after hearing this good news. She says that she won't return to this mansion after getting the money. She can't wait get rid off them all. Pakhi gets worried.
Pakhi is in call with Agastya through bluetooth She says that she doesn't know what Meera will do with her parents after getting the properties. Agastya assures her that nothing will happen to her parents and says that he will keep his promise of proctecting her parents. He adds that they have to start the plan. Agastya comes disguised as masked man. He cuts some wire in the car and mixes something in the water bottle.
Yug and Meera get ready to go to the lawyer office for properties transfer. Yug says to Pakhi to come along with them. On their way Meera complain that the AC isn't working. She takes the water to drink, but she put it back as it smells bad. Pakhi says that her mom used to say that one should drink water after eating oily food else negative energy will get attracted towards the same. Meera immediately drinks the water.
Yug is discussing with the lawyer about property transfer. Meera sees Agastya there and gets scared. She shouts that Agastya wants to kill her. She behaves violently and slaps the lawyer. Yug apologize to them and says that Meera got a shock. Meera shouts at Yug for apologizing to them. She keeps repeating that Agastya's ghost is behind her to kill him. Pakhi thinks that Meera used to play with Agastya's mental health in the same way and hopes that she would have understood his pain now.
The lawyer calls the security and says to tie Meera to the chair. Yug tries to explain them. The lawyer says that Meera is mentally unstable, so she can't handle Agastya's business in this state. He leaves. Meera's lawyer says to Yug that Meera's behavior got recorded in CCTV cameras, so auditor won't let the properties get transferred on her name, so they have to prove that she's mentally stable. He leaves. Yug says that Meera is fine, this is someone's plan. He doubts that someone must have mixed something in hervfood or the water. He gets determined to find it out.
The doctor says to Yug that he didn't find any drug traces in her blood, she is definitely lost her sanity. Yug refuses to believe this and says him to re do the test. Doctor agrees and leaves. Yug sees the doctor showing thumbs up to someone and checks to whom, but he fails to notice Pakhi. Mona brings a garland of lemon and chilli and tries to put it around Meera's neck.
Meeea gains her consciousness and asks what she's doing. Mona says that she heard that she behaved violently in the lawyer office. She says that she must be possessed by Agastya's ghost so she behaved like that. She says her to wear lemon and chilli garland. Mona leaves when Yug comes there. Meera asks Yug if the properties got transferred. She says that she doesn't remember anything after seeing Agastya's ghost.
Yug says that the properties didn't get transferred, but he will find a way. Meera says that she saw really Agastya out of the window. Yug says that someone is playing with her mind. Meera says that it means someone is fooling her. Yug nods yes. She asks how he find it out. Yug looks on smiling. Pakhi misses her parents and talks to their photo. Yug comes to Pakhi. He says her to look after Meera as he is going out. Yug thinks that those who are doing this will get caught in their next plan. Pakhi thinks of executing the next plan.
The episode ends.
Click to read
Fanaa Ishq Mein Marjawan 2nd June 2022 Written Update: Meera is frightened