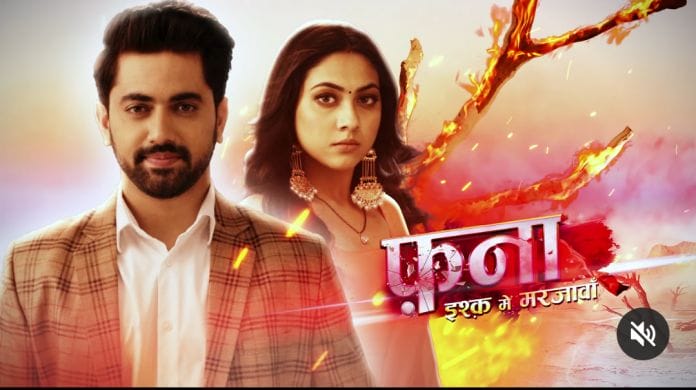 Fanaa Ishq Mein Marjawan Upcoming Story, Spoilers, Latest Gossip, Future Story, Latest News and Upcoming Twist, on Justhowbiz.net
The episode starts with Pakhi saying that Tara is found of technologies like her father. She gets thought realizing what she told. Tara asks if she said something. Pakhi gets tensed. Tara says that she will also get sad seeing Pakhi sad. She asks if should say to all that magic is real to save her event. Pakhi refuses and reminds her that she taught her that lying is wrong. Tara thinks of bringing excitement in the party to make Pakhi happy. She dances. Pakhi gets happy and dances along with Tara.
Ishan is shown doing pushups and punching the bag. He got tattooed Pakhi's name on his chest. He says that he wanted separate Pakhi from Agastya, but she went away from him. Ge says that he was looking for her everywhere in the last six years. He refuse to give up and vows to find her and make her his. He says that Agastya can't come between them this time. Other side Agastya is working in his room. He looks at Pakhi's photo and misses her. He says that something is still connecting them together and doesn't let him forget her.
At shimla Pakhi says that she has come far from Agastya to protect her child from him. She gets determined to never let him meet Tara. Here Agastya says that the connection that's still between them will unite them again. Pakhi says that she doesn't want to even see Agastya's face in her life. Pakhi looks at family photo and misses them. She apologizes to them for leaving them. She says that she has to do to keep them away from Agastya. She promises to protect Tara from Agastya. Tara hugs Pakhi in the sleep. Pakhi gets emotional remembering Agastya hugging her the same way. She thinks that she will never let Tara know about him.
Tara says to Pakhi about little Einstein competition which is going to take place in Delhi and express her excitement to participate in the competition. Pakhi says that Tara can't go to Delhi and gives the pollution as excuse. Tara says Pakhi to accompany her. Pakhi firmly says that none of them going to Delhi. Tara gets sad. Pakhi apologizes to Tara in her mind and says that she can't send her in the city where Agastya is and create an opportunity to meet them.
Agastya and Shanaya are about to enter the house. A stone hits Naveli and she shouts. Dadi comes out hearing Naveli's scream. Agastya sees a paper is wrapped on the stone. He takes it and reads. It's a threatening message. Naveli tells Dadi that Agastya is receiving threatening notes to drop the prosthetic legs project. Agastya says that assured family's security. Agastya refuses to drop the project which is Pakhi's dream and which is helping poor children. He receives Payal's call. He rejects the call. Dadi asks why she rejected Payal's call and says that she likes him lot. Agastya says that he can't think about anyone else than Pakhi in her life.
Pakhi talks to the principal of Tara's school and gets shocked learning that Tara is also going to Delhi for the competition and she lied that she gave her permission. Pakhi finds Tara who is hiding. She says to Tara that she shouldn't go to Delhi. Tara requests Pakhi to let her go. Principal comes to Pakhi and asks why she's stopping Tara. Pakhi asks how she can ask her this question despite knowing her past. She says that Agastya is in Delhi.
Principal apologizes to Pakhi and says that she thought that everything must have got fine with the time. She says that Pakhi's feard doesn't let Tara grow. She says that only Tara can win this competition and persuades Pakhi to go to Delhi along with Tara. She asks them to stay in her flat in Delhi when Pakhi scares that Agastya will get to know about them if she stays in any hotel. Meanwhile Naveli and Agastya talk about little Einstein competition. Naveli says that it was a good idea by Agastya. The latter gets excited to spend time with the kids. Here Tara gets happy when Pakhi tells her that they're going to Delhi.
As Naveli and Agastya are discussing about the competition, Payal comes there. She complaints to Agastya that he didn't answer her calls. She reminds him that her dad is the biggest investor of his company and she's the biggest investment of his life. She asks him to make her as his business partner. Agastya sats that they can talk about it later as now there's a competition. He leaves ignoring Payal.
Pakhi and Tara reached Delhi. Tara asks Pakhi why they're not staying in the hotel along with other students. She says that she knows the reason it's a secret that she's hiding from her which shocks Pakhi.
The episode ends.
Click to read
Fanaa Ishq Mein Marjawan 4th July 2022 Written Update: Agastya hopes to meet Pakhi again