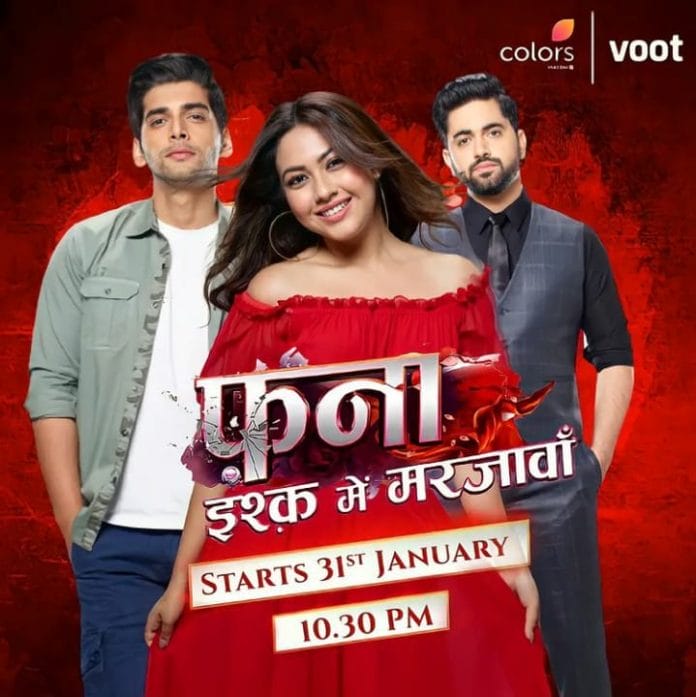 Fanaa Ishq Mein Marjawan Upcoming Story, Spoilers, Latest Gossip, Future Story, Latest News and Upcoming Twist, on Justhowbiz.net
The episode starts with Pakhi receiving Mohit call. Pakhi goes to the house's corner where cameras aren't fixed to receive the call. Mohit asks why she was looking worried in the temple. Pakhi says that she's disturbed as she's in dilemma whether what she's doing is right or wrong. Other hand Agastya is frustrated that he can't the person, who is threatening him. Pakhi's broken bangle, which is on Agastya chair, is shown. Here Pakhi says to Mohit that she left everything on Goddess and hopes she will show her a way. Just then the flowers Pakhi brought temple falls and flies towards a door. Pakhi sees a door and feels that there is something behind this door. Pakhi tries to open that door using her hair pin. There Agastya throws the chair in anger. He fails to see Pakhi's broken bangle and walks over it crushing it into pieces.
Pakhi opens the door and comes to the basement. She looks around and finds a blood stained handkerchief in the ground. She recognized as Sameer's. She sees the chain and she breaks down realising that Agastya kept Sameer captive here. Pakhi remembers Prema's words and gets determined to take revenge from Agastya. She phones Ishan and says that Shubham was right about Agastya. He can kill anyone with cold blood. She says that she can't back off after what she saw today. She says that Ishan can back off since it's her battle. Ishan refuses to leave Pakhi alone in this battle and says that he also decided to take revenge from Agastya. Pakhi shares a plan with Ishan. The latter is shocked on hearing this and asks if she is sure about the plan. Pakhi says that she's very sure and says to talk to Maya.
Pakhi serves Agastya food saying that he can't refuse to eat as she prepared his favorite dishes. Agastya appreciates the food's aroma. Just then a boy delivers a parcel to Pakhi. Agastya says to Pakhi to not open it as the blackmailer might have sent it. Agastya opens the parcel. As soon Agastya opens the box a needle comes out of the parcel and pricks Agastya's neck. Agastya faints holding his neck. Pakhi calls out dadi. Dadi, Mona and Naveli and bodyguards come to Agastya and get worried on seeing him unconscious. Dadi says to Mona to call doctor. Naveli notifies that there's a needle pricked in Agastya's neck. The bodyguard says that the toy in the box has another same type of needle. He further says that it might have contained poisonous drug. FB shows Pakhi asking Ishan to find which drug Agastya used to paralyze him.
Doctor says that the bodyguard was right about the needle having some drug. He says the drug name. Agastya realizes that it's the medicine given to Ishan to paralyze him. He wonders only Maya knows about it and wonders if she's the blackmailer. He thinks that she doesn't have that much courage to use his trick on him and wonders who it could be. Doctor says that he doesn't understand how Agastya's attacker got this medicine. Doctor takes leave. Pakhi apologizes to Dadi in her mind. She says that she's doing it to make Agastya feel the pain he gave to others. Mona taunts Pakhi saying that whoever is with her get paralyzed, first Ishan and now Agastya. Naveli takes Mona from there. Dadi says to Pakhi to not get hurt with Mona's words. Pakhi says that she will look after Agastya. Dadi leaves.
Pakhi says to Agastya that she's sorry, he took the trouble that came for her over him. Other hand Shubham says to Ishan that Agastya's men are keeping an eye at them and if they get to know that he went out through the back door to get medicine from Maya, he will get in trouble. Ishan says that he can take any risks to get Agastya punished. He asks Shubham to wait till the next day. Shubham asks if making Virat escape from the jail is their plan. He says that they're doing crime and they can get jailed for this. He asks Ishan to not do it. Ishan says that they have to do it and before that they have to get successful in tonight's plan.
Pakhi is talking with Shanya and says about Agastya's condition. She says that Agastya took over him the trouble meant for her. She says that he can't do anything on his own, but she's with him to take care of him. He will be fine by morning. After hanging the call. Pakhi pretends to discover the locker in the cupboard and asks what it's. She says that she feels there's something behind it. She says that she will check morning. Agastya gets scared that Pakhi will learn his truth. Pakhi thinks that Agastya has to struggle like this until he confess his crimes.
The episode ends.
Click to read:
Fanaa Ishq Mein Marjawan 5th April 2022 Written Update: Prema advises Pakhi