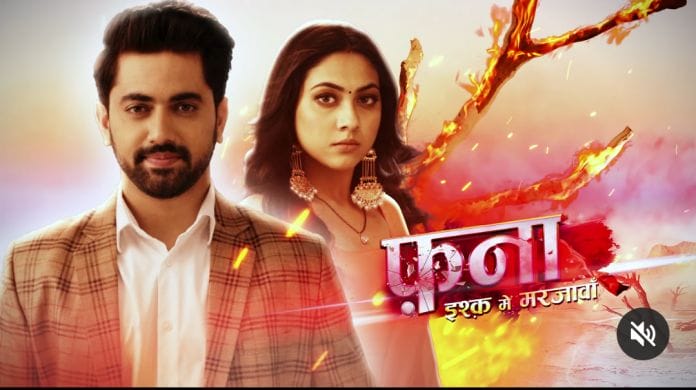 Fanaa Ishq Mein Marjawan Upcoming Story, Spoilers, Latest Gossip, Future Story, Latest News and Upcoming Twist, on Justhowbiz.net

The episode starts with Naveli thanking Mona for helping them. Elsewhere Agastya is training Dai maa to act as the lady who cast out spirits. Pakhi comes to Agastya. She worries whether Dai maa can do it and expresses her worry for the same to Agastya. The latter assures that everything will be fine.
Agastya and Pakhi come closer while Agastya trying to remove dust from Pakhi's eye. Their moment gets disturbed with Mohit's arrival. The latter says that Meera contacted a particular number four times and says that number's location. Agastya is sure that Meera must have called Prema and Sameer, so he asks Mohit to check the CCTV footage of that location to find the exact location and inform police. Agastya to check Dai maa.
Mohit asks Pakhi what will happen to Pakhi and Agastya's after Meera's punishment. Pakhi avoids to answer that question and asks Mohit to check their arrangements. Agastya comes again and ties a holy thread around Pakhi's wrist for her protection as they're going to do something dangerous, but they will win.
Meera, Yug and the priest on the way in the car. The priest says that Meera should perform the puja alone. Meera instructs Yug to take Pakhi and all to Pakhi's house after reaching home. Yug can't believe that Meera believe in all such things. Naveli and Shanaya wonder why Pakhi hasn't returned yet. Yug comes to them and says to pack their back to go to Pakhi's house for that day night as there's some puja in the house. He asks about Pakhi. Just then Pakhi comes and says that she heard his instruction.
Agastya gives Dai maa bluetooth so that he can help her if she forgets her line. He gives her a mat on which Meera should sit and a Trishul. Dadi agrues with Yug questioning about the puja they're going to perform. Pakhi calms Dadi down. She says to Dadi to let them do what they want as nothing good will happen with them. She mentions about Agastya's ghost preventing the properties from getting transferred on Meera's name.
Mona, Shanaya and Naveli pretend to have a heated argument. Yug gets irritated with their fight. He scolds them and leaves. After he left they burt out laughing which confuses Dadi Pakhi says to Dadi that there will be end of Meera that day and the truth will triumph. Dadi gets worried and asks what Pakhi is up to. Pakhi says to believe her and bless her. She assures that Dadi will get back her happiness. Shanaya notifies Pakhi that she broke the lock of backside door. Pakhi leaves.
In the night Meera, the priest and Dai maa are gathered for the puja. Dai maa instructs Meera to sit inside the circle and asks to not move until the end of the puja. The priest takes leave. Meera seeks Dai maa's blessings. Dai maa scolds Meera and refuses to bless her. Agastya and Pakhi watch this through the CCTV footage and laugh. Dai maa forgets some lines and laughs to signal Agastya. The latter tells that lines and helps Dai maa.
Dai maa calls Agastya's spirit. The lights starts flickering and the sofa moves. Meera looks on scared. She requests Dai maa to save her when Agastya's voice saying that he won't spare her. Pakhi reminds Agastya it's time for his entry and assures that she will handle all this. Agastya leaves.
Meanwhile Yug realizes that anyone can escape from the backdoor of Pakhi's house and leaves in hurry. Here Meera gets frightened on seeing the things flying in the air. Agastya makes his entry and Meera is look on shocked.
The episode ends
Click to read
Fanaa Ishq Mein Marjawan 6th June 2022 Written Update: Pakhi and Agastya get successful in their next plan