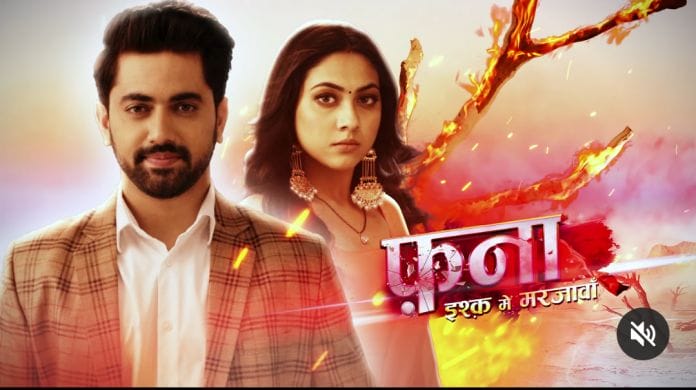 Fanaa Ishq Mein Marjawan Upcoming Story, Spoilers, Latest Gossip, Future Story, Latest News and Upcoming Twist, on Justhowbiz.net

The episode starts Dadi saying to fake Agastya that he came to call him for the Haldi ceremony. Agastya leaves with Tara. Dadi says that he can't be Agastya as he didn't recognize the toy of Pakhi. She wonders who he is if he's not Agastya. The real Agastya sees this in CCTV footage. He says that thankfully Dadi found out about fake Agastya. He says that their lives aren't in danger and says to stop the wedding. Dadi also says that she should stop the wedding. Agastya gets glad hearing this.
Dadi sees that fake Agastya also have same burn scars on his chest and doubts that it could be fake scars. Dadi is asked to apply haldi to Agastya and Pakhi. Dadi applies the haldi reluctantly on Agastya's cheek. Meera and Agastya notice this. She feels dizziness while applying it on Pakhi's cheek. Pakhi gets worried and asks Dadi if she's fine. Agastya holds Dadi's hand and applies haldi on Pakhi's cheek.
Mona brings Dadi to her room and puts her to sleep. Meera came after them. She wonders whether Dadi got to know about fake Agastya. She says that in that case she will try to stop the wedding. She says that this wedding should happen at any cost for the success of her plan. At the Haldi ceremony fake Agastya says to Pakhi that Dadi will be fine and asks why she seems dull in her pre wedding ceremony.
Naveli applies lot of haldi on fake Agastya's cheek. Fake Agastya's fake burn scars starts to peel. Fake Agastya realizes this. He makes an excuse that his gunshot wound is paining and goes to his remove to fix his fake burn scar. Pakhi comes to the room to help Agastya. The fake Agastya prevents her from seeing his scar.
Pakhi gets scared on seeing a shadow. Fake Agastya comes to her and assures that nothing can happen to her until she's with him. Pakhi says that she's scared of Meera. Fake Agastya tries to get romantic with Pakhi. She stops him saying no romance before wedding. She leaves. Fake Agastya wonders Meera is in her room, so whom Pakhi was talking about.
Pakhi, Tara and the family members are having dinner. Dadi comes there and thinks of telling about the fake Agastya. She thinks of taking Pakhi apart and tells this. She wants to send her a message, but she's scared that fake Agastya can read the message. Mona notices Dadi. Pakhi makes her sit to have dinner. Dadi whispers to Pakhi to come to the storeroom as she wants to talk to her about something important. She leaves. Pakhi wonders what Dadi wants to tell her. Tara asks Pakhi to feed food to her.
In the storeroom Dadi waits for Pakhi. Dadi sees a woman shadow. She thinks that it's Pakhi and tells that the Agastya who is staying with them isn't Agastya, but a lookalike and Meera must have sent him. Meera reveals herself to Dadi. The latter understands that Meera is behind everything and wants to tell Pakhi the truth immediately. Meera closes Dadi's mouth with her hand. She uses a cloth to shut Dadi's mouth. Pakhi comes to the storeroom to meet Dadi. On her way Tara insists to make her wear her earrings.
Pakhi comes to the storeroom and doesn't find Dadi. Meera comes there pretending that she reached here while looking for washroom. She says that she saw Dadi, she was worried and then left. Just then Pakhi Dadi's message that her friend Sarita wasn't well, so she's leaving to see her and wanted to tell her the same in private. Meera thinks that thankfully she messaged Pakhi from Dadi's phone in right time. Dadi is shown tied up in a corner of the storeroom. Pakhi says that Dadi should have gone alone and decides to call her. Meera gets tensed as she didn't put the phone on silent mode.
The episode ends.
Click to read
Fanaa Ishq Mein Marjawan 8th August 2022 Written Update: