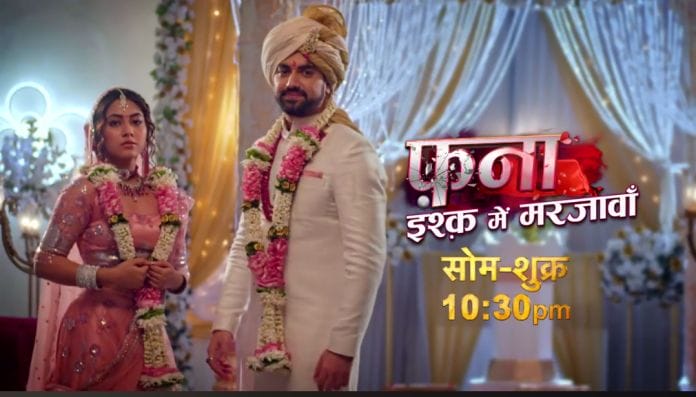 Fanaa Ishq Mein Marjawan Upcoming Story, Spoilers, Latest Gossip, Future Story, Latest News and Upcoming Twist, on Justhowbiz.net
The episode starts with Meera saying to Bulbul to not her face again. But she refuses to keep Bulbul in job. Yug convinces Meera saying that it's the solution to not get involved in police case. Yug says to Dadi and Naveli to explain Bulbul her work and give her space to stay. Later Naveli scolds Bulbul and gets scared of getting caught because of Bulbul. Bulbul says that she can't stay inside a room as they asked, so she put up this act. She knew that Meera wouldn't see her burned face getting scared her, so her face will be covered.
Bulbul sees Prema working. She remembers Dadi showing her Pakhi's family photos and telling who they are. Bulbul thinks of helping her. She goes to her and takes the broomstick from her hand saying that she will do it. Prema wonders who is this new girl. Bulbul dances with the broomstick. Meera arrives there. The broom stick breaks and falls over Meera. The latter gets angry and is about to hit her with a vase, but Yug stops herher saying to let it go.
Meera tries to reassure Mr Sina that everything is going well in the company. Just then Mr Sina's assistant arrive and tells that they couldn't find venue for their event as all places are booked due to marriage season. Meera propose to organize his event at her house. Mr Sina says that he doesn't think that they can manage such a big event as many VIP will come and dance performance will take place. Meera assures him that she can. Mr Sina agrees and says that he will get her deal signed by Minister if she handles the event well.
The nurse is trying to feed Agastya. Bulbul comes and says to the nurse that she will feed Agastya. The nurse leaves. Agastya recognizes Bulbul and gets happy. Agastya says that he hasn't told Meera about her. Dadi sees this and gets happy. She thinks that Agastya recognized Bulbul event without seeing her face.
Bulbul shows toffees and says that he can eat it when he eats the food. Agastya says to tell first why she has her face covered. Bulbul says that it's super heroes. Agastya says that Bulbul is her superhero. He says that he will eat when she will show her face. Bulbul shows her face. Agastya gets happy. Bulbul feeds Agastya food.
Bulbul and Agastya play catch with ball. Agastya breaks a flower vase by mistake. Meera arrives there. Bulbul hides herself. Meera slaps Agastya and takes a stick to beat him. Dadi stops Meera. She says to leave Agastya as he hasn't done any big mistake. Meera reminds Dadi that she said her to stay away from Agastya. She makes her leave the room and closes the door. She beats Agastya brutally. Agastya cries in pain. Bulbul gets teary eyes on seeing this.
In the night Bulbul comes to Agastya, who is sleeping on the floor. She caresses his hair and says that Meera beat him because of her. She gets determined to teach Meera a lesson for making Agastya cry. The next day morning Meera scolds Prema saying the food is tasteless. Bulbul brings a plate full of red chilli powder and says that she will add this special chilli masala from her village which will taste to her food. Bulbul puts a small fan near the chilli powder plate. The chill powder goes into Meera eyes and she shouts in pain.
Bulbul apologizes to Meera and says that she can't see properly as her face is covered. Meera riases her hand to slap Bulbul. The latter bends down and Meera slaps Mona. The latter asks just now she came from Lucknow completing her work, why she is welcome her like this. Yug gives water to Meera and takes her from there. Bulbul apologizes to Mona. Mona asks who she's. Naveli says that she is a new maid. She takes Mona from there. Bulbul says to Prema that she's always sad. She takes her from there. Shanaya suspects Bulbul.
Bulbul's friend, Karthik calls her and says that her dance show venue has changed. He says that he will take her there. Bulbul says that she cares only about dancing, not venue. She hangs the call. karthik confirms that the new venue is Meera Raichand's house. Here Bulbul gets excited thinking that she can get noticed by any film director and gets chance in movies.
The episode ends.
Click to read
Fanaa Ishq Mein Marjawan 6th May 2022 Written Update: Bulbul enters Agastya's house in disguise