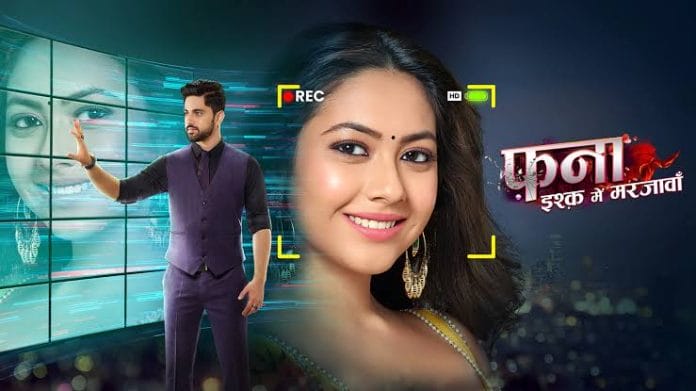 Fanaa Ishq Mein Marjawan Spoilers, Upcoming Story, Latest Gossip , Future Story, Latest News and Upcoming Twist on justshowbiz.net

The last week it was seen that Meera instructed Agastya to act drunk and to threaten Subut in a public place. She asked Pakhi to tell Subut that Agastya would kill him if he didn't listen to him. Agastya and Pakhi obeyed Meera's order to save Tara. Agastya and Pakhi reached the location. Agastya argued with Subu and created a scene as per Meera's order.
He pushed Pakhi towards a table on which plates filled with colors were placed. Pakhi turned the running fan towards those plates to create a distraction as Agastya instructed her earlier. Using the opportunity, Agastya gave Subut's son, Pratap, a letter in which he wrote that Subut's life was in danger.
Later, Agastya and Pakhi hoped that Pratap would do something to save Subut. But they were taken aback when Pratap visited their house and revealed he was the mastermind who was instructing Meera. Pratap told that he wanted to kill his dad to take over his dad's business.
He added that he wanted Agastya to kill his dad so that Agastya, who was his number one business competitor, would go to jail. Pratap showed the letter Agastya gave him and reprimanded her for failing again and again. He gave Meera a last chance and warned her to not any mistake again.
A furious Meera activated the bomb in Tara's hand. Pakhi and Agastya panicked when Meera said that she couldn't deactivate the bomb. She laughed and revealed that she just scared them. She reminded them that they had only 18 hours to save Tara. Agastya decided to kill Thakur to save Tara.
He wanted to do it alone without involving Pakhi so that he would only go to jail while Pakhi could raise Tara. Pakhi completely disagreed with Agastya's suggestion. Later, Meera held Tara in her custody to punish Agastya and Pakhi for acting smart. She then sent Agastya and Pakhi to the Pandal kill Thakur.
Agastya and Pakhi arrived at the location. Meanwhile at home, Yug got determined to help Agastya and Pakhi anyhow. So after lot of efforts, he managed to escape through a window. He reached the Pandal. Yug prevented Agastya from shooting Thakur.
He told Agastya that wanted to complete Meera's work on Agastya's place. He argued that Tara needs Agastya while he didn't have anyone in his life. But Agastya refused it as it could put Tara in danger. Agastya and Yug fought trying to snatch the gun. In this process they dropped the gun.
The gun got kicked by the crowd ans went missing. Agastya and Yug were looking for the gun. Meera saw this through the CCTV camera. She got mad knowing her plan was flopped. Meera warned Agastya and Pakhi and gave them a last chance to kill Thakur. 
Meera asked Vicky to take Agastya and Pakhi to the college where Thakur would go for the puja. Meera threatened Agastya to kill Tara and Pakhi if he failed. After reaching college, Vicky handed a gun to Agastya to kill Thakur.
He distracted people so that Pakhi and Agastya could enter the college with the gun. Agastya and Pakhi found Thakur performing God's veneration. Agastya shot Thakur in the chest. Meera watched this live through the CCTV camera. She started to celebrate her victory by drinking alcohol.
Meera phoned Pratap and asked for money. Pratap said that he would give her money when the work would be completely done. He told Meera that Thakur was in the hospital. Just then Thakur shocked Pratap by appearing fit and fine in front of him.
Agastya and Pakhi revealed how they recorded Pratap's confession, how they sent that recording and a letter to Thakur through Yug and how Thakur faked his death. Thakur slapped Pratap. Agastya forced Pratap to call Meera and ask her to reach a location to collect the money. Then he got Parap arrested.
After Meera left to collect money, Agastya sneaked into the house by tricking and hitting the goon who was posting outside the house. Agastya got into the house and hir the remaining goons. He met his family and told them about what had happened.
He told them about his plan to get the bomb's remote from Meera and sought their help for the same. The family shouted. Vicky went to check on them. Agastya attacked Vicky and got his hands and legs tied up. Agastya dressed up like Vicky.
On the other hand, Meera was waiting for Pratap. As Pratap didn't turn up, she doubted that Pratap deceived her. Meera returned home Agastya acted as Vicky and tricked Meera to give him the remote.
He made her believe that he dropped a tracking device in Pratap's pocket and send her outside to track him. Agastya called the bomb defusing team. After lot of efforts, they removed the explosive chip from Tara's hand. Agastya and Pakhi's whole family got elated.
Meanwhile Mona forgot her phone in the room where Vicky. He managed to attain Mona's phone and called Meera. He told her that Agastya and Pakhi fooled her. Meera stopped the car and noticed she was being followed by the police.
Mona realised that she left the phone in the room. Vicky and Shanaya went to check. Vicky managed to free himself and attacked Yug. Shanaya hit Vicky's head with a rod and fainted. Yug and Shanaya informed Agastya and Pakhi that Vicky alerted Meera.
Pakhi and Agastya rushed to catch Meraa. The latter arrived at the Pandal. Agastya learned about Meera's location via police help. Agastya and Pakhi arrived at the Pandal along with police team. Pakhi catched Meera and twisted her hand behind her back. Pakhi mentioned Meera's all crime. At the house the family slapped Vicky and got him arrested. Vicky managed to escape from taking an inspector's gun and Tara.
Vicky reached the pandal with Tara and demanded Agastya to give home five crores and send him to Nepal in exchange of Tara. Meera slapped Vicky for betraying her. Meera held Tara at gun point and threatened her.
Pakhi prayed to universe to help her. Meera's cloth fell in the diya and her cloth catched fire and she died burning. After a year of leap Pakhi and Agastya along with Tara and a newly born baby United with their family. The story ended with them all happily posing for a family photo.
Stay tuned to this space for the latest updates on your favorite TV shows.