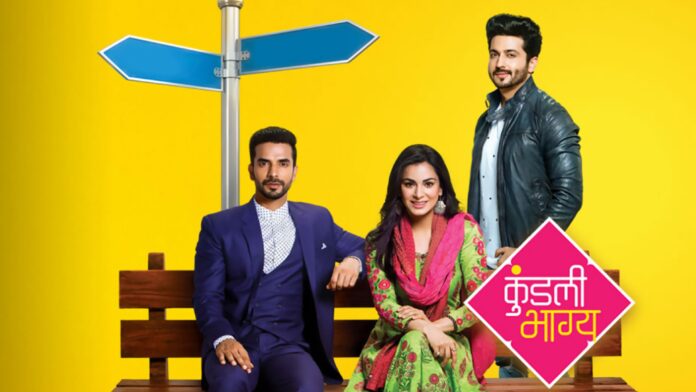 Kundali Bhagya Weekly update
This week Kundali Bhagya begins with Mahesh celebrates holi with his family. Mahira thinks no one will identify her and she decides to inject Mahesh. Sristy feels she gave extra dose of "Bhang" to Prithvi that's why he is not waking up. Sherlyn thinks Prithvi should not wake up. Mahesh asks Karan to call Preeta, Sristy and Sameer because he wants to celebrate holi with them too. Kareena says to Mahesh that she also wants to see him dancing. Preeta shakes Prithvi and asks him to wake up. Sherlyn thinks Prithvi won't react. Prithvi takes Preeta's name which shocks Sherlyn. Sherlyn curses Prithvi in her mind. Preeta asks Prithvi that why he is marrying Krithika and asks is this his revenge plan. Prithvi agrees with her and Sristy records his confession. Karan takes Preeta with him.
Mahira moves towards Mahesh to kill him. Someone collides with Mahira so she drops the injection. Mahesh tries to recognise Pawan and Mahira notices that and wonders how Mahesh knows Pawan. Sristy says to Preeta that Prithvi is weird because he is reacting to Preeta's voice only. Sherlyn thinks Luthra's destroyed Prithvi's family and for revenge she married Rishabh but everything may end today. She takes kerosene and says she don't care if she dies today but she will make sure that Luthra family dies too. Pawan searches Prithvi and asks Mahesh about Prithvi. Mahesh recalls how he slapped Pawan and how Pawan threatened him. Pawan says to Mahesh that Prithvi is his brother and asks him that did he saw his brother.
Mahesh says to him that he recognised him. Pawan realises that he is talking to Mahesh. Mahesh says to Pawan that now he understood who is Prithvi and decides to expose everyone. Pawan follows Mahesh to kill him. Sherlyn learns that Mahesh recognised Pawan. She says to Mahira that today Pawan will kill Mahesh definitely. Mahira asks her that what's the connection between Luthra's and Pawan. Sherlyn says to her that everything started because of Pawan only but she can't reveal that secret. Sherlyn says to Preeta that Mahesh asked everyone to gather in the living room because he wants to talk about something important. Mahesh says to his family that someone tried to kill him. Suresh tells Mahesh to stay calm saying few minutes back only he recovered.
Sarla and Janki learns about Mahesh's recovery. Sarla wants him to reveal the truth to his family because if truth came out then Preeta can live happily in Luthra house. Mahesh looks at Mahira and recalls how she pushed him from downstairs and points at her. But she moves from that place before anyone else sees her. Mahesh feels dizzy and asks Karan that who wants to destroy their family. Doctor says to Karan that this is side effect of the medicine and Mahesh losing his memories temporarily. Pawan apologize to Prithvi for coming to Luthra house without thinking about the consequences. Prithvi says to him that he won't forget the past but Pawan has to forget it. He says to him that he will get revenge from Luthra's for what they did with Pawan and Sherlyn.
Kritika feels Vijay suspects her in Akshay's murder case. Preeta says to her that she thinks Vijay would have seen her in hotel's CCTV footage. Prithvi says to Sherlyn that he noticed CCTV cameras in the hotel. Prithvi and Preeta decides to delete the CCTV footage of a hotel. Kritika says to Waiter that she joined today only as hotel incharge and asks him about CCTV room of a hotel saying she want to check something. Prithvi disguises himself as a woman and says to Sherlyn that no one will recognise him. Sherlyn tells him to delete the last 3 days CCTV footage. Prithvi tries to give bribe to CCTV room staff. But that staff pressed the alarm button.
Sherlyn thinks she has evidence against Prithvi which can prove that he is Akshay's murderer. Prithvi deletes the CCTV footage and escapes from there. Preeta learns that already someone deleted the footage and she informs about it to Kritika. Kritika sees Sherlyn in the hotel and she informs about it to Preeta. A witness visits Vijay to share a information related to Akshay's murder.Preeta and Kritika shocks seeing Sherlyn in the kitchen. Sherlyn recalls how she noticed Kritika saw her in the hotel so she rushed to Luthra house. Prithvi wants Vijay to arrest the real culprit who murdered Akshay.
Kritika notices salwar suit in Prithvi's room and asks why he have woman dress. He says to her that he brought this for her as return gift. She gets emotional and praises him. Preeta wonders who would have deleted the CCTV footage. Karan asks Preeta to kiss him. But she hesitates, so he asks her to hug him at least and she hugs him. Vijay visits Luthra house and asks Luthra's about Karan. Mahira disturbs Karan and Preeta's romantic moment. Vijay informs Luthra's that he came to arrest the murderer and he starts his interrogation.
To know what will happen next in your favorite show Kundali Bhagya, stay tuned to this space.