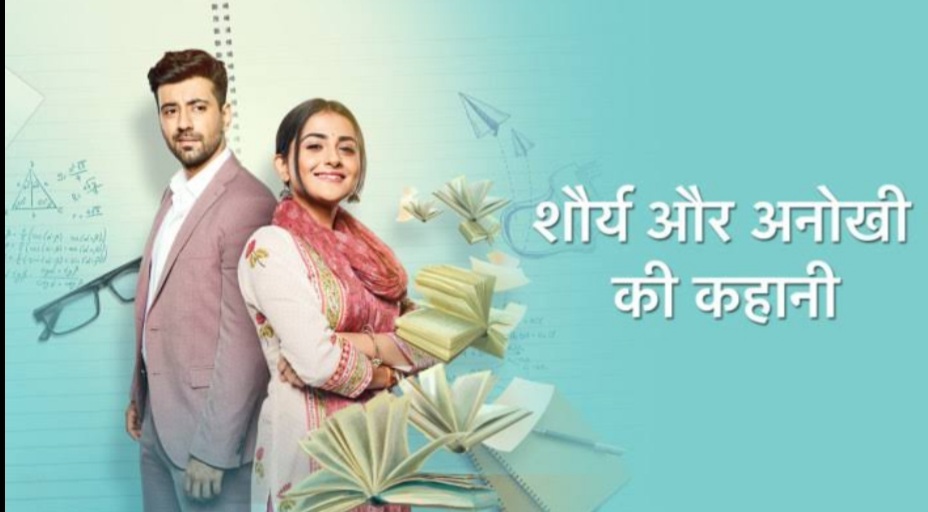 Shaurya Aur Anokhi Ki Kahani Weekly Update on justshowbiz.net
In the past week of Shaurya Aur Anokhi Ki, viewers witnessed some intense and mind blowing performances from the leads from angst to agony. The past week is a mixture of pain, angst, love, happiness etc blended with spell bounding performances.

In the previous week we have witnessed, Shaurya visited his mother owing to his promise made to Anokhi. They shared their moments with each other and discussed about their likes and dislikes. On the other hand, Tej and Devi acted like they were surprised about the news of Shaurya and Anokhi's love affair opened up in public. Devi suggested to rusticate Anokhi from college stating the rules of the college. Everyone agreed with it.
Aastha showed Shaurya's childhood stuffs to him making him emotional. She proved that she was part of all his happiness and sotru throughout his life. Shaurya got shocked and surprised at the same time seeing Aastha's love for him. Shaurya and Aastha made up for their past behaviour and Shaurya addressed Aastha as his mother and left taking blessings from her.
On the other hand, Anokhi receives the rustication letter and left angrily towards Tej and Alok to demand justice. She confronted them regarding the rustication letter for which they simply quoted it as rules of college. Anokhi took a stand for herself and threatened to complaint to education board for the their unfair act and left the place. Shaurya soon learnt about the chaos in college due to the his relationship. Shaurya came to Sabherwals House and taunted them for their smart movie to keep him apart from Anokhi.
Having had enough of conversation, Shaurya took a big step to leave the house and stand by Anokhi. Shaurya informed Aastha about his decision and she praised him for his boldness. Shaurya said a final goodbye to everyone and left the house. Tej played his master card in the meantime and invited Anokhi for a deal. He offered Anokhi to cancel rustication but in return he asked her to break ties with Shaurya.
Anokhi made it clear that she would not budge to his demands and deny leaving Shaurya. Tej at first threatened her with her career but Anokhi showed no remorse.
He then threatened to ruin Shaurya and his career. He gave her an option to break her relationship with Shaurya so that they can take Shaurya back home. On the other hand, Shaurya comes to Ahir's House searching for Anokhi while Babli lashed out at him for ditching Anokhi at the right time. Later both Shaurya and Ahir search madly for Anokhi. Anokhi hid in Ahir's store room in order to escape from Shaurya.
Shaurya desperately searched for Anokhi but couldn't find anything. Ahir later got to know with GPS tracking that Anokhi is at his place and rushed there. Babli warns Anokhi that what she's doing is wrong but she doesn't listen. Ahir too came there and said the same but only Tej's words kept ringing in her mind. Ahir informed Shaurya about Anokhi and Shaurya confronted her for her behaviour.
Anokhi burst out in front of Shaurya and blamed him in order to make him hate her. She broke all ties with Shaurya despite Shaurya's pleadings and suffering. Ahir and Babli tried making her understand too but in vain. Finally Shaurya broke up with Anokhi and went back to his home.
Tej and his gang rejoice their victory while Shagun planned vicious. Next day in college, students ragged Anokhi for her broken relationship while Anokhi fainted. Shaurya came to her rescue and brought her home. Once everyone are gone, Anokhi broke down confessing her love for Shaurya. Shaurya heard everything hiding and demanded Anokhi to say the truth but Anokhi stayed adamant.
In the upcoming episodes it will be seen that Shaurya will decide to push Anokhi's limits in order to make her confess the truth. He will distance himself from her and will drop the bomb about his and Shagun's wedding shocking Anokhi.

Will this huge step help Anokhi open up to Shaurya? Will Tej and Devi succeed in their plan? Will Aastha unites Shaurya and Anokhi?

All these questions will be answered in the upcoming episodes. Keep watching "Shaurya Aur Anokhi Ki" from Monday to Saturday at 7 pm only on Star Plus and anytime, anywhere on Disney Plus Hotstar.