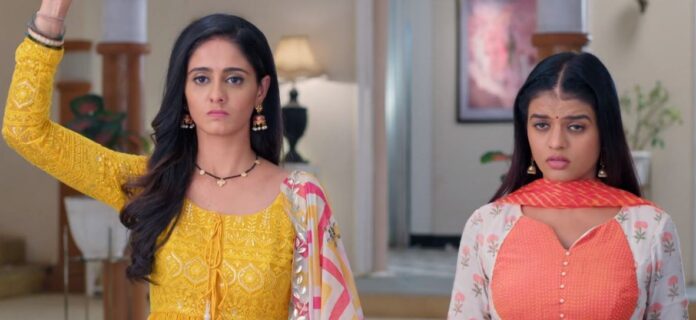 Ghum Hai Kisi key Pyaar Meiin Upcoming Story, Spoilers, Latest Gossip, Future Story, Latest News and Upcoming Twist, on Justhowbiz.net
Virat Ashwini asks did Virat like the gift? Sai asks which one? I gave him two gifts and you should have seen his face he got scared. Pakhi is giving tea to everyone when the bell of Chavan Nivas rings and she finds a letter lying outside the house. She tells it is for Bhavani from Sangeeta Deshpande. Pakhi reads the letter and it says that I am Sangeeta Deshpande and I am Pulkit's wife. Ashwini tells why would Pulkit lie,he is so happy for this marriage. Bhavani tells he is lying. Sonali tells this letter is a prove that Pulkit is a liar.
Ninad tells Virat that Pulkit's wife has a sent a letter. Sonali tells Sangita has claimed that she is Pulkit's wife. Ashwini asks Pakhi who gave her the letter? Sai tells it maybe a prank. Bhavani tells I am trying to explain that Pulkit is a liar. Pakhi continues reading that Pulkit is a liar and he might be claiming to be Devyani's husband but I am his wife. He used to tell Bhavani insulted him a lot and one day he will definitely take revenge. Today when he has became a big doctor he wants to take revenge by calling Devyani his wife.
Ninad tells Virat did he listen what is written in the letter? Sonali tells she gets worried about Devyani. Ninad tells Virat to think about Devyani's happiness. Sai tells Virat is thinking about Devyani's happiness only. Ninad tells I am talking to my son not to you. Sai tells and your son is my husband. Pakhi continues reading that Pulkit is an angry person and there is another woman called Madhuri in his life. For the world Madhuri is his sister but in reality Pulkit has an illegitimate affair with her.
Sai tells this all is a lie and it is a trap for Pulkit. Bhavani tells does tell me if Pulkit stays with Madhuri? Sai tells yes he stays with Madhuri but he kept her in his house only because she was in trouble. Virat tells even he met Madhuri and she seemed like an innocent lady. Pakhit tells there is more in the letter,she tells this letter is only to save you from trouble and don't tell about this letter to anyone. Bhavani tells it seems each and every word of this letter is true.
Sai tells it may seem so but all this is a lie. Sonali tells how will we handle Devyani now? Mohit tells why are we coming to a conclusion so soon? Omkar tells I can see clearly that this letter is truth. Sai tells mixing a little truth in lie doesn't make it truth. Pakhi tells this letter makes it clear that Pulkit wants to take revenge from this family. Sai tells Pakhi that none of you want Pulkit and Devyani's marriage. Sai tells give me Sangita's address,I will meet and confirm this letter. Virat tells Sai she is right but it is question of Devyani's life so we cannot ignore this letter.
Pakhi tells Pulkit is not a fool to accept that this letter is truth. Virat tells Sai not to tell anything to Pulkit,he tells for once I want to investigate from my own way. Ashwini tells let Virat investigate and I am sure this letter is lie. Ninad tells to return Pulkit's gift to him. Pakhi tells you may have brought Pulkit for Devyani's happiness but what will happen to her now? Virat tells no one will tell anything to Devyani until I finish my investigation.
Bhavani tells Sai to stay away from Devyani. Ninad tells if anything happened to Devyani Sai will be responsible for it. Sai hopes all of it to be a lie as she doesn't want Devyani's happiness to be snatched from her.