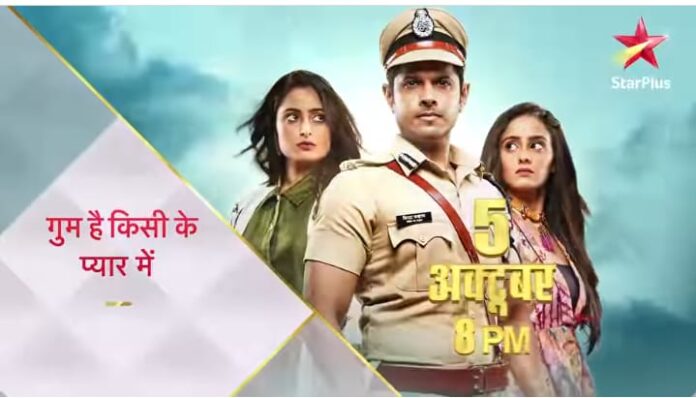 Ghum Hai Kisi key Pyaar Meiin Upcoming Story, Spoilers, Latest Gossip, Future Story, Latest News and Upcoming Twist, on Justhowbiz.net
Devyani says Sai entered with right leg so she will take care of us. Virat asks Sai to take blessings from Bhavani but she leaves from there. Ashwini hugs Sai and tells one day everyone will accept you in this house. Ashwini says I won't let anyone do any injustice to you,I will stand with you always like a mother. She says Virat may your life be filled with uncounted hapiness like the stars in sky.
Shivani welcomes Sai again and asks her not to call her bhua. Virat thanks Pakhi for supporting Sai. Pakhi says this is friendship and welcomes Sai. Virat asks Ashwini to feed Sai as she is hungry from last night. Karishma says me and sai are same age we will bcm good friends .
Sunny says let it be whatever happened. Virat says I knew everyone would be angry but father. I never thought atleast father would accept my situation. Sunny says He is your father he may be like you but there is difference in age. Virat says I hope Sai gets the hapiness she deserves. Sunny tells him time is powerful it will heal everything. Pakhi calls Neha and tells Virat married Sai. She starts crying and says she married Samrat only because of Virat's promise.
Neha said no one could fulfil this promise and she asks Pakhi to be strong. Pakhi said neither forget Virat nor forgive him. You have to move on like Virat. Karishma tells Sai to change and freshen up. She says I can understand your anger and pain. You dont have to think all this you leave all this you tell me what to eat. Karishma asks her to eat . Sai says I am longer afraid of fighting or dying. Karishma says I have learned to deal with everyone in the house well and I will show you. Sai says I know how to make my own ways. Karishma says Sai to be careful of Pakhi.
Sai says I am not interested in other's life. Karishma says I just wanted to inform you rest is up to you. Sai thinks for me my education is important,becoming an doctor is important. Sai starts crying seeing Kamal's potrait she says this marriage is a deal. Sai says no matter what your daughter will never loose. Ashwini says how will you loose we will never let her loose.

Ashwini brought food for her. She asks why she calls her father aba? Sai explains because he was both aai and baba for her. Her mother died during her birth. Ashwini asks her to call her Saai as she is sasu and aai and I will call you Babe as you are both bahu and beti. Sai calls her aai and starts crying. She feeds Sai with her own hands and asks her not to cry. Ashwini says I won't let you cry anymore. Ninad tells Vahini to eat as food is getting cold. They ask her to eat something as she has to take medicine. Ninad apologizes on Virat's mistake. Bhavani says Ashwini will take care of house. What are we going to tell everyone? How are we going to answer the society. Omi says I thought to fulfil all my dreams in Virat' marriage but like Mohit even he disappointed us.
Precap – Virat asks Pakhi what is doing alone on terrace. Pakhi asks why is he here. He should be with Sai as today is his Suhaagraat. She asks Virat what is her place in Virat's life? Sai overhears everything.