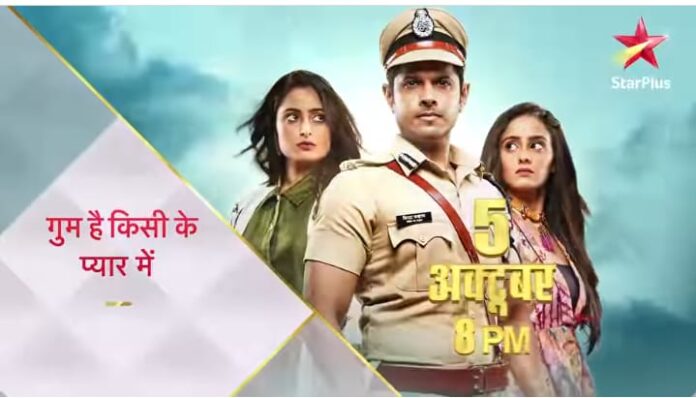 Ghum Hai Kisi key Pyaar Meiin Upcoming Story, Spoilers, Latest Gossip , Future Story, Latest News and Upcoming Twist, on Justhowbiz.net

Episode starts with Samrat being asked to say a ukhana but he is unable to. Neha says it feels like you are not prepared for the wedding. Everyone laughs. Samrat then says Virat help please. Kaku says Samrat come on fast. Just then, Virat says – everything was there in our lives just one thing was missing, that will be fulfilled by Pakhi. Everyone praises. Shivani says we knew that you selected a girl but never knew you are so ready for marriage. Everyone laughs. Sailesh and Vaishali feel bad for Virat. Samrat repeats it but adds meri hone wali biwi Pakhi.
They go inside. Kaku calls Virat and says is it true that you like someone or everyone was joking. Virat says it's nothing like that, I don't like anyone. Kaku becomes happy says don't worry I will find an amazing girl for you. Virat says I won't get married. Kaku laughs and says Samrat also used to say this but look at him, how happy he is. Kaku goes. Ashwini comes and says don't worry, I will ensure you marry your choice. Virat becomes emotional and hugs Ashwini tightly. Ashwini says what happened? Virat rubs his eyes and says I just got emotional. Ashwini cheers him up and they go inside.
Everyone is waiting for Pakhi. Sonali teases Samrat to have some patience. Everyone laughs. Pakhi comes and Shivani says you are very lucky Samrat, Pakhi is so beautiful. Virat is not at all looking at Pakhi. Pakhi is then given garland. Pakhi is sad and keeps looking at Virat. Karishma notices it and asks Virat how is Pakhi looking? Virat looks at Pakhi and gets emotional seeing her beautiful but sad. Virat thinks no, I won't look at her, I can't. He turns his face. Pakhi is then asked to do warmala rasam. After which everyone is happy.

Karishma takes Mohit to a side and says I need to tell you something. Mohit says tell. Karishma says I am sure there is something going on between Pakhi and Virat. Mohit says you always say… Karishma says right. Mohit says stupid stuff, you are saying just anything. Karishma says look at Pakhi she is still looking at Virat and remember in Haldi rasam how Virat called her direct Pakhi then they had such a long conversation after which Virat seems very off and sad. Mohit says leave all this stuff. Mohit goes back.
Here, Jagtap's mother is doing aarti of Sai. Sai says please let me go, I don't want to do this. Jagtap's mom says how can we let you go, this marriage will happen. Jagtap's mom then makes her wear a big gold ornament and says I am sure you have never seen such expensive stuff. Jagtap's mom asks Jagtap how is her to be wife looking.
Jagtap laughs and says beautiful. Then Jagtap's mom puts a new costly saree on Sai's shoulder. Sai just gets angry and gets up and says I wont do this marriage. The costly saree falls on aarti plate and catches fire. Jagtap is angry and says now I won't follow any Mahurat, we will marry now with no more rituals. Jagtap takes Sai by her hand.
Here, marriage functions start from kanyadan to tying the knot of Dulha and Dulhan. Virat just looks on and Pakhi looks at Virat. They both are very sad and get flashes of their memory.
During the mangalsutra rasam, Samrat is about to make Pakhi wear the Mangalsutra, but it is about to fall down. Virat comes and catches it. Samrat smiles and asks for it. Virat keeps the Mangalsutra close to him and says this marriage can't happen. Everyone is shocked. Pakhi is happy. Virat says me and Pakhi love each other and we can't lose each other. Samrat is shocked. Virat says don't worry Pakhi you are and always will be mine. Virat makes Pakhi wear the Mangalsutra and then puts sindoor on her forehead.
Episode ends.
Precap – Virat gets a call from Kamal who tells him how Jagtap has kidnapped Sai two days back and wants to marry her forcefully. Kamal requests him to help him get Sai back safe and sound. Virat rushes from the wedding. Pakhi looks on. Jagtap brings Sai forcefully to an open area and he is holding her hands so tight that all the bangles break and hurt Sai.