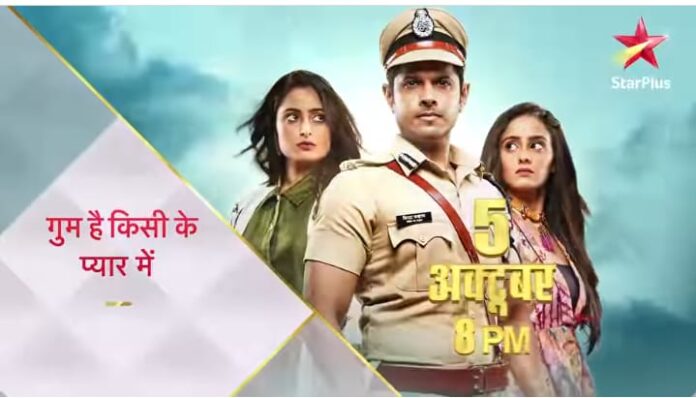 Ghum Hai Kisi key Pyaar Meiin Upcoming Story, Spoilers, Latest Gossip, Future Story, Latest News and Upcoming Twist, on Justhowbiz.net
Episode begins with Kamal asking Sai to come to him. Sai goes running and hugs him. Jagtap sends few guys to separate them. Kamal then says don't be afraid and come with me no one can hurt you. Sai stops. Kamal again holds her hand and tries to take her and says no need to be afraid. Sai says I won't go. She takes her hand away.
Sai says I want to marry only Jagtap. Jagtap is happy. Vithal says see your daughter only wants to marry my son, she is an adult now let her take her decision and don't come in between. Kamal says I will not leave you. Vithal says you are threatening the Lion in his den? Kamal says you are no Lion, you are just animal and you will be put into cages like prison. Kamal again ask Sai not to do this. Sai says I can't come with you. Jagtap calls Sai to mandap and she goes. There, Virat is wearing the safety suit and is getting ready to attack.
In Nagpur, Pakhi and Samrat come to Chauhan mansion. Aarti is done. Pakhi is going to kick the the rice vessel but she is stopped and asked for a Ukhani. Pakhi is in no mood to say Ukhani. Seeing Pakhi silent, Samrat says let me say it. Everyone teases Samrat. Samrat says no matter how much beauty is there in this world, my Pakhi is the prettiest. Everyone laugh. Mohit then goes in front and does cricket commentatory for everyone's entertainment. Pakhi kicks the rice vessel and everyone claps.
Here, pandit is asked to say the mantras fast. Pandit ji asks Jagtap to put sindoor on Sai's forehead. Jagtap is about to put sindoor but they hear a sound of bullet. They all turn to see Virat shooting Jagtap's men. Sai is happy seeing Virat to the rescue. Virat shoots everyone trying to attack him. The police force also enters. He says now I will ensure that Jagtap's baraat goes back.
Jagtap's mom says without taking the bride how can we go back and laughs. Vithal says on what basis will you be arresting my son. Virat says on the case of Kidnapping a girl and forcefully marrying her. Vithal laughs. Vithal says there is no force, Sai herself wants to marry Jagtap, ask her yourself. Virat asks Sai, if you really want to get married to Jagtap. Kamal says no sir, she doesn't. Sai says yes. Virat says this is not you saying it, it's your fear speaking and you don't need to fear anymore as the thing you are afraid of now doesn't exist. Sai gets confused.
A flashback is shown in which Virat sends a toy helicopter with camera attached to it. They see the sharp shooter hiding. Flashback ends. Present scenario is shown. Few policemen bring the sharp shooter who is now weaponless. Vithal and Jagtap are shocked. Sai is happy to see this. Virat says for small goons like you only Police are well trained during their training. Virat says that's why Police is always above you small goons, don't act over smart, I also do planning before I get inside the battlefield. Jagtap fumes with anger. Virat says you keep fuming in jail too. Vithal and Jagtap are surrounded by police with guns to their heads and they are ready to be arrested. Sai comes running to Kamal and hugs him and cries. Kamal is also happy to hug Sai and gets emotional.
Here, Pakhi is going to leave her footprints from alta. Kaku stops her and says how this will be a beginning to a new start of life and Pakhi needs to take care of this house's and Samrat's reputation. Pakhi looks at a smiling Samrat. Mohit says let's do the rasams fast as tonight I have lot to talk with Samrat.
Samrat shows him angry eyes. Mohit says I mean you will sleep with me na tonight. Everyone laughs. Kaku says may this new life bring lot of happiness and your and Samrat's child be successful and make you proud. Pakhi doesn't like the child part very much. Pakhi then sees a side table with lot of pictures and she sees Virat's picture. She gets emotional and gets all the flashes from past.
Ashwini asks her if she is fine. She says she is. She is about to keep her foot in alta thaal but as her focus is in Virat's picture, she keeps only half feet and the thaal flips upside down and Pakhi trips. Ashwini holds her but as Pakhi is balancing, she keeps her alta painted feet in reverse direction. While everyone is asking Pakhi if she is alright. Kaku is serious and says reverse footprint is not good sign, something bad is about to come. She indirectly taunts Pakhi for being so careless.
Samrat says Kaku it's okay, I don't believe in these bad omens and stuff. Kaku is irritated. Everyone say that Pakhi is so tensed, it's okay. Shivani tells Kaku to chill and people do trip it's a genuine thing and not intentional. Kaku smirks. They all go inside. After everyone has left. Karishma asks Mohit how can the thaal flip. Mohit does the action and shows. Karishma says very funny but I mean why will Pakhi keep her feet like this, I am sure something is wrong. Everyone calls them so they leave.
Ashwini says don't worry Pakhi we will do other rasams and all the bad omen will go. Kaku says just by lighting diyas you can't say night sky of Diwali is not dark. Kaku says no rasams will happen further, Guruji will be called and will be asked for resolution then only further rasams will happen. She asks Virat's dad to call Guruji. He nods yes. Here, Karishma again comes to alta thaal. She thinks Pakhi saw something and then tripped. She looks here and there finds nothing then suddenly sees Virat's picture in one side. Karishma says this might be it. She thinks there is for sure something between these two and I will find it. She smirks.
Here, Virat thinks the situation is under control but Jagtap takes the gun from a policeman and points it on that policeman and moves. He threatens Virat to not come near or else he will shoot the policeman. Vithal asks Jagtap to not do this. Virat says if you do this you will be in jail for lifetime for attempt to murder of a policeman. Jagtap is not ready to listen to anyone. Virat says decision is yours 2 years of jail or lifetime of it.
Jagtap moves backward towards the forest. Virat is followed by other police officers with gun. At a point Jagtap leaves the policeman and runs into the forest. They all shoot. Virat says I want him arrested, go and find him. Some policeman leave. Here, Sai is crying and Kamal falls unconscious keeping one hand on his heart. Virat comes. Sai tries to make him come to senses but then checks his pulse and cries harder.
Episode ends.
Precap – Pakhi calls Virat and says love can happen only once, I can't move ahead in life, I feel like telling everyone that I love Virat and only love you and I can't even imagine loving someone else, specially your brother Samrat. Samrat is at the door listening.