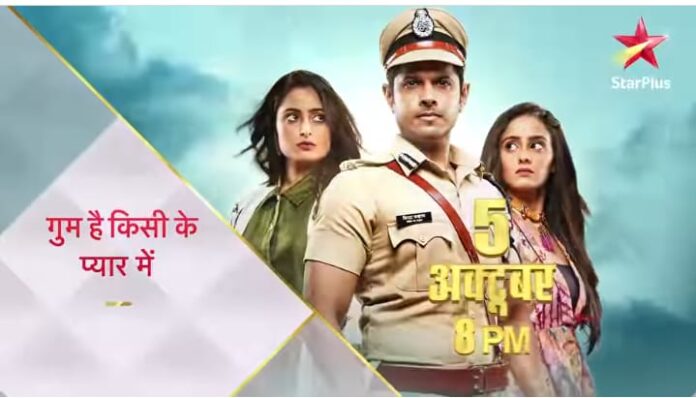 Ghum Hai Kisi key Pyaar Meiin Upcoming Story, Spoilers, Latest Gossip, Future Story, Latest News and Upcoming Twist, on Justhowbiz.net
Sai says Usha there is no need for you to come with us, you gave my responsibility to Virat. Virat asks Usha to come to Nagpur,Sai needs her now. Usha says when I was alone in world Kamal dada gave me support and today you are taking me with you,Thanks a lot. Sai thinks she is leaving her house,her village but her father's memory will always be with her. Sunny suddenly applies brake,Virat saves Sai from getting hurt.
Ghum hai kisi ke pyar mai plays in BM and Pakhi thinks of her moments with Virat in the camp. Both Pakhi and Virat cry. They reach Chavan Niwas by night. Bhavani says prepare everything fast Virat is coming after so many days we have to do aarti. karishma calls everyone to welcome Virat. Virat stands on door, Usha brings Sai near Virat. Bhavani asks who is this girl. Karishma says this is Virat's wife. Bhavani scolds her and tells her to keep quiet. Mohit says she is saying the truth.
Ninad asks Virat what is happening? Virat says they are right I have married Sai. Aarti ki thaali falls from Bhavani's hand on hearing this. Bhavani says why are you joking with me? Virat says this is the truth. Bhavani says I could never imagine, you would do something like this, I was so proud of you. Bhavani asks Sai to leave right now. Bhavani says neither I accept this marriage nor this girl. Virat says do you remember when I was in training I used to talk about Kamal Joshi. She is his daughter.
Virat says if Kamal sir wasn't there it would be me standing here instead it would be my corpse. Virat tells Ninad you only taught me,Duty is duty. Bhavani says we could have given her some money had her married with someone of her status. Mansi comes from inside and is shocked to see Virat has married. She says Samrat is nowhere to be found and you married. Sonali says I never taught you would do anything like this.
When Mohit married everyone taunted him so much. Ninad says I was so proud of you but today my head is down because of you. Virat says baba I asked you only and you told me to listen to my brain. Ninad says I had no idea you were talking about this. Virat says how could have I left her alone. Jattab kidnapped her and tried to marry her. He killed her father.
Kamal sir sacrificed his life and Saved your son Virat Chavan's life and Sai had no one besides him so I had to take her complete responsibility. Ninad says You are an IPS officer, you could have arranged police protection for her or shifted her to some place else.
There were 100 other ways but you chose this because this is what you wanted. You wanted to marry her. Virat said I thought you would understand and accept this relation father. Ninad said you could have called me I would have sent help from headquarters. Bhavani says I would have come there myself and explain the villagers. Virat says I Chavan family's son and I took my decision after thinking a lot.
Precap – Bhavani says I dont accept this marriage. Ashwini says I am Virat's mother and Sai's mother in law and by that right I accept this marriage.