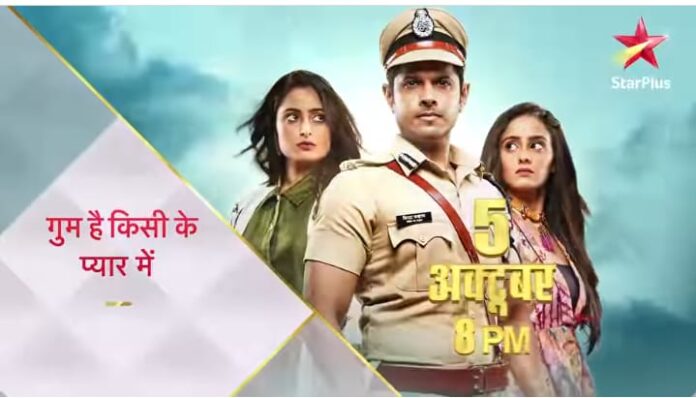 Ghum Hai Kisi key Pyaar Meiin Upcoming Story, Spoilers, Latest Gossip , Future Story, Latest News and Upcoming Twist, on Justhowbiz.net
Pakhi continues speaking emotionally with Virat over phone and reminds him of his promise that he will not give her place to anyone else, what if he breaks his promise. Virat says his decisions are final.
Pakhi asks then why she feels he is slipping towards Pakhi. Virat says Sayi is a brilliant girl who topped 12th exam in whole state and he didn't know her before coming to Gadchiroli and has given entrance exam at Nagpur Medical College. She says he knows her a lot about her in such a short time. He asks not to think too much as Sayi is a kid and asks if they can speak tomorrow as he is tired. She disconnects call and starts crying. Virat turns and sees Sayi standing. Samrat walks shattered reminiscing Pakhi's words that they love only once and she loves only Virat
and cannot thinks of loving anyone else, especially his brother. He washes his face to hide his tears and reminisces all the recent incidents and dips his head in water.

Sayi asks Virat if he was badmouthing about her. He asks why would he and warns to stop poking her nose in everything as she was speaking to his bestfriend. She asks name. He says Pakhi. She says she heard name somewhere and asks when will he sanction Aaba's VRS. He asks to ask her father itself and he never backs off from his words. Pakhi laughs and blames him for Aaba's condition. He says if had gone behind Jagtap, he wouldn't have brought Aaba home. She continues yelling and blaming him. Usha calls him for dinner. He walks in saying Kamal sir will answer her questions. Sayi continues. Aaba says Virat sanctioned VRS long ago. Sayi gets happy hearing that.

Samrat walks to Pakhi and asks why did she and Virat hid the fact that they love each other, they both betrayed her. Pakhi stands shocked. He continues pouring his heart out. He angrily breaks liquor bottle and realizes it was his imagination.
Mohit asks why did he break bottle, they were just joking. Samrat picks whole liquor bottle. Ninad asks him to stop as they were just joking. Samrat smiles and thinks life played a big joke with him. Next day, Pandit performs pooja and says bride and groom can start married life now.
Family taunts Samrat. Mohit acts as getting Panditji's calling informing to keep bride and groom away from each other for another 1 week. Family laughs. Karishma asks Samrat and Pakhi to come closer for a pic. Pakhi's parents gift them Switzerland honeymoon package. Samrat asks Pakhi if she loves traveling. She stands mum. Family continues taunting them.

Precap: Samrat leaves giving blank cheques to Pakhi and asking her to contact Virat if she needs anything. Pakhi thinks if Samrat knows about her and Virat.