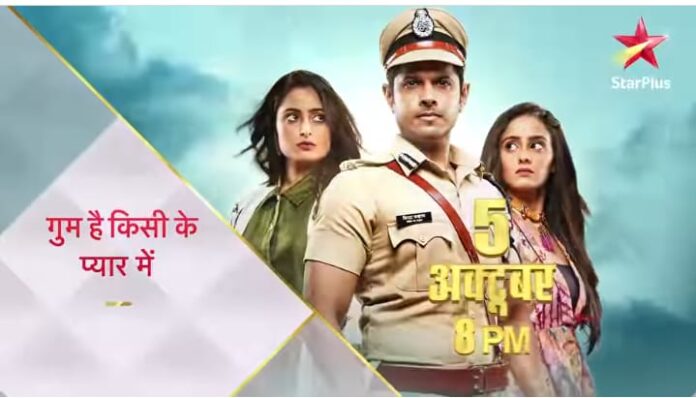 Ghum Hai Kisi key Pyaar Meiin Upcoming Story, Spoilers, Latest Gossip, Future Story, Latest News and Upcoming Twist, on Justhowbiz.net
Episode starts with Kaku saying in this rasam the bride shows jwelleries and not her attitude. Kaku then asks her what wrong did Mansi say or your aai did? Vaishali and Saliesh look at each other. Ashwini comes to pakhi and say maybe she doesn't have interest in going right now, that's why. Shivani says this is an open ticket they can go any day, and if they dont wish to then give me I will take someone and go for a romantic vacation.
Kaku says Shivani speak carefully and according to situation. Kaku says answer Pakhi why is it not possible? Samrat says it's not possible today and not even any other day soon. Kaku says what? Samrat says yes, due to emergency all my leaves are cancelled, I need to leave today itself. Virat's dad says today? Samrat says yes. Mansi says but it is not even 1 day of your marriage. Samrat says duty comes first and is more important than marriage, my batallion has to go to Ladakh and they have asked me to join them immediately.
Sonali says poor Pakhi will feel so lonely. Kaku says Chauhan house's daughter in law are strong and supportive. Samrat tells Kaku that's why Pakhi said like that. Kaku says she knew? Samrat says yes today in morning only she came to know from me. Pakhi is surprised that Samrat is lying to save her. Virat's dad says let me call the senior. Samrat says no don't. Virat's dad calls the senior and talks to him, he gets to know that the mission is important and Samrat will have to leave. He asks Samrat to go as duty comes first.
Here, Sai is making Kamal do yoga. Kamal says really you are acting like my aai. Sai says what did you say? Kamal says nothing. Kamal is tired. Sai says come on some more. Usha brings some parcel and Sai gets excited seeing it. Kamal says what is this? Sai says these are some healthy stuff. Sai says in Nagpur, near my college there is a nice jogging ground, we both will wake up at 5am. Kamal is surprised, shocked and says 5am? Sai says yes and then 10km running, then yoga and aerobics, healthy habit. Kamal says why all this?
Are you planning happy days for my retirement or I will have to work like anything in that too, then it's better I stay on duty. Sai says now the VRS is signed so you need to take it, all this is for yoir good health and see your tummy. Kamal takes in his tummy and says which tummy. Sai says breath out then you will see. Kamal then laughs. Sai asks Kamal to sing the lullaby he used to sing to her in her childhood. Kamal sings and everyone gets emotional.
Kamal says now soon after your mbbs, you will start a new life and get married, then I will be left alone, Sai says I wont let that happen either you will come with us or we will be staying with you. Kamal whag if both of these did not happen? Sai says then I will not get married. Sai says you did not drink the Karela juice, I will make fresh one now. Kamal says who drinka that? Sai says you. She smiles and goes. Kamal tells Usha that my aai is really residing in Sai. Usha says Sai loves you a lot. Kamal says I know. Usha says so you guy are leaving tomorrow? Kamal says let's see.
Some time later, Sai says I am going out for some work. She asks Kamal to have breakfast and not to add any extra salt as it is not good for BP. She also asks Usha to keep a check on that. Sai sees Virat on entrance. Sai says good morning sir. Virat says Sir? From Gabbar to Sir? Sai says sorry I was angry at you for not giving my dad VRS soon that's why all that, now that you have come then do have breakfast, she asks Usha to set another plate.
Virat says I have come here to talk to Kamal and not to have breakfast. Sai says please don't give him anymore tension that will rise his BP, he is now retired then why to discuss with him. Kaale says what do you mean sir makes BP high. Sai just smiles. Sai says please give my dad retirement soon. Kamal sees Virat and comes and asks Sai to go. Virat says don't you get headache, he looks at Sai. Sai makes expression.
Virat calls the new officer for Kamal's position listening to this Sai feels sorry. Virat says sometimes it's good to say sorry. Then she leaves. Kamal knows the new officer and greats. New officer congrats Sai for her result. Sai then leaves. Kamal says I told you about my request sir, I want to see Jagtap arrested before I leave to see him get the punishment for what he did to my daughter Sai and all the daughters of this area. Virat nods. All three of them leave for police station.
Here, Samrat is talking on call to his senior yo thank him. His senior says I could have even extended your leaves but why do you want to come home so early? Did you fight with your wife? Samrat is about to say something, but Pakhi comes so he excuses himself and ends the call. Samrat packs. Pakhi says why did you lie down there. Samrat says you also lied about yourself.
Pakhi is clueless. Pakhi offers help but Samrat says you have already done enough. Samrat says not only time but even people give betrayals so easily and it's so hurtful. Samray then gives Pakhi a checkbook. Samrat says I have signed all the checks, use it for any purpose you or mom want to. Pakhi says there is no need. Samrat says you both are my responsibility, so let me do my work. Samrat is about to leave, he says if you have any problem call Virat. Pakhi is shocked to core and thinks Samrat knows about the truth.
Episode ends.
Precap – Pakhi and Sunny are having a conversation where Sunny says who knew this all would happen. Pakhi says I can't live with the status of Samrat's wife. Sunny says you need to. Pakhi sees someone evesdropping. Pakhi confronts Karishma for listening their conversation. Karishma makes some excuse and goes to tell Mohit the truth. Here, at police station, Virat and the force are discussing about a plan to catch Jagtap and they hear a sound behind the meeting room door.