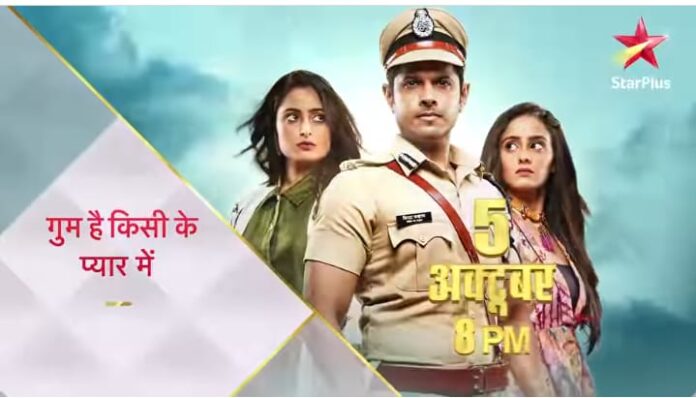 Ghum Hai Kisi key Pyaar Meiin Upcoming Story, Spoilers, Latest Gossip, Future Story, Latest News and Upcoming Twist, on Justhowbiz.net
Sai tells Virat that Pulkit and Devyani has a daughter Harini. Bhavani asks Pakhi if she talked with Virat? Pakhi tells how can she ask so early,he is getting ready for office. Virat asks are you sure if Harini is Devyani's daughter? She says yes. Sai tells Devyani lost herfself too. Virat tells maybe Devyani will regain her mental condition after her marriage. Virat asks Sai how should we get Devyani married? Sai tells I will bring pink saree for Devyani and she will look very beautiful.
Virat tells I think we should keep things very simple or else family members could feel bad. Sai asks when Pakhi and Samrat's marriage was done with all rituals then why such behavior with Devyani? Virat tells there are people in house who are against this marriage. Sai tells yes I know Bhavani,Omkar and Ninad are against this marriage and if I am in favor of this marriage Pakhi didi will definitely be against it. Pakhi overhears all this from outside the room.
Virat asks why don't you try being friends with her? Sai tells Pakhi is your friend so why are you trying to make her my friend? Virat tells even we can be friends. Sai tells she doesn't want to be friends with him. Virat tells to think because maybe one day she will regret and maybe one day we will be friends too. Sai tells once my education is complete I will leave from here.
Virat tells the final decision is we will give the marriage simple. Sai tells Khadoos Jasoos Kanjoos. Devyani is happy and dancing that she is getting married. She asks Mohit if he is happy? Mohit tells I am also waiting for your marriage. Karishma taunts Mohit that he is not doing any job so how will he bring gifts?
Devyani and Mohit play music and start dancing. Bhavani tells Devyani that Pulkit lied to you and he is going to cheat you. Devyani tells you are a liar,you lied earlier too and you are lying now. She tells I will not call you in my marriage. She tells Pulkit is not a cheater,you are a cheater.
Mohit tells none of us has the right to stop Devyani's marriage. Sonali tells you find a job and take care of your wife. Karishma tells how will Mohit do a job,Sai told him to act instead of finding a job. Pakhi tells she found references for so many companies for you did you go for interview? Mohit tells no.
Devyani tells she is happy and she wants to show everyone she is getting married. Bhavani tells Ashwini you just want to prove your daughter-in-law is right. She tells Sai that this marriage is never going to take place. Sai tells she doesn't care abour Chavan family's prestige.
Pakhi tells why would she care,she will leave this house with her husband. Sonali taunts that Sai will get us arrested from her IPS husband. Sai says you maybe saying this as a joke now but it is possible that this may come true someday.
Pakhi asks what do you mean are you going to get entire family arrested? Devyani tells yes Sai send all of them to prison,they all tortured my husband. Sai tells Devyani not to be afraid of anyone. She asks Karishma is she against Mohit just because he is not earning? Sai tells won't you be ashamed when Mohit starts earning and you will enjoy on his money.
Pakhi tells Omkar not to tell her to find jobs for Mohit. Bhavani tells Sai is keeping this family's son in her control. Sai tells Bhavani that you are my inspiration,just like you kept Ninad and Omkar in your control since so many years. Sonali tells Sai to control her tongue. Pakhi tells Sai how dare she talk to Bhavani like this? Ashwini says you didn't get angry when Bhavani said the same thing to Sai.
Pakhi tells how can you compare Sai and Bhavani. Sai tells Pakhi that she is blinded by her hatred for her. She cannot see what is happening in front of her. You just consider that whatever Sai says is wrong. Devyani tells Sai is absolutely correct and scolds Pakhi.
Sai tells Devyani to wait for her in her room and she will prepare for Devyani's marriage after returning home. Bhavani tells Pakhi she has to talk to Virat and stop this marriage at any cost.