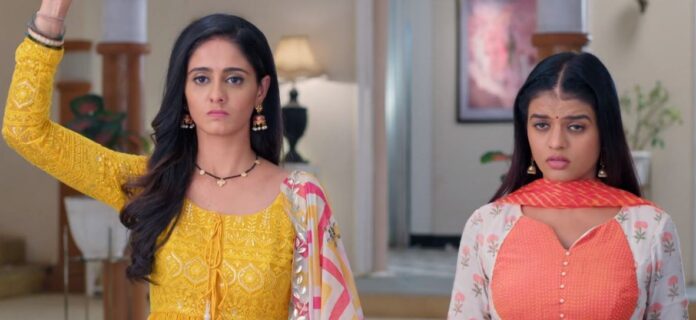 Ghum Hai Kisi key Pyaar Meiin Upcoming Story, Spoilers, Latest Gossip , Future Story, Latest News and Upcoming Twist on justshowbiz.net
Bhavani and Sai's fight intensifies as we get closer to Devyani and Pulkit's marriage. The viewers are enjoying this fight as Sai has befitting reply for every situation and she decides to stand by Devyani in all conditions.
Sai tells Devyani not to worry she will buy everything she needs. Pulkit thanks Sai,he asks how is Devyani? Sai asks if Devyani will be normal anytime? Pulkit tells definitely,he has given her case details to a psychiatrist.
Sai asks Pulkit if he can stay with Devyani? Pulkit tells there was only one thing missing in my life, it was Devyani. Pulkit tells he brought gifts for Devyani, he tells Devyani wanted to wear all this in her marriage. Sai tells even after being separated for so many years you remember everything about Devyani. Pulkit asks Sai if there is something like love between Virat and Sai? He says it is possible that Virat will fall in love with her and he will never let you leave.
Sai shows Devyani the gifts Pulkit sent for her. She shows her favorite pink Saree and the Jewelries. She gives here the dancing snowball, and tells Pulkit was telling this used to be your favorite. Bhavani takes the snow ball and throws it on grounds, she and Ninad throws all the gifts on the floor.
Sai tells she won't let any wrong happen to Devyani and asks Bhavani and Ninad to pick up the gifts they threw on ground. Bhavani asks what will you do? Do whatever you want I won't pick up this gifts. Sai tells she will shout and tell all neighbors what you people have done with Devyani till today.
In the upcoming grand episode Sai takes Devyani to the entrance of house and starts counting backwards from five to one. Pakhi tells Bhavani and others not to worry, she promises to instigate Virat against this marriage anyhow.
Will Pakhi be successful in making Virat against Devyani and Pulkit's marriage?
Will Sai manage to get Pulkit and Devyani married against all odds?
Stay tuned to the upcoming grand episode of Ghum Hai Kisikey Pyaar Meiin only on Star Plus and Hotstar to find out the final drama unfolding before marriage.