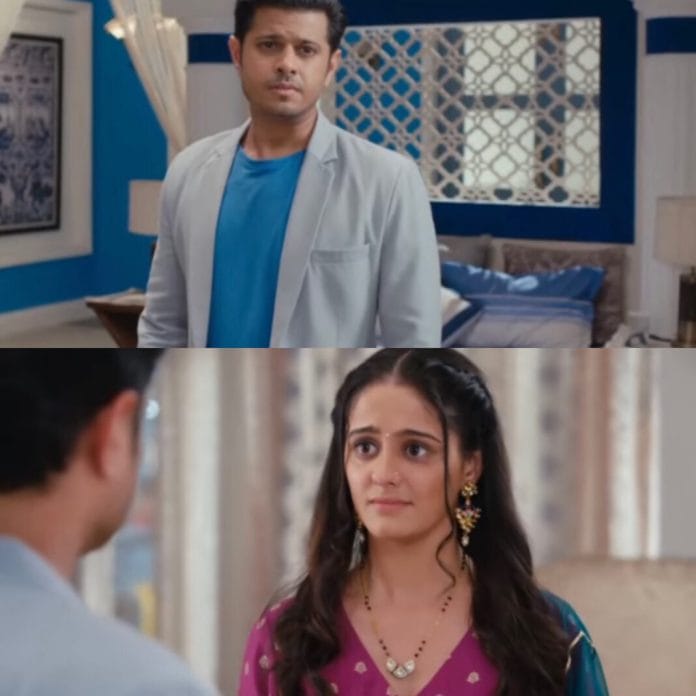 Ghum Hai Kisikey Pyaar Mein Upcoming Story, Spoilers, Latest Gossip, Future Story, Latest News and Upcoming Twist, on Justhowbiz.net
Episode starts with Devyani consoling Shivani and tries to cheer her up. She then visits Sai and confronts her about the truth. She notify about meeting Shivani and asks about the secret which she knows. She insists Sai to share it with her and promises that she will not tell it to anyone else. Sai hesitates but then takes a promise from Devyani and then apprises her about the conversation with Rajiv through Shivani's phone. She says that she just wants to meet him once, in order to know about his intentions. Whereas, Devyani assures Sai that she won't tell it to anyone and then notify her about Rajiv's past.
Here, Devyani tells how Rajiv left Shivani on their wedding day. She apprises that Shivani was devastated and broken. Sai feels bad for Shivani and thinks that after so long, why Rajiv is trying to contact her again? She determines to find the reason behind it and goes to meet him.
Virat goes to check on Shivani and ask if she is fine? She gets elated upon seeing him and states that it really means a lot for her. He stops her from saying anything else and tells that he always had admired her. He reminds how she had always cared for them and ask if anything is bothering her? To which she denies. He sees her emotional and goes to fetch water for her.
Elsewhere, Devyani comes inside Shivani's room and mistakenly blurts out about Sai's secret of meeting Rajiv. Shivani catches it while Devyani gets worried and tries to go away, but Shivani insists her to tell the truth. She gets irked learning about Sai's plan, while Virat gets shocked hearing their conversation.
Sai visits Rajiv and gets surprised seeing the decorations. She becomes mesmerized by the surrounding and sees different sorts of dishes. At that time Rajiv comes to her and was about to surprise her thinking to be Shivani, but then stopped noticing Sai. He apologises to her for mistaking her to be someone else, while she confronts him.
Ahead, he ask Sai about her identity while she tells him about her relationship with Shivani. She questions why he left Shivani on their wedding day and states that she was so heartbroken. He accepts his mistake and says that he was nervous and wasn't ready to take the responsibilities. He then tells about his family to Sai.
Rajiv says that his used to live alone with his mother as his father was dead. He then tells that after the death of his mother, he realised that everyone needs someone in their life. He says that he realised his mistake and tells how he misses Shivani. Sai declares that she can't trust him, to which he insists to let him meet Shivani once.
Further, Sai agrees to help Rajiv and ask him not to disturb Shivani anymore. He agrees and shows his excitement to meet Shivani. He says that he will apologise to her and will do his best to convince her. Whereas, at that time Virat comes there and punches Rajiv. Sai gets shocked, while Rajiv looks at Virat. He fumes in anger and ask Sai to stay out of it.
Precap:- Sai show wedding dresses and jewelleries to Virat while he becomes irked and questions if she is planning for their marriage? She laughs and then teases him. Meanwhile, she asks for his help to bring two lovers together. She questions if he will help her? To which he agrees and shakes hand with her.
Click to read
Ghum Hai Kisikey Pyaar Mein 9th April 2022 Written Update: Rajiv gets excited to meet Shivani